You can find a slider on almost any kind of website. Either you love them or hate them, sliders are incredibly versatile design elements. As a result, web designers use them for various design tasks. In order to make a slider easier to fit into a website, there are many types of sliders available. In this article we're going to explore all there is to know about slider types.
What is a slider type?
The slider type determines the look and feel of a slider. For instance, it decides how many slides to you see together. For example, the common slider types display one slide at a time. The slider type can also control the responsive behavior of the slider.
What kind of slider types are there?
The most common slider type is the "simple" kind of slider. This slider shows one slide at a time for the visitor to view. This helps them focus on the message, one at a time, which makes this type perfect for headers or galleries. As a matter of fact, you can use this simple slider for any purpose.

The other common type is the carousel-like slider. This slider presents many slides for the visitor. As a result, each slide gets a limited space, but the visitor can browse through the slider faster. People often use such carousels for showing off products or blog posts.

What kind of slider types can you find in Smart Slider 3?
Smart Slider 3 is the most versatile slider solution for WordPress and Joomla. It's packed with amazing features to fit everyone's needs. With Smart Slider 3, you can create gorgeous sliders for your website. You can also use the popular design effects like parallax or Ken Burns. What's even more, there are many different slider types to let you pick the best one for your specific needs.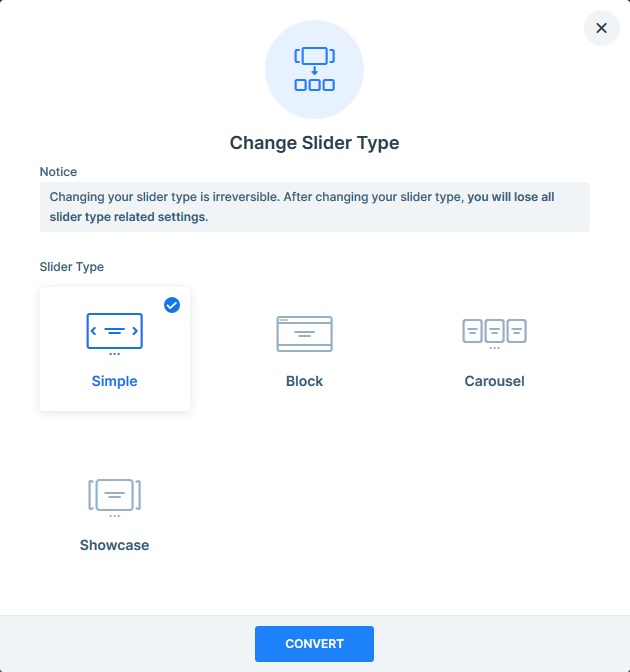 The following slider types are available in Smart Slider 3:
Simple (available in the Free version as well)
Block (available in the Free version as well)
Carousel
Showcase
Simple type

Smart Slider 3's Simple slider type looks exactly the same way as the commonly known sliders. It shows one slide at a time, so it doesn't distract the visitor. People usually use these sliders in large size or full width size. This gives enough space for creating a slider with lots of white space.
Default responsive behavior
The Simple slider type's responsive behavior is easy to understand. As the screen gets smaller, the slider gets smaller as well keeping the original ratio.
However, when you use Content mode, this behavior can change. Content mode can increase the height of the whole slider based on the tallest slide. So if you have at least one slide which needs lots of vertical space, that will make the other slides taller as well.
When should you use the Simple slider type?
Simple slider type is one of the most versatile slider types. It suits for any kind of sliders you can possibly create. You can use this type to create a gorgeous header slider or a full page video block. A Simple slider makes a good post and product slider as well.
Carousel type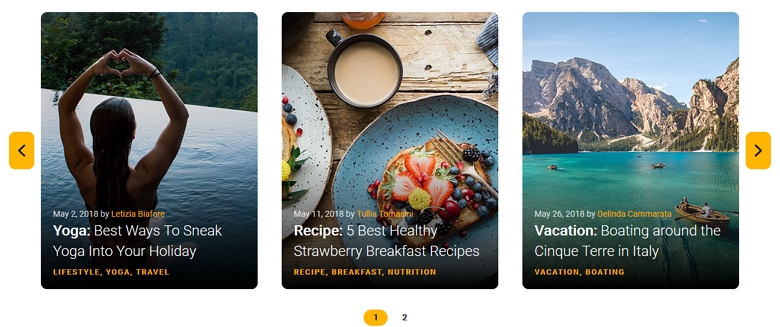 The Carousel type lets you show many slides next to one another. As a result, you can have lots of pieces of content to occupy a single space. The visitor can switch all visible slides at a time, which lets them browse fast. If you don't have enough slides, this can result orphan slides.
But if you would rather want them to explore your slider side by side, that's possible as well. What's even better that you can change the behavior with a flick of a button. With the Single Switch setting, you can avoid orphan slides in your slider.
🎓 This slider type is available in the Pro version of Smart Slider 3 only.
Default responsive behavior
The Carousel slider type displays as many slides next to one another as many can fit into the slider. It doesn't resize the slides, as long as the last slide can't fit anymore. For instance, you configure the carousel slider type to show 470px slides. The slides will keep this size, and the slider will rather display fewer slides. The slides are not resized until the only visible slide can fit anymore. In other words, the slide won't resize until the slider gets smaller than 470px.
Most useful features of the Carousel Slider type
The Carousel slider type has many awesome features to fine-tune the result. Here's some of the best options you have to customize the slider.
Maximum pane width. You can use this setting to set the maximum number of slides for big screens. For instance, if your set it to 1200px, your slides won't be able to take up more than the middle 1200px area of the slider. As a result, your full width slider can cover the whole browser width, but the slides will remain in the middle.
Minimum slide distance. It's not always pleasant to see the slide sides touching each other. This feature lets you set a minimum distance between the slides.
Single switch. The single switch is useful to avoid orphan slides at the end of the slideshow.