Nowadays it isn't new if you surf on the Internet and encounter a slideshow or a slider in a webpage. People love sliders because this is a super design tool which can help to grab your visitors attention.
But how you can you cheer up a slider? Use layers! And if you put some attractive texts, icons, buttons, images or videos on your slider you can share content with your visitor.
In Smart Slider 3 you can choose from 24 layers, so there are tons of options to add various content to your slider. What kind of layers can you even use? Why is it useful to use layers in your slider? How to use them? In this article I will write about what you should know about layers.
What is a layer in Smart Slider 3?
Layers can be familiar for you from modern graphic softwares like Photoshop. We can tell that layers are containers which store your content. According to Wikipedia.org
"Layers are used in digital image editing to separate different elements of an image."
Each layer has its own content, so it can be an image, a heading or a button, which can tell your story. And what is important that you can move and change them without affect on other layers. They are fully customizable like in Smart Slider 3 too. You can change the size, the color, the font-family, transparency, the position and almost everything that people usually want to change. And in the live slide editor you can see all the changes that you have set without saving it.
What is even more superb? You don't need to code to change something, so Smart Slider 3 is ideal for every beginner.
In the plugin you can find everything in one place, it's easy to use and not least, fully responsive. There are 5 main layer groups available, each containing a set of layers you can use for similar purpose. You can learn more about the groups and individual layers below.
📘 Content layers
📷 Image layers
💡 Advanced layers
🔨 Special layers
🎬 Media layers
📘 Content layers
Content layers are the most often used layers which use content elements. You can share content with your visitors with these layers and you can draw their attention as well. Content layer can be a heading, a text, a list or a button, so something you can publish a content with.
Heading layer – free
Heading layer is one of the most popular layers which you can make headings with. Many visitors in most cases just skip the contiguous texts and pay attention to only the heading part, and if it seems interesting, they will read the other parts afterwards. So the heading is the most often used method for communication with the visitor and calls attention. Use it for a product name or a good blog title which can reach that the visitor read more.
But a heading is not important only for readers, because search engines look for them. At a Heading layer you can set the HTML tag which means you can use h1 to h6 or div. And this setting is good for SEO, because Google and other search engines can manually read the content from your slider.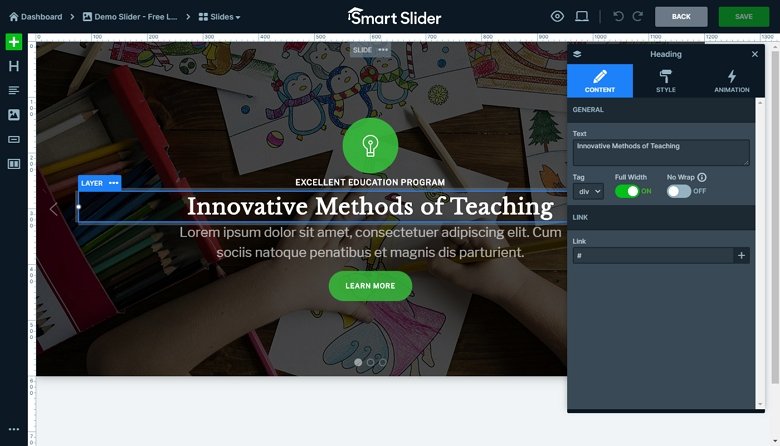 But Heading layer is not just a basic heading text, because in Smart Slider 3 you can position or animate it, you can set the style and you can customize it as the other layers as well.
In this layer you have the opportunity to have a split text animation. That means you can animate your text either separated by words or its characters and it can be a cool effect. So if you would like to highlight a piece of information, you can use this nice effect to achieve that.
Heading layer tips
Use Heading layer for highlighting an important, relevant content
Set an easy to read font and an ideal readable font-size, and use matching fonts together.
Use the font-size modifier to make your text responsive.
Text layer – free
With the Text layer you can make paragraphs which can tell your story. You can display longer, flowing texts on your website, where you can explicate what you talked about in the Heading layer.
But what is the difference between the Heading layer and Text layer?
Text layers are paragraphs which are defined with <p> tags, these are usually the default text on most web pages. But Heading layers are typically used for large texts, where the content and the tags are very important because of SEO. Users skim the pages by their heading, and after they read the paragraphs. So a Text layer can be below a Heading where you write about a topic.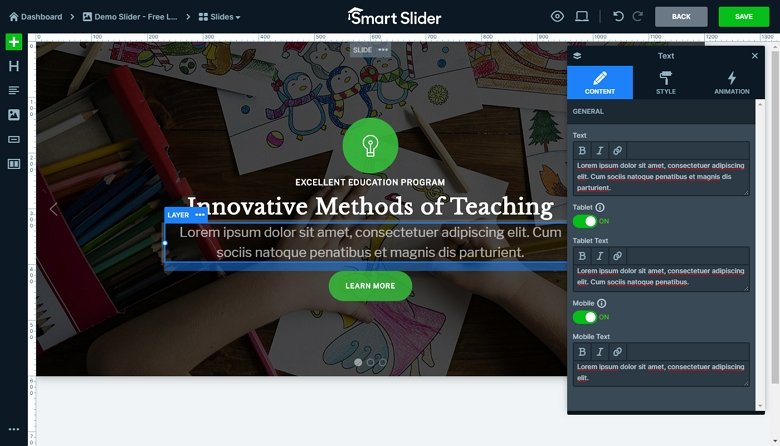 At Text layer you can also set up different texts for different devices. This option can be important if you would like to make your slider responsive but you have a longer text which doesn't seem well on a phone. This layer can be useful, because you can make your text shorter on mobile and tablet, so the text can fit in the limited screen sizes of mobile devices. You can even use HTML tags in your text which can customize your content.
Text layer tips
Use for descriptions or paragraphs
Don't be afraid to use empty spaces between the paragraphs, because the visitors won't read a crowded. Use a minimal nice layout!
If you would like to put a link into a text, or make a word strong, you can use HTML codes in that
Use it if you want to display different texts for different devices.