Looking for slider examples to inspire your next website design?
Sliders are a fantastic design tool for showcasing the most important content on your site in an eye-catching, engaging, and space-saving way. What's more, modern sliders have evolved well beyond the simple image carousels of a decade ago, as you'll see below.
Today, sliders can be anything you want. Want to display company logos? Easily done with a slider. Want a hero header that features video, space for your business' key message, and call-to-action buttons? You can do that too.
Let's take a look at some slider examples to get your creative juices flowing.
1. Hero Header Slider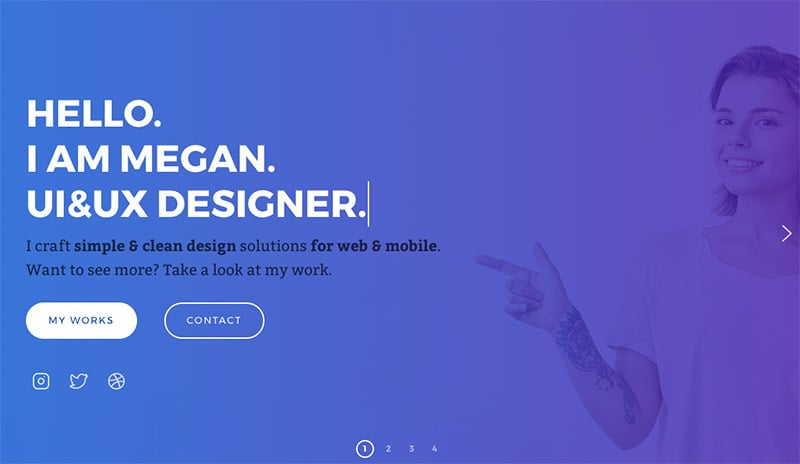 Live Preview
At first glance, this looks like any other static hero header with a gradient background. But then the text starts animating and the header comes to life, forcing you to focus on the words and absorb the message. In addition, there are social media icons and clear call-to-action buttons.
👍 Why it works: Above the fold, this kind of hero header can help you communicate with visitors effectively in a concise way, and direct them to take your desired next action. In this case, to view a portfolio or get in touch.
2. Product Carousel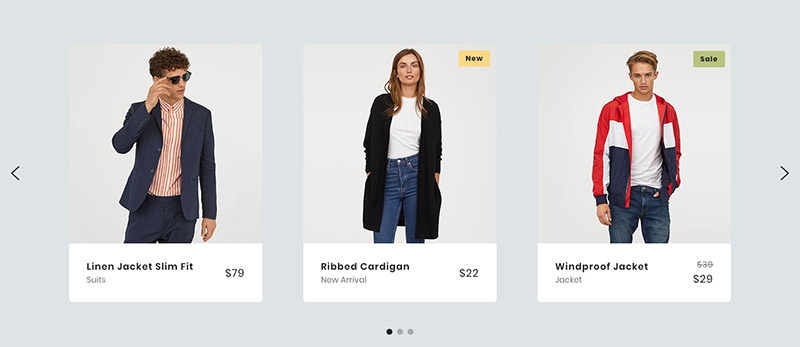 Live Preview
Dynamic product carousels are popular on ecommerce sites because they let you display multiple product items. Take Amazon, for example, which uses multiple sliders to display almost every product on its homepage. With Smart Slider 3 for WordPress, you can automatically update product carousels with items from your WooCommerce store.
👍 Why it works: Product carousels enable you to tap into the user's desire to "see what's next," i.e. maybe there's a jacket I'll like if I keep scrolling through!
3. Blog Post Carousel

Live Preview
This kind of slider example lets you display your latest WordPress posts using your featured images as the background. What's more, with Smart Slider 3 your post carousels will update dynamically each time you publish a new post. That means you can focus on your writing without having to worry about manually updating your slides in WordPress.
👍 Why this works: This style of blog post carousel is ideal if you want to incorporate your WordPress posts as a section on your homepage. Plus, tablet and mobile users will be able to swipe through your posts with ease.
4. Logo carousel

Live Preview
Displaying the logos of the businesses you work with is a proven social proof technique, i.e. if Pizza Hut works with you, you must have a great business. With a logo carousel like this one, you can easily display client logos in a prominent space on your Homepage or About page. Plus, with infinity scrolling enabled, it will instantly catch your visitors' eyes.
👍 Why it works: For businesses that have worked with a large number of clients, a constantly looping logo carousel like this one lets you show off lots of logos in a small space without having to display them all at once.
5. Scene Slider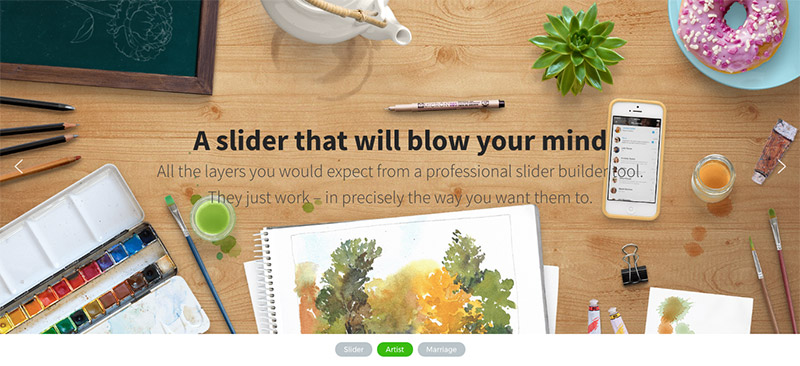 Live Preview
Thanks to Instagram, flat lays have become a popular style of design, and this slider example makes the most of that. The individual elements of the scene fly in, creating a scene that transports the visitor to another space, for instance, an artist's studio, a freelancer's desk, and someone planning a wedding.
👍 Why it works: As the individual layers of the slider animate, it's hard not to watch — and even reload the page to see it happen again. Examples such as this show off the kind of creativity you can employ when designing scenes.
6. Fullscreen Slider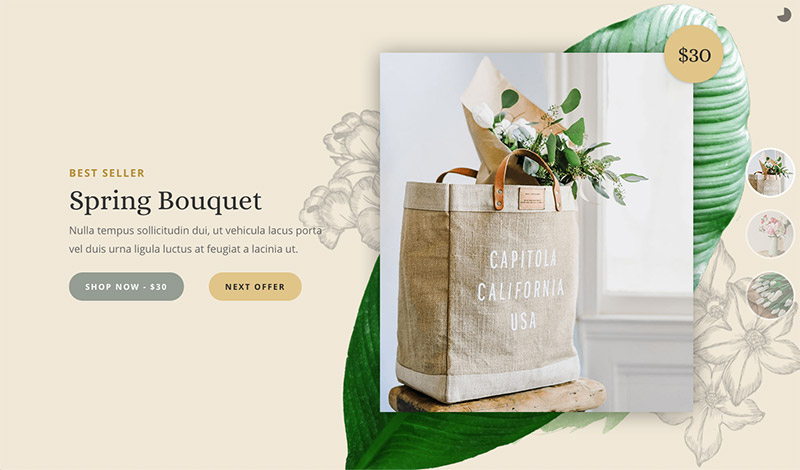 Live Preview
The secret to modern sliders is the ability to layer elements. In the case of this fullscreen slider, the designer has used a soft yellow background and placed a subtle black and white flower illustration, underneath a leaf and a photo of a product. It's eye-catching and adds to the dynamism of the overall design.
👍 Why it works: Layers let you achieve complex designs that will shine on any page. In this example, the individual moving layers help visitors focus on the product and encourage them to see what else they could purchase.
7. Product Showcase Landing Page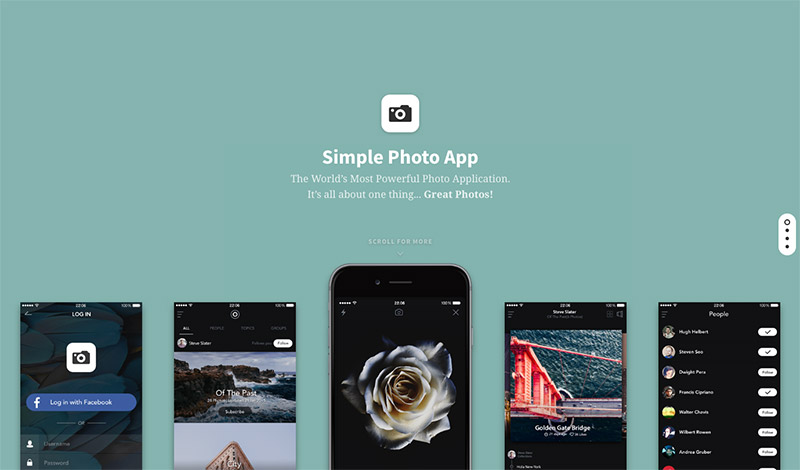 Live Preview
This example blurs the lines between what is a slider and what is a page. When you scroll down, the next fullscreen slide loads without having to reload the entire page. It's a great way to show off a product or app, but could be used just as effectively for a portfolio.
👍 Why it works: With each slide taking up the full screen, this type of slider lets you make the most of the screen space at hand with a design that not only looks beautiful but focuses users on your key marketing messages.
8. Fullpage Video Block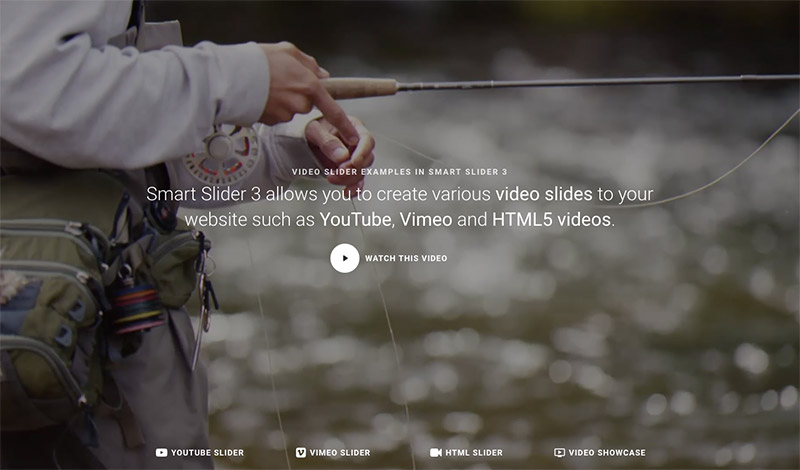 Live Preview
If you've got great videos, show them off with a full page video block like this one. Often, videos can convey more than a single image and help communicate a sense of time and place that plays on a user's emotions. I mean, who wouldn't want to go fly fishing after watching this video?
👍 Why it works: Videos will instantly catch your visitors' attention, ensuring they stay on the page to learn more about you and your business.
9. Shape Divider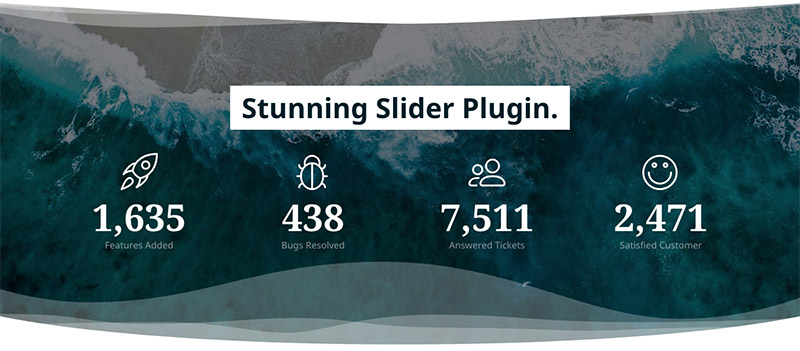 Live Preview
Animations, such as this shape divider slider example, let you add movement to your site. It's a great way to highlight important parts of the page. In this case, the shape divider has been used to frame important business stats.
👍 Why it works: Shape divider sliders can turn a boring, static page into one that evokes movement, just like the waves of an ocean.
10. Static Text Slider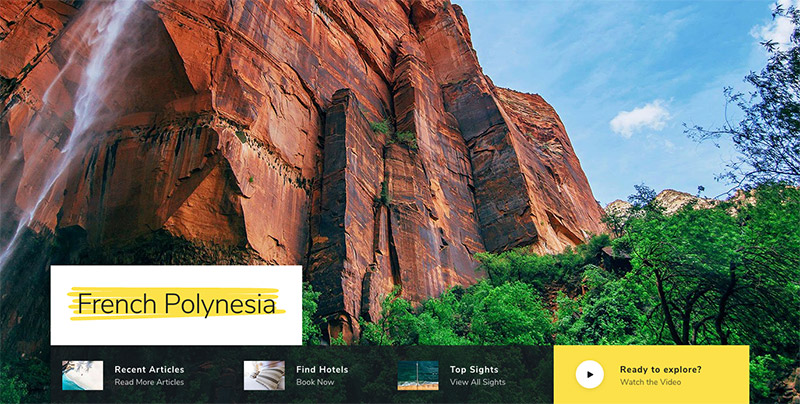 Live Preview
When you've got several WordPress posts dedicated to a single topic, static text can tie them all together while helping your visitors stay focused on your topic. Sliders like this one tell readers the content is about French Polynesia. The thumbnails at the bottom suggest new articles to read.
👍 Why it works: Thumbnails give visitors a peek at the next slide so they're more likely to click. Using static text can help you group similar pieces of content, which is useful when promoting categories on your site.
11. Testimonial Slider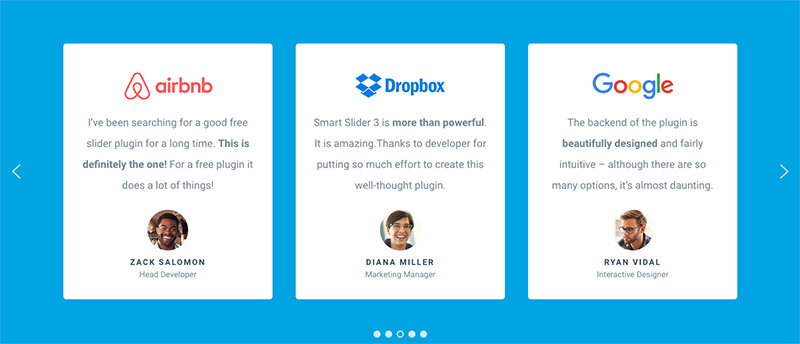 Live Preview
This testimonial slider features a minimalist design that is easy to read. The logos stand out and the photo help visitors visualize who the quotes belong to. In addition, the navigation arrows and dots make it easy for visitors to scroll through and see other testimonials.
👍 Why it works: Similar to logo carousels, testimonial sliders let you display social proof. A social proof reassures potential customers and clients that you're the real deal and they can trust you.
12. Groups of Sliders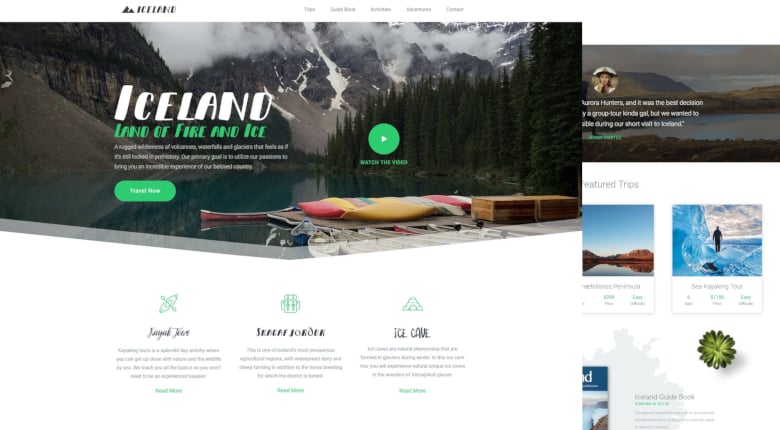 Live Preview
Why use one slider when you can use multiple? This web page is a stunning example of several different sliders in action. The hero header features a beautiful background and clear CTA, while other examples on the page use video, scenes, and other elements for a dynamic design.
👍 Why it works: With layers, you can create unique sliders with various images, text, buttons, and videos as separate layers, and then place them where you like to fit your design vision.
Wrapping Up
These are just some examples to show you what can easily be achieved with the right slider plugin and the right design. For more inspiration, check out the impressive sliders featured in Example Sliders, which includes customizable slider, block, and page templates.
Plus, you'll be happy to know all of the examples featured in this article are available to customize with Smart Slider 3! Download the plugin for free today.