Usually websites are built for one main reason. For example to have a webshop, make a blog, or to show photography images. To do this, people use either the built in WordPress posts and Joomla articles, or a plugin/extension. Of course the whole site doesn't have only this content on it. There are other plugins/extensions used too, which are related to the main content. After a while it could be a lot of work to handle everything in different locations. This is why we made dynamic slides. These slides are automatically getting out the data from the source you choose. So you only have to create your slider once and the content inside will always be updated.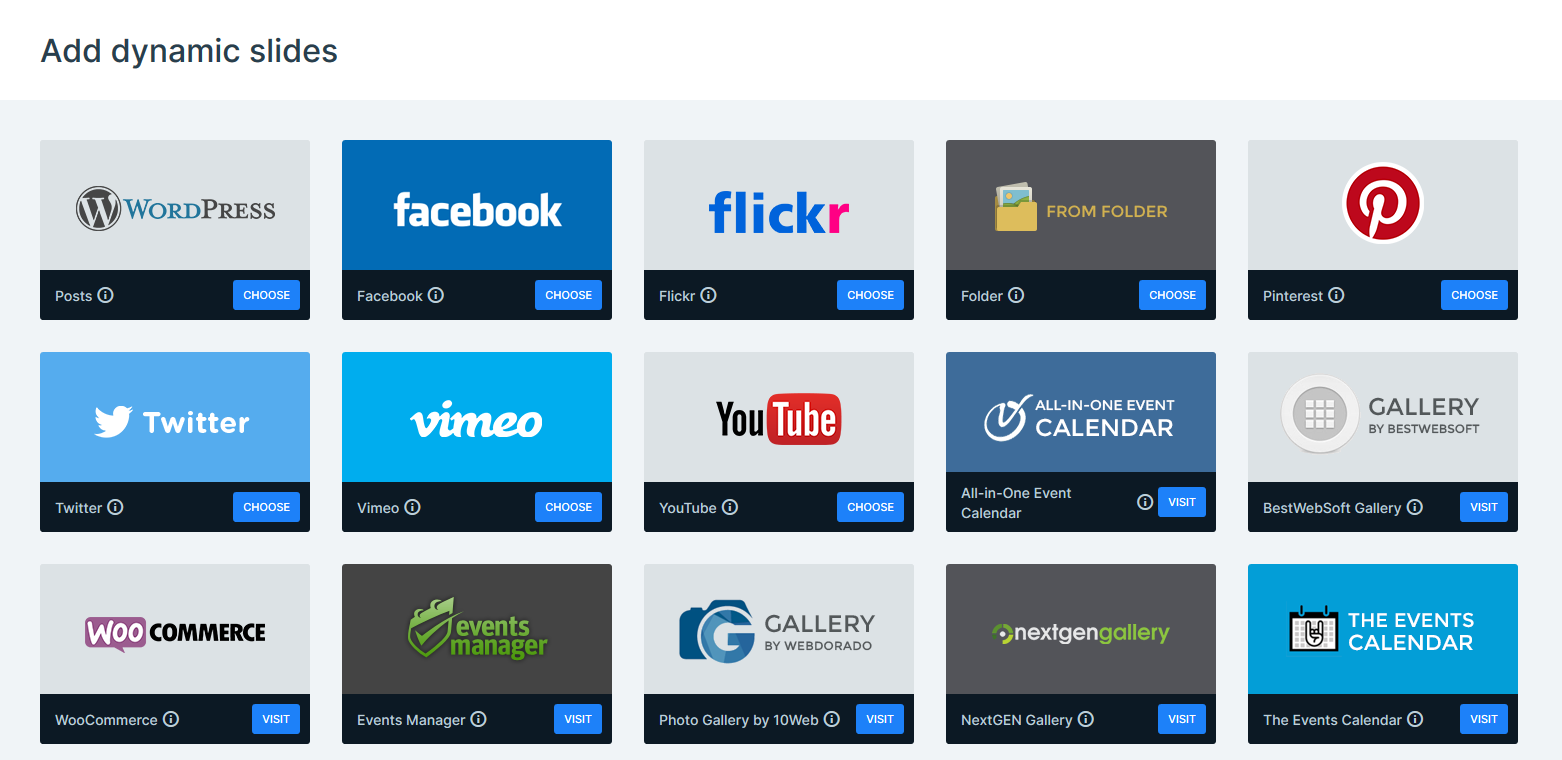 General dynamic slides
We call those dynamic slides "general" which aren't platform related. They can be used at any website, like Facebook posts. Or something more simple, like images from the selected folder. You can see an always updated list from these so called "generators" in our documentation.
Joomla specific dynamic slides
These kinds of generators are the ones only available for Joomla. They were made for Joomla articles, and many different extensions, like EasyBlog posts, redSHOP products and JEvents events. You can see the whole list here.
WordPress specific dynamic slides
There are quite a few WordPress specific generators too, which were made for the most popular WordPress plugins, for example WooCommerce, NextGEN Gallery and The Events Calendar, also you can make dynamic slides from your posts too.
Magento specific dynamic slides
Last, but not at least, we have a Magento generator. Only one, because there is one thing in common in Magento websites. They are built around products. So as an obvious choice, we made a product generator. It can show almost any data about your product. For example it's title, description, price and it can also link to this product. Because of this, our slider can be very useful and convenient for any Magento website.
How it works
Inside our system this works in a way that you can add dynamic slides to your slider. There you will be able to select the source from where you would like to have the data.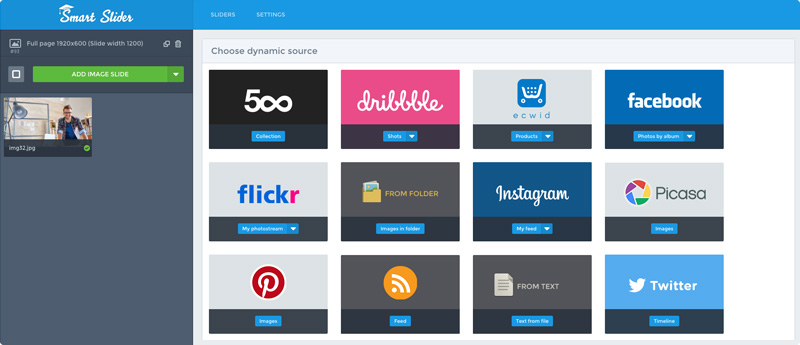 This will lead you to a page, where you will find all the filtering options to choose from. For example from which category you want your article/post to appear.
After saving in the settings, in the slide editor you can choose variables with the help of the "$" button. They will appear at almost every possible input option. Like it can be the text inside your heading, a link of your button, or the image in your background. These variables transform into the content, what you have inside the source. So if you set up your slider, and later on when you will have a new data in your source, these variables will automatically update to the new content.
Core Web Vitals
PageSpeed Insights with Lighthouse analyzed this page on April 12, 2021. For the latest result analyze now!
Desktop
First Contentful Paint
0.3 s
Speed Index
0.4 s
Largest Contentful Paint
0.8 s
Time to Interactive
0.3 s
Total Blocking Time
0 ms
Cumulative Layout Shift
0
Mobile
First Contentful Paint
1.1 s
Speed Index
1.5 s
Largest Contentful Paint
3 s
Time to Interactive
1.9 s
Total Blocking Time
30 ms
Cumulative Layout Shift
0.004
---
Related Post: Do you Need a Product Slider for your Webshop? Yes, you do!
Related Post: How to Create a Joomla Slider?
---