Elementor by Pojo is one of today's most popular page builder plugins for WordPress. While it's a rather new plugin (released in May 2016), it has more than 1 million active installs. If that didn't say enough about the quality of the product, maybe its rating did. Elementor is one of the best-rated WordPress page builder plugin. At the moment it has 323 five star reviews out of 351, and that is amazing. Thus it's safe to say that Elementor is an exceptional page builder which is easy for anyone to use. The plugin is well maintained and updates (with great new features and bug fixes) come often.
What makes Elementor so great?
Elementor is easy to use, and even if it's free, it has lots of premium features. The interface is clear and simple, every action is straightforward. After opening, it puts a vertical sidebar on the left side of the browser. This sidebar contains the available widgets, like a heading or a text box. And that is the place where you can customize them. Actually, the whole building experience and this sidebar reminds me of Smart Slider 3.0. Maybe that made it so simple for me, but Elementor is easy to use without having to know our slider.
Creating sliders in Elementor
The free version of Elementor is an amazing and complete page builder plugin. You can add all kinds of widgets to create your content. I think the most useful widgets are the text, the heading, the button and the image widgets. Every widget is customizable, and it's easy and quick to do so. The best part is that the whole editing is live, so you can see the result immediately on the page.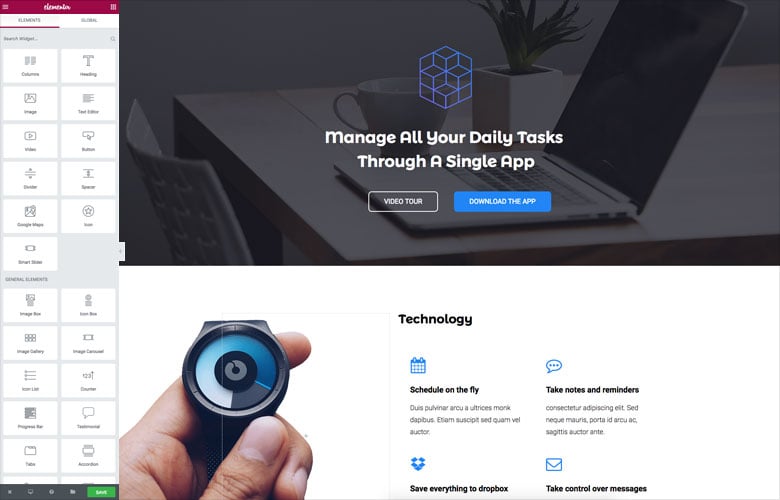 The only missing widget which might be essential for your website is the slider, but it's in the pro version. (The free version has an image carousel widget. It's like a slider, but limited when it comes to adding content.) The slider widget of the Elementor Pro lets you create very simple sliders. You can enter short text as the title, a longer description, and a button. This button or the whole slide can have a link on it. On each slide, you can customize the position, align and color the texts, or use the global setting. So it was designed for "small" sliders, which aren't so content heavy. If you need more content (or an extra button) or layers, you need a slider plugin. For instance, the free version of Smart Slider 3.
How to use Smart Slider 3 and Elementor together?
Using Smart Slider 3 with Elementor is easy. First, you should create your slider at Smart Slider 3's backend. When the slider is ready, open the page where you want to put it using Elementor's builder. Look for the Smart Slider widget, drag it to your page, and select your slider. The editor will load the selected slider, so you will be able to see how it looks on your site. Actually, that's it, there are no more steps, the slider is on your page, you can save it. Of course, you can add many different sliders to your page.
Smart Slider 3 and Elementor: The perfect design tools!
If you need to have better control over the slider's look or the content, Smart Slider 3 is the perfect choice for you. It's really easy to use, and you can customize each layer in a live visual editor. The best part is that there is a completely free version available, which has all the features you need. All Smart Slider 3 version works fine with Elementor, both with its free and pro version.
Smart Slider 3 is the best WordPress slider
Why to choose Smart Slider 3 when you need a good slider plugin? Well, it's a free slider plugin you can install on your WordPress site, you don't have anything to lose. And like Elementor, it's easy to use, and it has many premium features for example: full width slider, thumbnail slider or video slider. There are different layers to create a heading, a button, a longer text or even a video. Each layer is customizable to match your needs and your site's layout. It's easy to change the text color, font family, and size, and you can do it in a visual editor. This means you don't need coding knowledge to create and customize your slides.
To switch slides, you can use arrows or bullets (the small dots usually at the bottom of the slide). You can even make your slides switch automatically with the autoplay feature. Moreover, you can use thumbnails to navigate between the slides. Thumbnails are great for the visitors as they can see a small image of the slide without having to switch there. This way you can encourage them to view more slides.
Content mode is available in the free version of Smart Slider 3
Smart Slider 3.2 introduces a new way to build your slides, the Content mode. Here you can build the content as if you were using a page builder, with rows and columns. The content mode lets you build structured slides very fast. Moreover, the result's responsive behavior is impressive with minor adjustments. The text is perfectly legible on mobile devices, without having to check and set each of them.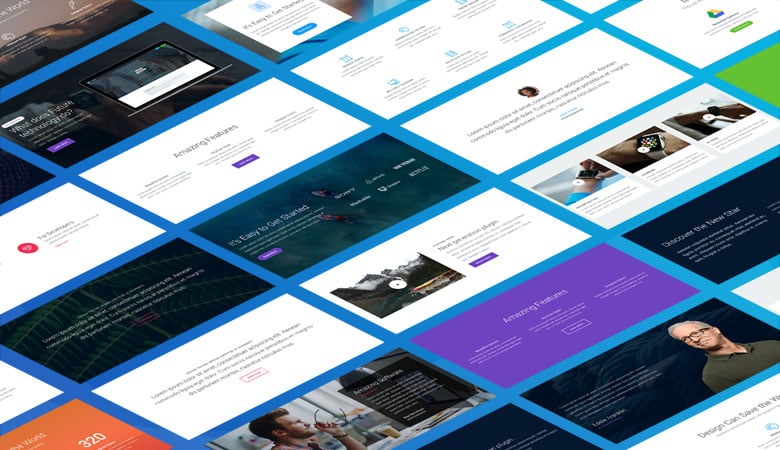 Smart Slider 3 also comes with ready to use template sliders . Import the template you like, change the content to your own and replace the images if needed. When you finished, use Elementor's Smart Slider 3 widget to publish your new slider. If you have sliders and you only want to add new slides, we have great news for you. Smart Slider 3.2 comes with a slide library where you can pick good looking, responsive slides from.
Conclusion
Good plugins are a key part of a great WordPress site nowadays. The Elementor plugin is definitely one of the best free page builder in the WordPress plugin directory. And if you need a better slider option, you can't go wrong with Smart Slider 3. Good luck with your pages and sliders!