Sliders are beloved design elements on different websites. They can cheer up your page and can call the visitors' attention. Using a slider template speeds up your workflow. You may have questions like why is it worth using a template or how do you know which template is good for you? Which plugin has premium and free slider templates which you can fully customize? In this article I will answer these questions for you, and finally, I have summarized the best WordPress slider templates which you can use.
What is a slider template?
Slider templates are premade sliders which you can import, customize and, moreover, instantly use on your site. Slider templates have effects on it, contain images, the design is ready, and the slider is optimized for all devices. Moreover, they can help to start not from scratch but a ready to use layout.
Why is it worth using a slider template?
It speeds up your workflow: When you create your page, a ready to use slider template can be a lot of help. If you find the one which fits your design, all you need to do is change the content, and publish it on your website.
It teaches how to use the software: When you start using a new software, the beginning can be a challenge how to use the settings properly. You can learn a lot from a template: where to change layers, texts, images, animations, or where to change the style. You may not notice, but you've learned where these settings are, and how you can use them.
Ready to use effects: You don't need to guess a completely new animation flow, in addition, you can save a lot of time with the ready animations.
Pre-designed: If you aren't a designer, it can be hard to create a modern slider from scratch. A slider template is great for that, here you don't need to think of the design, and you can customize everything.
5 points to recognize a good slider template
There are a lot of places where you can find slider templates. But how do you know which are reliable and work on every device? I've summarized 5 points, which you can take care of when looking for a good template.
1. Customizable
This is the most important part when you want to use a slider template: can you customize every part of it? A good slider template works the same way when you create a slider from zero, and lets you change anything you want: colors, sizes, images, texts, effects, etc.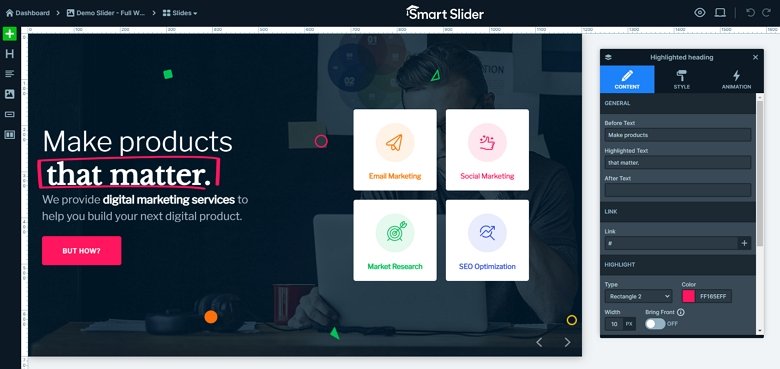 2. Not too complicated
Too complicated layouts can make your work harder, and I'm not sure if it's worth it. If you can find out how the slider works, then your visitors can also find it out, and it can be a great starting point.
3. Well designed
A good template can make your website look as if you've hired a professional web designer. It looks good, uses modern effects, and stands its ground in the modern web design.
4. Responsive
Nowadays, this criterion is basic, every slider should be responsive and work well on different devices: mobile, tablet, laptop and PC. Each part should be readable on each device, the text and images shouldn't be too small or big.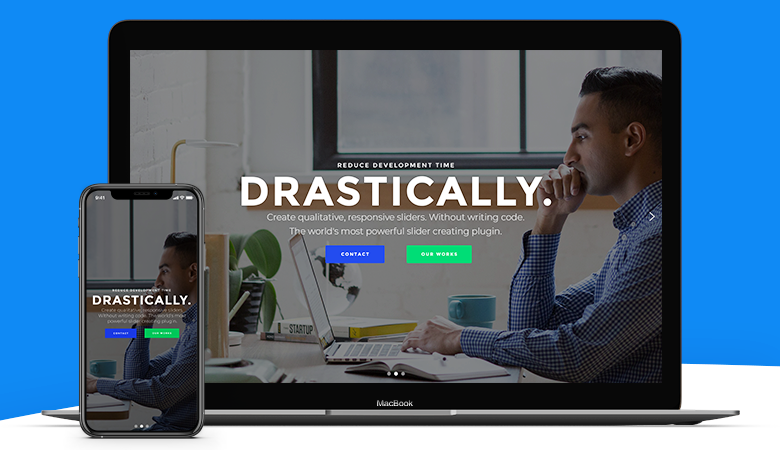 5. Quality assets
A great predesigned slider template should use quality assets like free to use images without any watermark with quality resolution.
What is Smart Slider?
If you have a WordPress website you may look for a slider plugin where you can find ready to use slider templates. Smart Slider is one of the best WordPress slider plugins which you can create slideshows, hero headers or homepage sliders with and it can be a great part of your page. It comes with tons of preset designs, and you can customize each slider template to your liking. You can add more texts, images, call to action buttons on your slider, you can change the colors, or add more layers. There isn't really a limit on what you can do or what you can use a slider template for.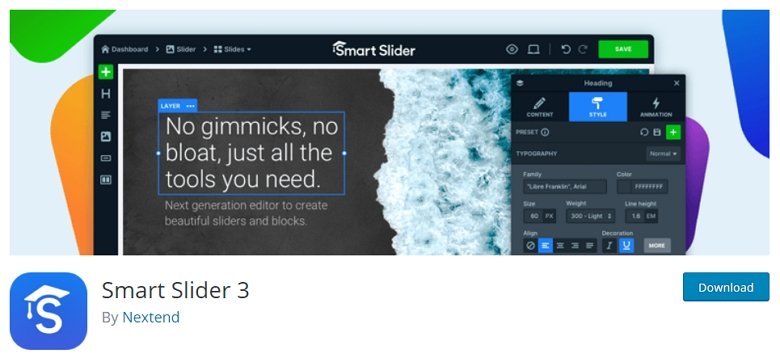 Smart Slider has free and pro versions. The free version is available in the WordPress repository, and has 800,000 active installs and 5-star ratings. The pro version gives options to a lot of features like parallax or particle effect, or layer animations, and you can import more slider templates from our library.
If you don't want to waste your time by learning how to use a new software with many features, starting from a slider template can be useful. Luckily, Smart Slider offers a lot of ready to use slider templates, which you can easily use and personalize.