Homepage sliders are back! Or, should I say, they never left in the first place. If you'd believe the anti-slider brigade, homepage sliders are boring, annoying and bad for conversions. But the actual evidence proves otherwise.
Modern sliders have evolved beyond the basic slideshows that were everywhere 7 years ago. Big brands like SpaceX or Microsoft feature well-designed sliders on their websites. Contemporary sliders are gorgeous. They feature stunning imagery – usually high resolution photography – along with thoughtful copywriting, well-placed CTAs and design elements that ensure information is well-timed so users can absorb the content on each slide.
Why use a homepage slider on your WordPress site? The many benefits include:
Focus. The ability to focus users on your key messages above the fold.
Visuals. Users love stunning imagery. Sliders let you display more than just one image.
Calls to action. Sliders provide opportunities to display multiple CTAs for your important content.
Let's take a look at some examples of how you can use homepage sliders.
1. Full Width Gradient Slider

In the Smart Slider 3 template library you can encounter that free beautiful slider template. It is a simple way to show the most important information with a heading, a short text, a button and a simple image. There are more opportunities to navigate to other slides, you can use the bullets and arrows, or just navigate with a mouse drag. The gradient background makes it colorful and fills the 100% width of your page.
2. Client stories showcase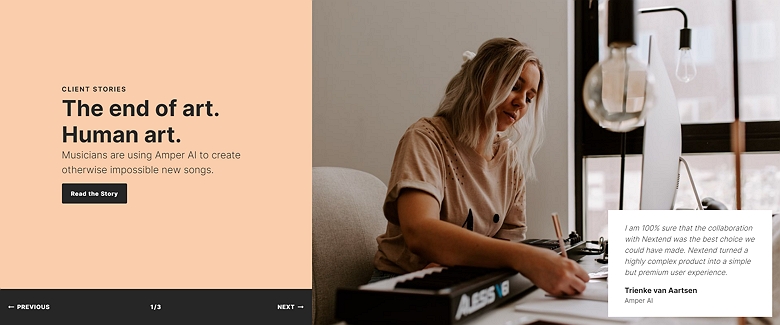 This slider is one of my favourite ones. It fills the full width of the browser, and there are 2 sections on it: an informational part with a CTA and with navigation, and an image with a testimonial in a white box. The responsiveness is also really cool: the two columns are below each other on tablets and mobile devices.
3. Courses slider

The Courses slider is a great example of a full-width homepage slider. The slideshow has a dark blue background with a Shape Divider that breaks and cheers up the structure of the homepage. With that, you can focus on the images, and on the content in the center. The structure is great and it looks good on mobile devices, too.
4. Full page portfolio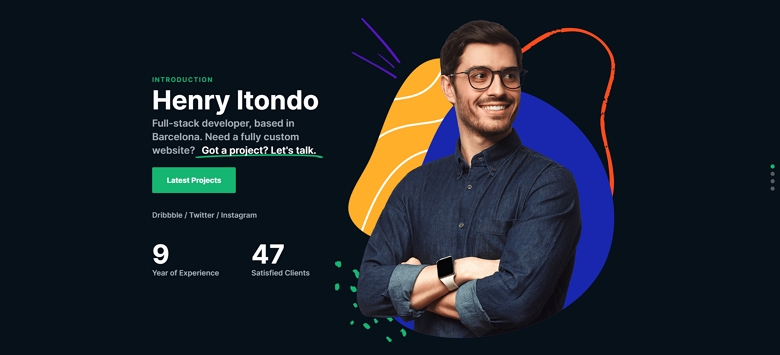 Smart Slider offers a full page portfolio slider that can truly work on your homepage. It can be used as a hero header on your website. It fills the full width and height of the browser, and you can switch the next slides with scrolling. The layer animations make this homepage slider more exciting, the main image loads first, and then the content displays.
5. Winery showcase

The winery slider is a great example of how many options are available to showcase a product. This showcase slider can introduce more products next to one another and helps you to sell those wines. The active slide is in the middle and by clicking on the next or previous slides you can forward or backward to see the others.
6. Full page video to your homepage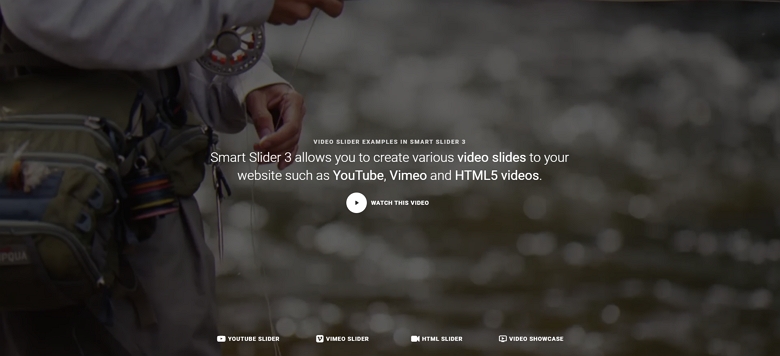 When you browse the web, you can encounter lots of videos on the homepage of the sites. Videos can call the visitors' attention and are great design elements. In this video slider block, you can navigate to other pages, so it can be used as a navigation block on the top of the page.
7. Podcast homepage block

For the first impression, this slider can look crowded however if you look at it more thoroughly, you will think that every element is important and well organized. This podcast slider stands out of the crowd and contains interactive elements: a CTA, icons which point to the social media, and an audio file that you can play.
8. Renovation Full Width Slider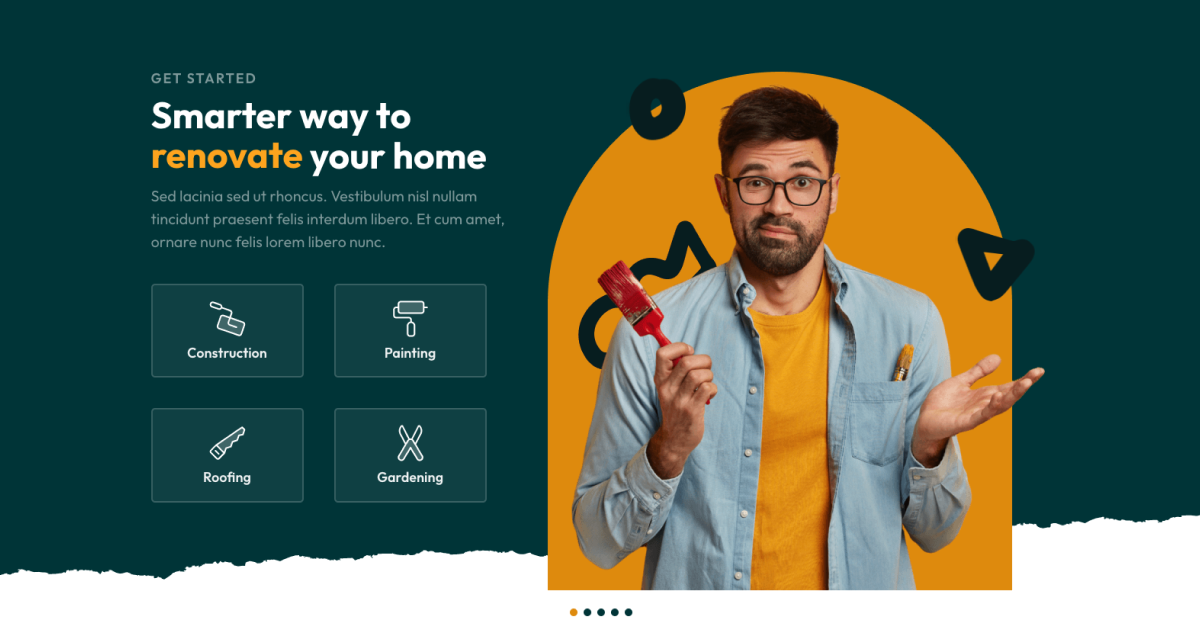 This slider uses a simple but different color scheme for each slide. It has a layer parallax effect to breathe some life to the slides. Additionally, it has a papercut Shape Divider enrich the visual experience. There's also a custom navigation that helps visitors browse the slides.
9. Team homepage slider

This slider focuses on the members of a team. It gives a nice, personal touch to a company's website, and helps build trust in the customers. You can navigate with the arrow on the bottom, or with the thumbnails on the right side. The numbers of the top help the visitor to find out how many slides are available, and which one is visible.
10. Layer Slider Example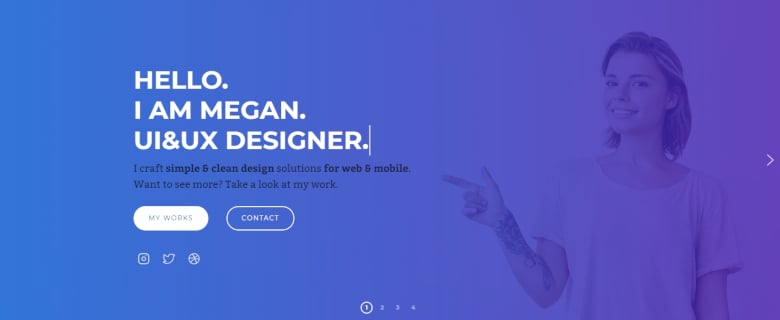 Everyone loves fancy transitions on their website, they help catch the visitors attention. The goal of that slider is to call the visitor to an action, the buttons and icons are waiting for a click. It is important to have a visual harmony among the layers and the background, this makes the slider complete.
Maybe it looks easy to put layers one another. However, if the contrast between the layers and the background isn't enough, you can use a gradient background overlay to add a color to your slider, like in this Smart Slider example.
11. Hotel homepage example slider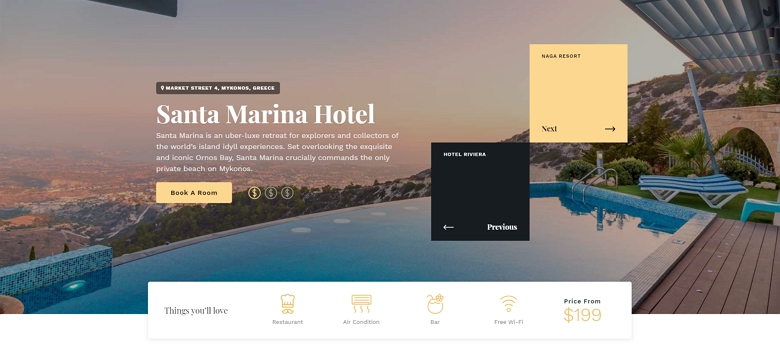 This slider is a great example of how useful it can be to use rows and columns and creating a structure in a slider. There are a lot of different types of layers: heading, text, button, and a nice counter with animation. The background is moving a bit, this Ken Burns gives a movement to the slider. With the boxes, you can navigate to the next and previous slides, and they show up an image when you hover over it which is a really cool effect.
12. Agency Landing Page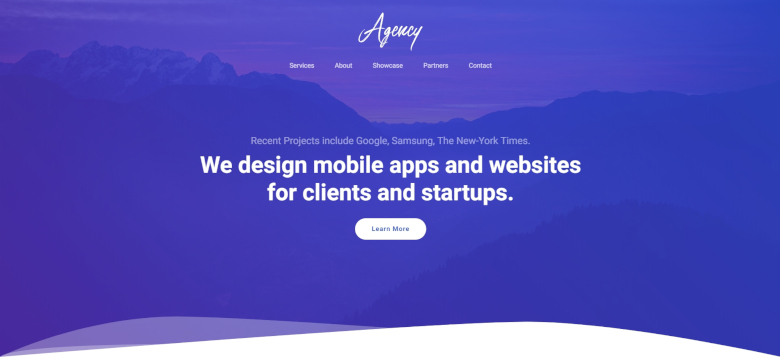 Can you believe that with sliders you can create a whole page? Just imagine that you put sliders under one another, and use them as a landing page like in the Agency template. Use events to navigate to other slides, and you won't have problems with the responsiveness neither. This slide group is clearly inspired by the idea of building, and the technological side of online presences.
13. Broken Grid Slider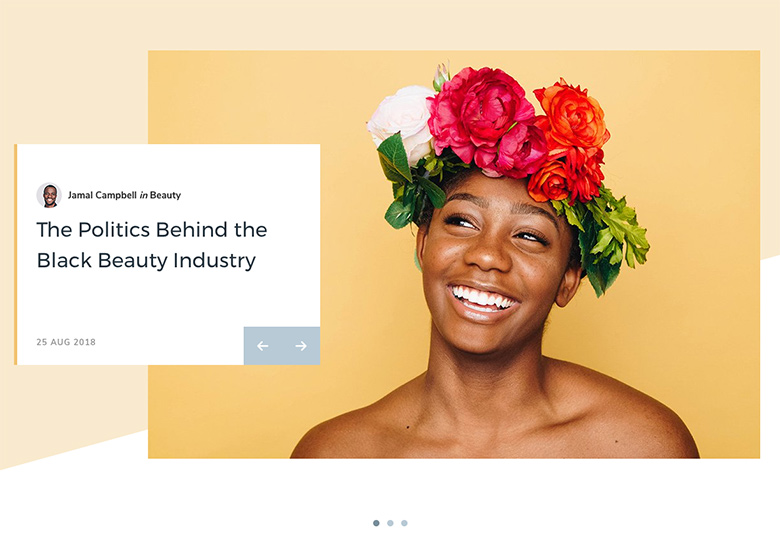 This stunning slider is a new addition to the Smart Slider 3 template library and while it looks simple at first, there are quite a few different design effects going on. For a start, it has a broken grid layout, which has become a popular website trend in recent months and is unlikely to disappear anytime soon. When you hover over the slider, it shifts using a delightful parallax effect that will bring your static images to life. Then there's the white Shape Divider in the background that helps makes the images pop. On top of all that, there are lots of controls for sliding through the images: navigational arrows, bullet controls at the bottom, and you can also click and swipe.
14. Full Page Fashion Slideshow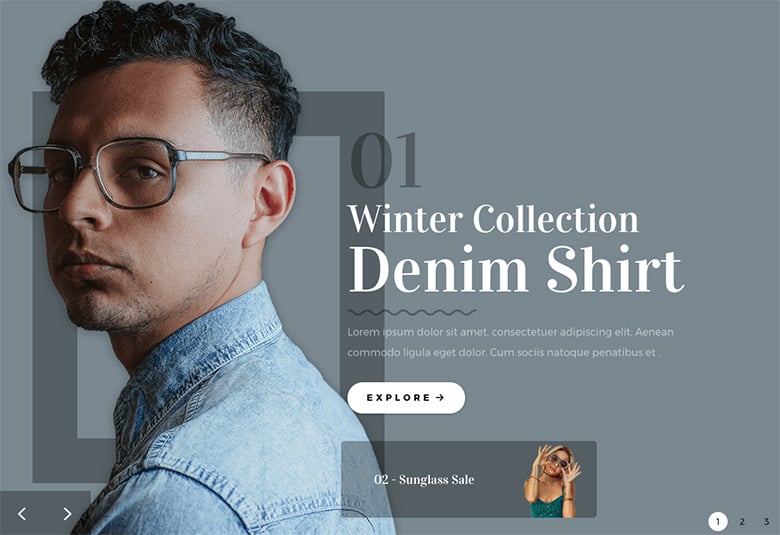 What I love about this slider is that it's a perfect example of what you can achieve with great photography, well-chosen slider elements, and thoughtful design. The primary focus of each slide is the transparent image to the left, but behind each of the models is a fixed shape with a subtle parallax effect. The heading, text and CTA give visitors clear direction on where to click to buy. There are also plenty of controls available to move through the slides, including navigational arrows on the left, numbers on the right (which also indicate how many slides there are), and a thumbnail of the next image in the slide so visitors know what's coming up next.
15. Homepage Product Slider Example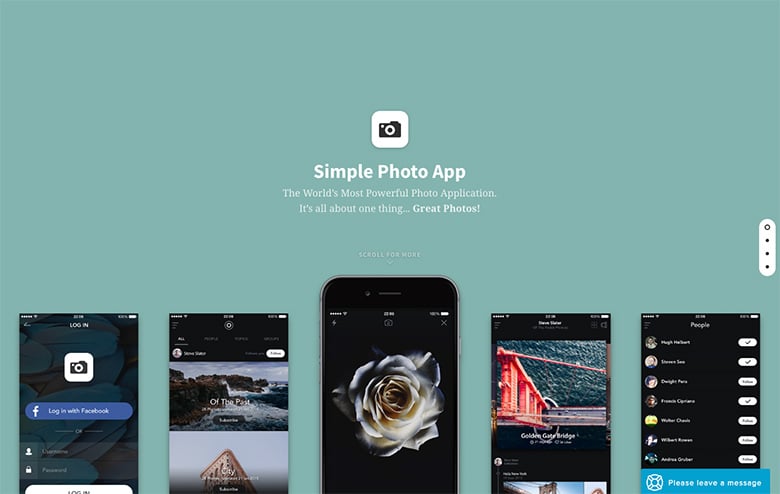 You wouldn't think this is a slider, but it is! As you scroll down the page, each page animates, displaying a different fullscreen background color, varied images, text and a final prompt to download the app from the Apple App Store. It's a simple concept with (literally) so many moving and animated parts.
16. Colorful Full Width Slider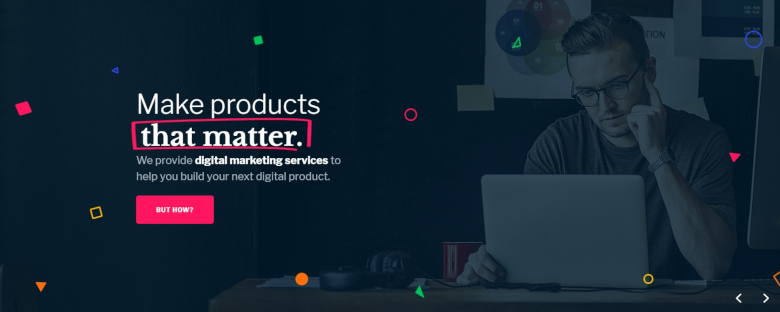 This colorful slider is one of the best examples for a fullwidth slider. The layer parallax effect with the highlighted heading makes the slider powerful and awareness-raising. With that highlight you can focus the most important part of the slider. The colors are in harmony and the heading is more readable because there is a strong contrast between the color of the heading and the background.
17. Autoplaying Static Slider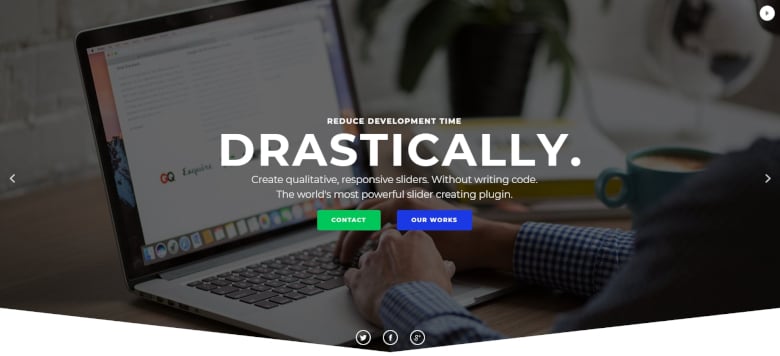 The fullscreen slideshow with a static text and varied backgrounds is an eye catching way to display your information which can attract people. The static slide is always above the other slides which moves behind it. In this case the layers will get more attention because they are always visible. And the autoplay indicator shows you that the slider is live and something will happen.
Creating Your Own Beautiful Homepage Slider with Smart Slider 3
With Smart Slider 3 you can easily create beautiful home page sliders. If you like any of the Smart Slider examples above, you can use them — just import them into your WordPress install when you sign up for Smart Slider 3 Pro.