Divi by Elegant Themes is one of the most popular WordPress theme and page builder available today. This page builder is a drag and drop editor in which you can create a whole website. There are a lot of available modules that you can choose from, and which makes it easier to create a website. In this article, I will introduce the available slider modules in Divi. Also, I will show you a slider plugin alternative which can make your website more unique.
Divi Slider modules
Using a slider or a block on your website isn't a new thing nowadays. Page builders like Divi already have options to create a slider module for your page, which is the easiest and fastest solution to create a slider. Divi offers 3 kinds of slider modules: a simple slider, a video slider and a post slider module.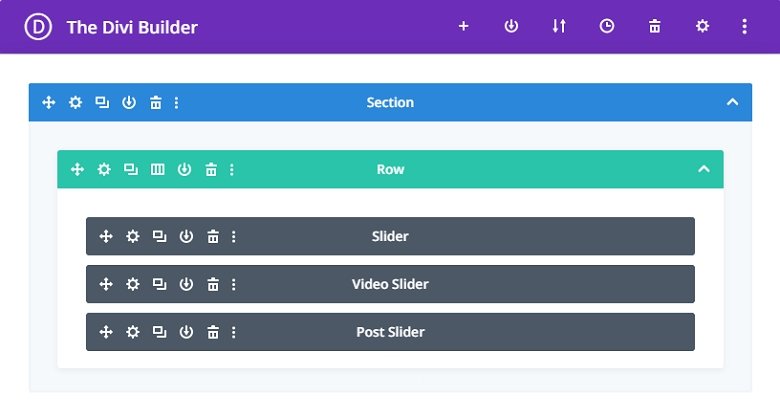 Let's take a look at these modules!
Slider module
Divi slider module can be a great solution if you want to place a basic slider on your page. Every setting is inside the Divi builder, and you can instantly check if the design fits or not.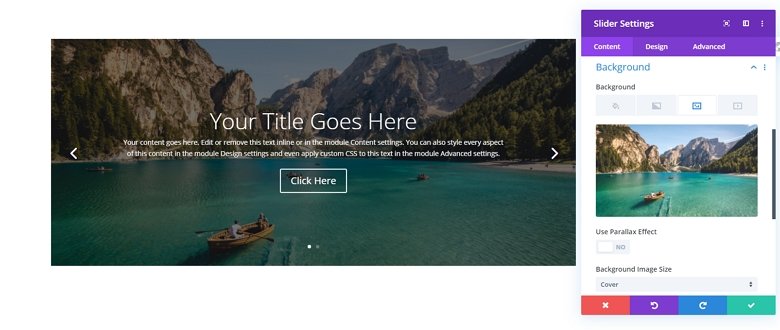 This slider is a great slider module that you can use to showcase images or videos, display some text, and also you can put a CTA on it. For this reason, it can be a quick way to create a hero slider. You also have customization options, like setting the typography, colors or the style of your bullets. The slider has an option to set a slider background image, where you can adjust the size of the image. Additionally, you can put an overlay on it. And you can even add a parallax effect which can make your site more professional.
👍 GOOD
Easy to use
Parallax background
Video background
Hide slider on devices
👎 BAD
You can't change the order of your slide content
Limited structure
Video slider
Divi offers another slider module to create a video slider on your page. With this module, you can organize your videos. You can use any source, for instance, you can put any YouTube or Vimeo link, or you can upload your own mp4 video. So it is up to you which one you want to use. There are customization options similar to the other slider module. In addition, you can customize the thumbnail images and the play button as well.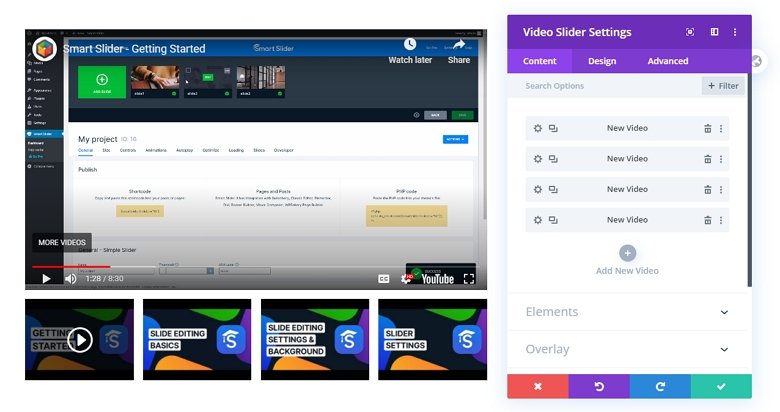 👍 GOOD
You can use any type of video
Easy way to create a video gallery
👎 BAD
No autoplay option
Every time the video starts from the beginning
Post slider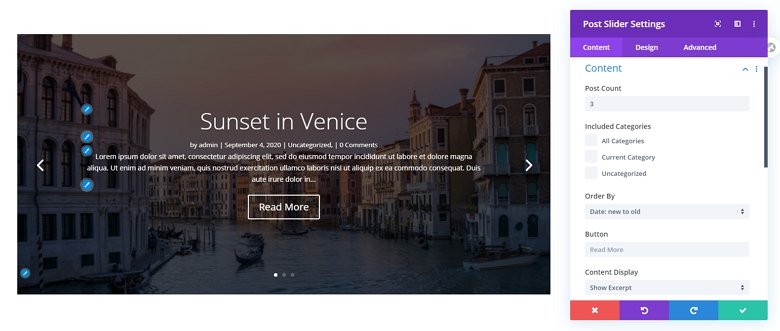 Creating a dynamically changing post slider is great to showcase our latest or featured posts. Divi offers a post slider module where you can display your latest post, define how many articles you want to showcase and in which order. You can set the featured image as the slide background, display the post title and meta, and put a read more button which links to the post itself.
👍 GOOD
Dynamically changing content
You can choose from categories
Customizable post count and order
👎 BAD
Limited design and structure
How to create better Divi sliders?
The slider modules in Divi are great but I think they are a bit limited. If you want to create a more customizable slider, it's worth finding a slider plugin that is compatible with Divi. Smart Slider is one of the best slider plugins in WordPress. Even the free version has great features that you can start with. Smart Slider helps you create custom designs, and you can customize every layer. This plugin has a Divi module, so you can publish it as usual.
Hopefully, you want to know how the Smart Slider 3 plugin can upgrade the Divi slider functionality. One of the most important improvements is that you can create slideshows with more than 4 layers in custom order and placement.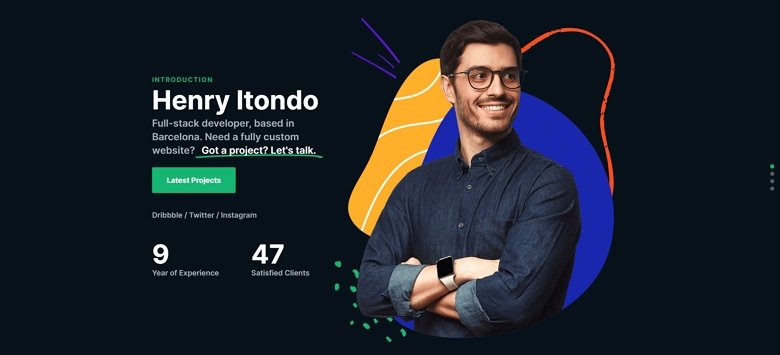 Smart Slider has a layer list where you can choose from more types of layers. The rows and columns help you to structure them. You have the option to align your layers vertically and horizontally, set a maximum width, change any colors or typography, so you can create a unique design. If it isn't enough, you can use absolute positioning on your layers to design the slider. By combining the different layers and positions, you can create some truly unique websites with Smart Slider 3 and Divi.
How to use Smart Slider 3?
Smart Slider is a slider plugin that is available for free in the WordPress repository. Just simply download, and activate it. Then you can start creating your slider. There are many pre-built templates that you can start with, but you have the option to start from scratch.

If you are ready with your slider, publish it with the Smart Slider Divi module.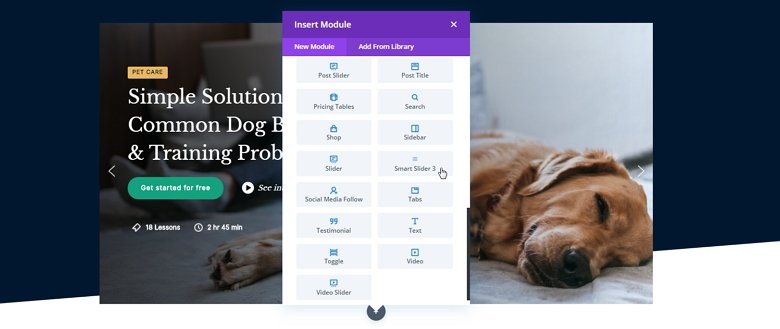 Comparing Divi slider module and Smart Slider
Let me compare the basic Divi slider and the free and pro versions of Smart Slider. I really think that the Divi slider module is a great module of Divi, because it has a lot of customization options, and it is inside in Divi. Everything is in one place, and you don't need to know a new interface. But the functionality is limited because you can't create the layout you want.
If you want a more specific layout where you can place your layers where you want, and you can create a more unique content, consider using Smart Slider 3. The free version offers a lot of features like the Divi module, and with the Pro, you don't have limits.
Let's see some relevant differences!
| | Divi slider module | Smart Slider 3 Free | Smart Slider 3 Pro |
| --- | --- | --- | --- |
| Layers | 5 | 6 | 23 |
| Typography options | ✅ | ✅ | ✅ |
| Drag & Drop interface | ❌ | ✅ | ✅ |
| Background image | ✅ | ✅ | ✅ |
| Background video | mp4, WEBM | ❌ | mp4 |
| Parallax effect | ✅ | ❌ | ✅ |
| Layer animations | ❌ | ❌ | ✅ |
| Transitions | ✅ | ✅ | ✅ |
| Controls | 2 | 5 | 7 |
| Dynamic variables | ✅ | ✅ | ✅ |
| Static overlay | ❌ | ✅ | ✅ |
| Autoplay | ❌ | ✅ | ✅ |
Interface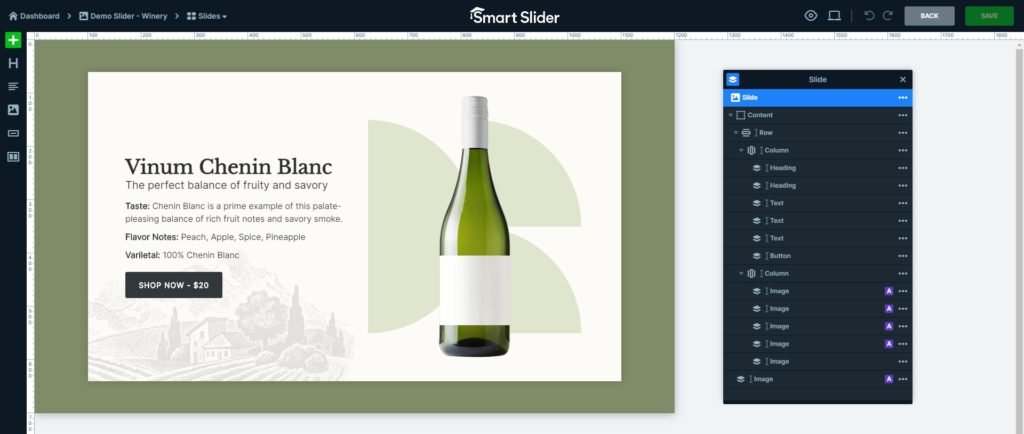 The main difference is the interface. There's no doubt that Divi makes it easy to add sliders to your WordPress website. Simply enter text in the set fields and then upload some images and your slider is ready to go. However, when it comes to functionality and letting you create impressive sliders, the Divi slider does have some limitations. Nonetheless in Smart Slider, you can use a drag and drop slide editor, and you can place your layers where you want.
Animations and effects
With background animation modes you can easily bring your design to life. Divi has a basic animation option, which you can cheer up your slider, but in Smart Slider 3 Pro you can choose from 3 kinds of animations: main animation, background animation and unique layer animations.

Customizable controls
Each slider module has options to customize the controls, but in Smart Slider, you have more ways to make them unique. You can put the controls into other positions, change the colors, spacing, or hide them on different devices. Besides in Smart Slider 3 you have options to display thumbnails which you can create an image gallery styled thumbnail slider.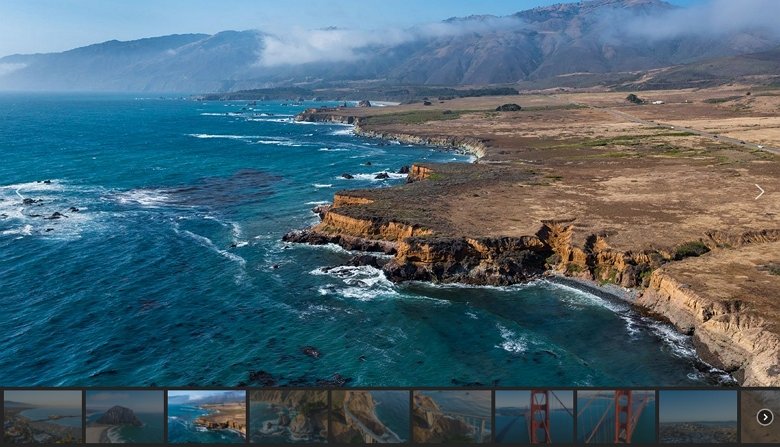 Slider autoplay
Smart Slider offers slider autoplay which is a popular feature at most slider plugins. This way the slider switches slides after a while. This can call the visitors' attention but if you don't like autoplaying sliders, then you can simply disable this setting.
Why should you choose Smart Slider 3 as your Divi Slider?
If you like simple and basic things, maybe you don't want to install another plugin and learn how it works to create a slider. Divi also has slider modules, so why should you use a different plugin to create a slider? Let's see some features which can help you decide to choose Smart Slider or not.