Divi from Elegant Themes is one of the most popular WordPress themes available today and if you're using this theme or thinking about choosing it for your website, this article looking at the Divi slider tool is for you.
The Divi feature list looks great on paper, sometimes you can get better results from using a separate purpose-built plugin alongside Elegant Themes' flagship WordPress template.
One example of this is the Divi slider tool. While you might be tempted to stick with the default Divi slider module, you could be doing yourself and your website a huge disservice. In this article, we'll explain why you might want to consider giving the Divi slider an upgrade and what extra features you could unlock for your website by doing so.
Want to jump to a section quickly?
🖼️ Divi Slider Module
🎨 Layer Options
👩‍🎨 Creative Freedom
🎬 Animation Options
▶️ Playback Control Settings
🏞 Slideshow Variations
🎓 Upgrade the Divi Slider Tools
🤔 Final Thoughts
🖼️ About the Divi Slider Module
The Divi slider is one of the many modules you can add to your page design. Available at the touch of a button, when it comes to convenience for Divi users, this slider is hard to beat. However, when it comes to functionality and letting you create impressive slideshows, the Divi slider does have some limitations, especially compared to more purpose-built built WordPress slider plugins.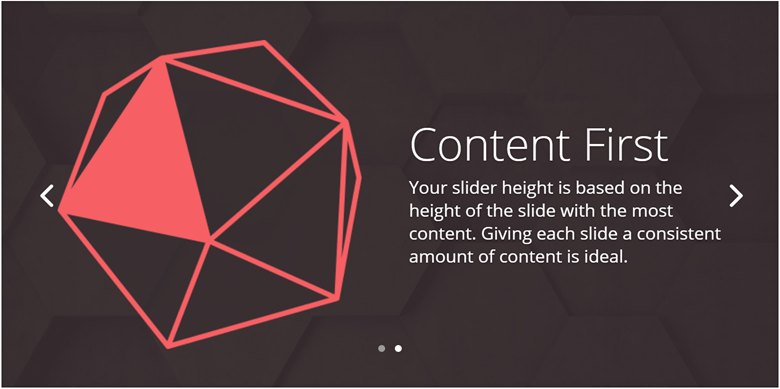 You could get by with just the default Divi slider module. But if you really want to make the most of your website and get the best results from it, installing a plugin like Smart Slider 3 alongside the Divi theme has many benefits. If you're worried about compatibility between Divi and Smart Slider 3, there's no need. The plugin slots right into the Divi user experience.
🎨 Layer Options
Hopefully you're curious about how the Smart Slider 3 plugin can upgrade the Divi slider functionality. One of the most important improvements you'll have access to if you choose this plugin and theme combination is the ability to create slideshows with more than three layers.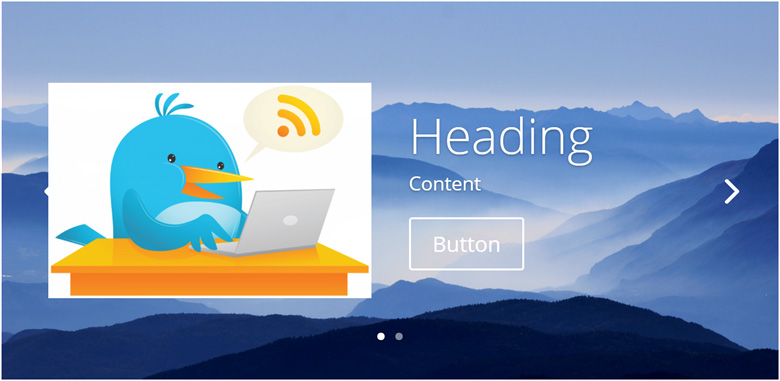 The three Divi heading, text, and button content layers might be enough for the most basic of sliders. But for everything else, Smart Slider 3 and its 21 layer types gives you much more creative freedom. If you do choose Smart Slider 3 as your new slider tool, then layers for icons, progress bars, counters, and even videos can be used to add content-rich slideshows to your website.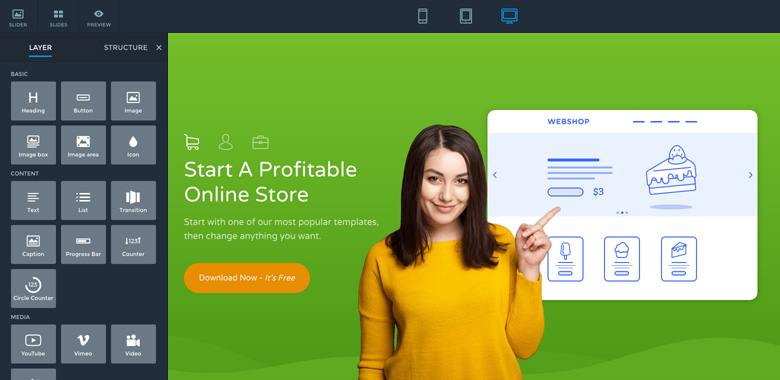 By combining the different layers and the content types they support, you can create some truly unique website with Smart Slider 3 and Divi.
👩‍🎨 Creative Freedom
There's no doubt that Divi makes it easy to add sliders to your WordPress website. Simply enter text in the set fields and then upload some images and your slider is ready to go.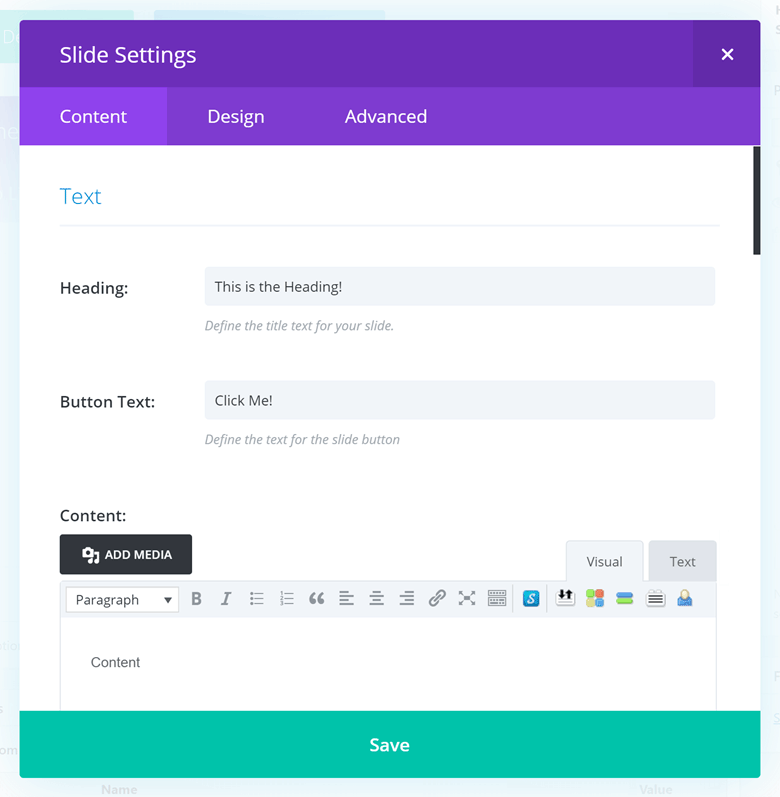 Of course, Divi does have settings that give you some control over how your slider and its content will look and behave. But for the most part, this simplicity comes at a cost and that cost is creative freedom. Compared to a purpose-built slideshow plugin like Smart Slider 3 that gives you a blank canvas to work from when creating and arranging the content on each slide, you can quickly see how restricted you are with the Divi slider.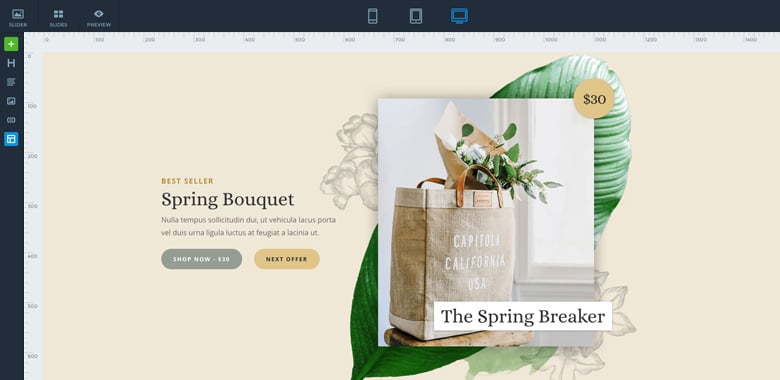 Thanks to the canvas approach to slide design, with Smart Slider 3 you're free to drag and drop elements around the slide, resize them, and customize them in a number of different ways. By taking advantage of the lack of a fixed structure, you really can build what you want with Smart Slider 3.
🎬 Animation Options
We've already seen that Smart Slider 3 lets you choose from a varied selection of content types for your slides while also giving you the freedom to place the items anywhere on your slide canvas. Another reason to add this plugin to your Divi-powered website is the ability to add a range of animation effects to your sliders, block and their contents.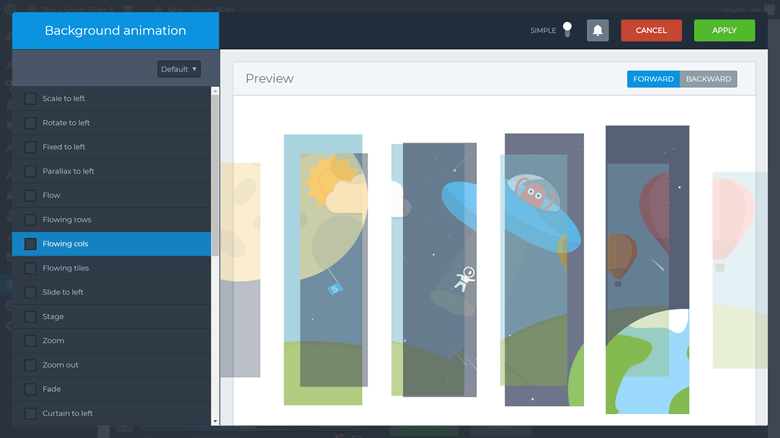 With background animation modes including rotating, parallax, tiles, rows, puzzle, and spinning cuboid to name just a few, you can easily bring your design to life. As well as adding animations to the slide background, you can also apply them to the individual layers of your slides.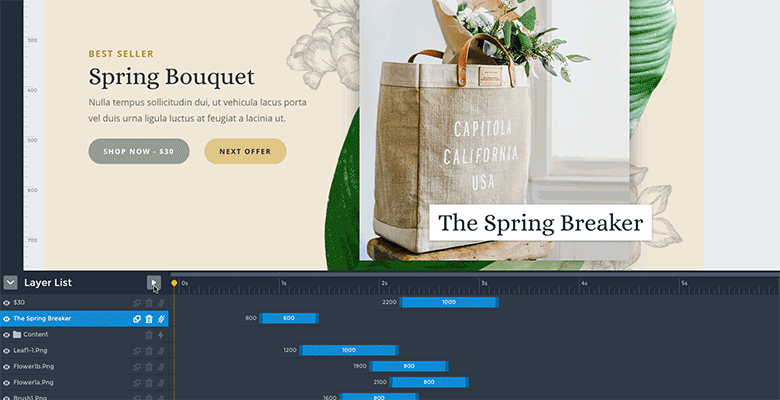 As before, you can instantly preview the animation effects in real time to find the right one for your presentation. Using custom triggers to control the animation effects, as well as enabling looping or one-time animation playback is all part of the Smart Slider 3 toolkit.
Once you take into account other animation features like the layer timeline, Smart Slider 3 becomes the obvious choice for adding animated slideshows to your WordPress website. Furthermore, as everything has been designed to be as lightweight as possible, making the most of the animation effects shouldn't slow down your site.
▶️ Playback Control Settings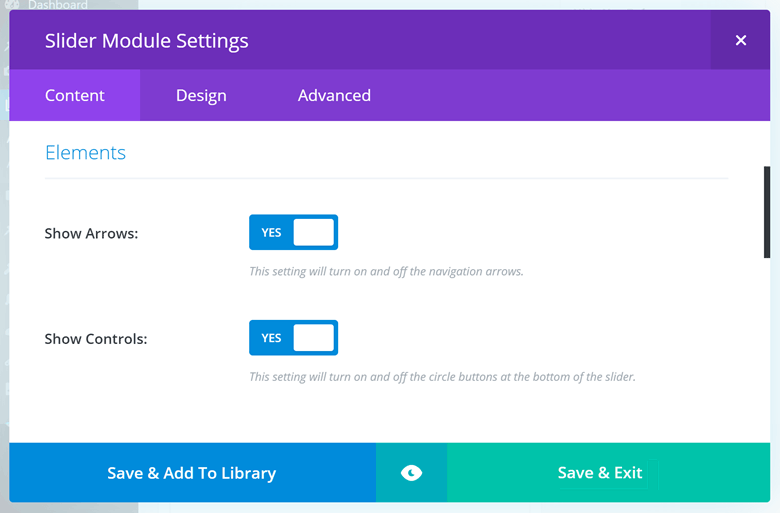 Like the other aspects of the Divi slider covered so far, when it comes to playback controls, you can add functional controls to your slider with Divi. However, if you want greater creative freedom to define how your slider controls look and work, again, Smart Slider 3 will definitely appeal.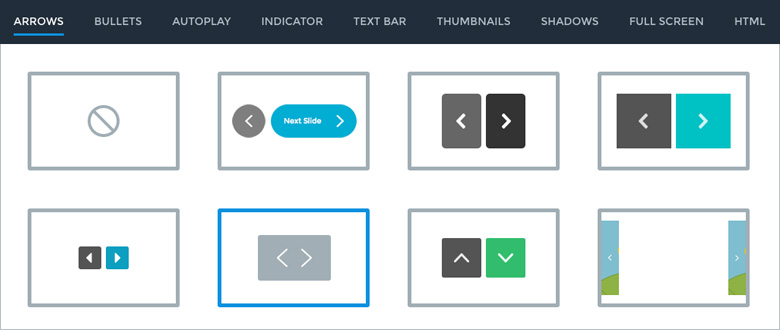 With control over the arrow styles, positions, and colors as well as the ability to define the bullet and thumbnail properties, Smart Slider 3 makes it easy to customize this aspect of your slideshow.
🏞 Slideshow Variations
Truth be told, Divi doesn't have just one slider module. You can also add post sliders and video sliders to your WordPress website with this theme. These modules make it easy to display a selection of your blog posts in a slideshow format and create sliders that feature videos from external URLs or those you've uploaded to your site.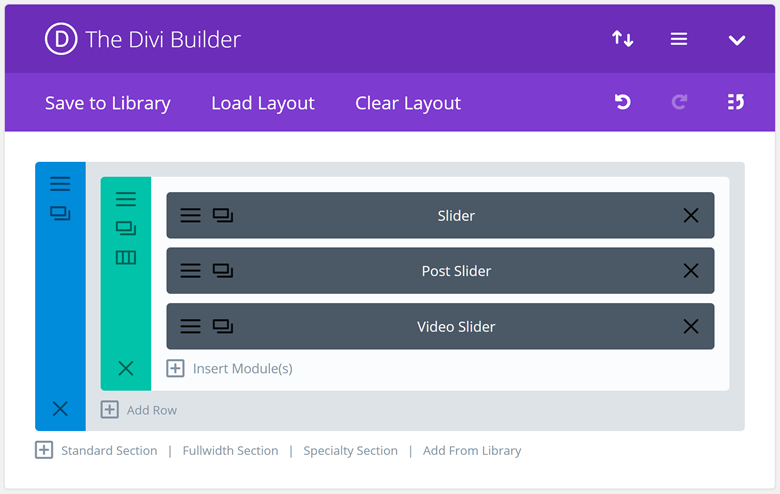 The Posts Slider module of Divi also gives you the ability to create dynamic slideshows that display the latest post content from your blog. However, Smart Slider 3 goes beyond just allowing you to use posts for the content of your dynamic sliders. Displaying WooCommerce products, custom post types, and content from popular WordPress events plugins as well as the NextGEN Gallery tool is all supported by Smart Slider 3.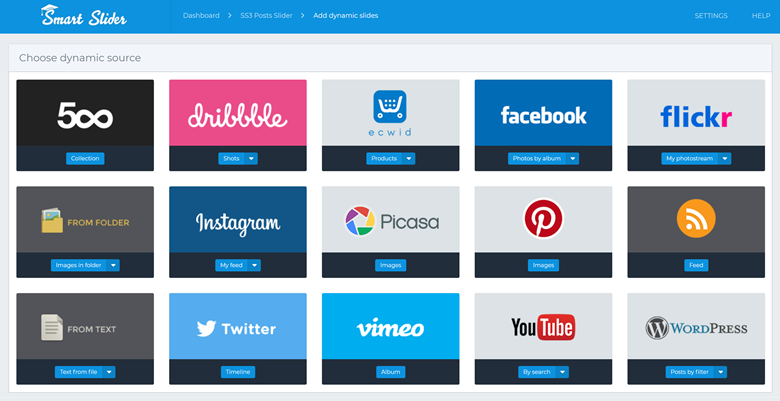 You can also display content from social media sites like Facebook and Instagram as well as a range of other sources with Smart Slider 3 Pro. It's also fair to say that the filtering options of the Smart Slider 3 Pro dynamic slide generator feature are more sophisticated compared to the Divi slider modules.
🎓 Other Ways Smart Slider 3 Upgrades the Divi Slider Tools
Hopefully you now have a better idea of how Smart Slider 3 can upgrade your ability to add slideshow presentations to your Divi website. But if you're still not sure, how does the idea of being able to create a wider range of slider types, including customizable full-page and full-width sliders, carousels, showcase sliders, and blocks.
Smart Slider 3 definitely isn't short on fully customizable templates either. Choosing an option from the collection of complete pre-built sliders and library of individual slides can help you save time and overcome any design-related shortcomings you might have.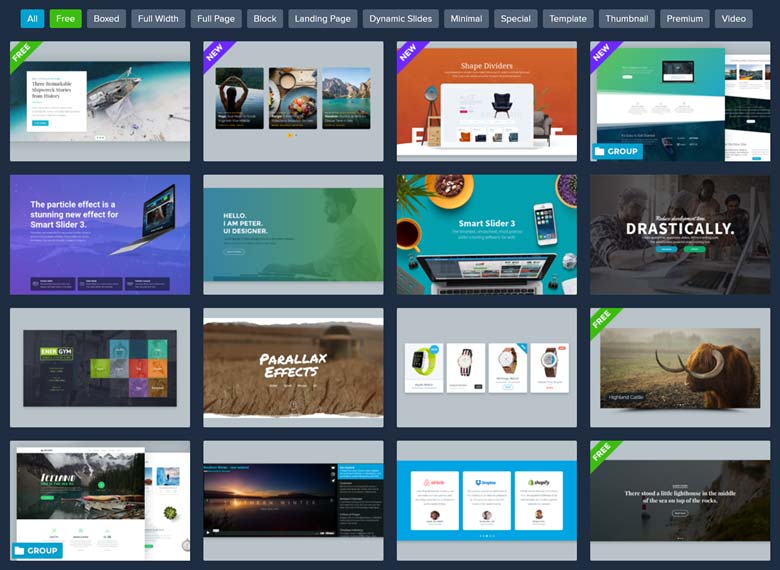 Last but not least, Smart Slider 3 compares favorably to other popular premium WordPress slideshow plugins, especially when it comes to performance and ease of use. Image optimization, with the option of enabling lazy loading, is part of the functionality of Smart Slider 3, too.
🤔 Final Thoughts
As you can see, there are plenty of good reasons to use Smart Slider 3 to add sliders to your Divi website. Not only does Smart Slider 3 integrate seamlessly into Divi, but you can build more interesting, creative, and unique slideshows with Smart Slider 3 compared to the Divi slider modules.
It's worth mentioning that this article isn't just a case of a plugin developer trying to promote their product over a competitor's product. If you ask in the Divi Facebook groups and other related communities, you will find instances of people who love Divi but would like the ability to do more with sliders. If you fall into that category, then this article was written for you.
It's definitely not a case of Divi or Smart Slider 3. Instead, using these two tools together to enhance your options for adding slider to your WordPress website is the way forward.