Wondering what premium WordPress plugins are worth your time and money? It's easy to get swept up searching through the 54,000 free plugins available in the WordPress repository. But if you're looking for a plugin that you can rely on, provides updates and support, and has advanced functionality, it's worth investing in a premium plugin.
To help you narrow down your search, I've handpicked this collection of the best premium plugins for WordPress, based on the many years I've been working with WordPress. These are plugins I see time and time again in the backends of WordPress — these are premium WordPress plugins people use and get value from.
Want to jump to a section quickly?
🏗️ Visual Builder Plugins
🔒 Security Plugins
⚡ Optimization Plugins
🔍 SEO Plugins
🛒 Ecommerce Plugins
📝 Forms and Booking Plugins
Best Visual Builder Premium WordPress Plugins
Page builders and visual builders have become an important design tool for WordPress users. Building sites is no longer just for developers — with visual builder plugins, now anyone can create a beautiful WordPress site.
1. Elementor Pro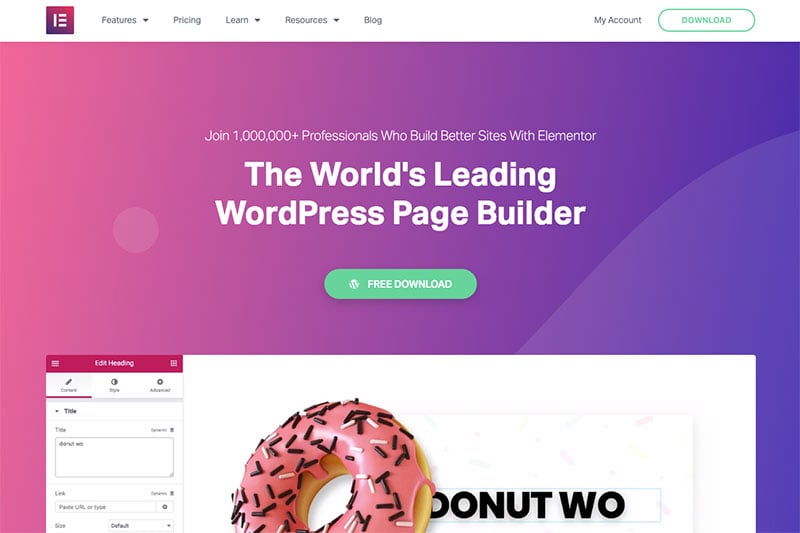 Get Elementor Pro
Since its release in 2016, Elementor has quickly grown to become one of the most popular page builders for WordPress, with 5+ million active installs. You can even buy Elementor themes from ThemeForest.
It's easy to see why it's so popular. With Elementor you can build complex, pixel perfect page designs using drag and drop. Want to start designing from scratch? Choose from over 80 design elements and add text, buttons and even forms to your pages. Need a template? There are 100+ pre-designed templates to help get you started.
💰 Pricing: There's a free version available in the WordPress plugin repository. The premium version starts at $49 per year.
2. Smart Slider 3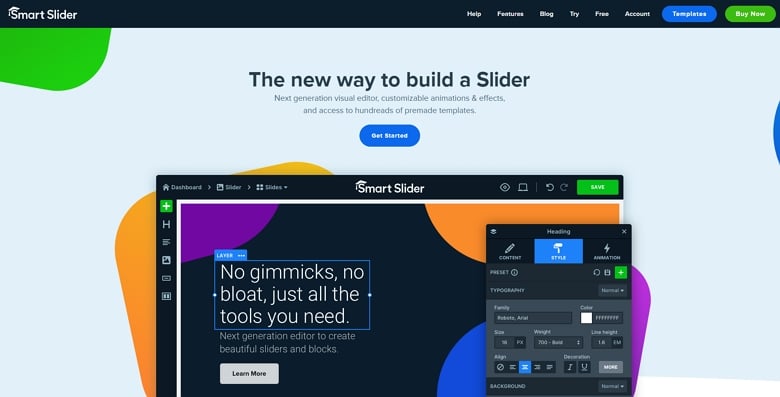 Get Smart Slider 3
If you're looking for a visual building plugin that lets you design pages and elements for your site without having to replace your whole theme, then Smart Slider 3 is the plugin for you. It's not just a slider plugin — it's a powerful visual builder that allows you to create stunning design elements for your WordPress site.
Don't be confused by the name — this plugin is truly heavy duty, allowing you to create everything from homepage sliders and WordPress carousels to fullscreen video sliders and image sliders.
With the user-friendly canvas and content modes, layers, and huge range of elements and templates, Smart Slider 3 blows every other slider plugin out of the water with the level of functionality it provides compared to other premium WordPress plugins.
💰 Pricing: There's a free version available in the WordPress plugin repository. The premium version starts at $49.
3. Divi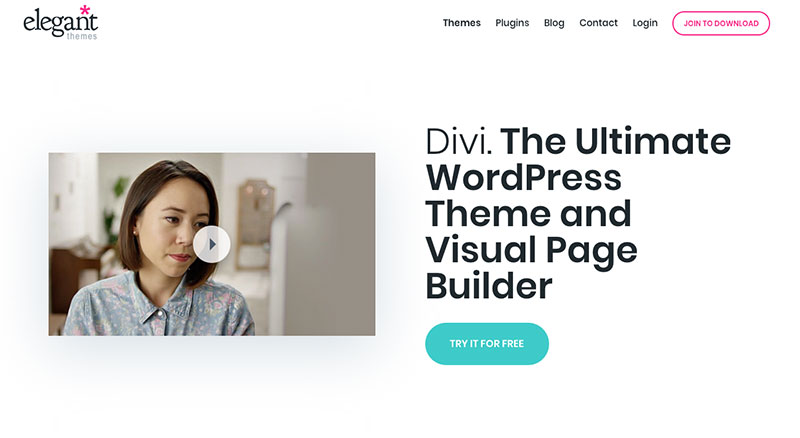 Get Divi
Divi is the most popular page builder for WordPress, according to BuiltWith, though it's had a lot of time to climb the ranks — it was first released in 2013 as Elegant Themes's flagship theme.
The Divi offers user-friendly visual page building that's really fast. There are 46 modules for everything from text and email optins to filterable portfolios and galleries. A unique feature of Divi is its integrated a/b split testing and conversions rate optimization system, which lets you test different design — no other page builder offers this.
💰 Pricing: Pricing starts at $89 per year.
4. JetElements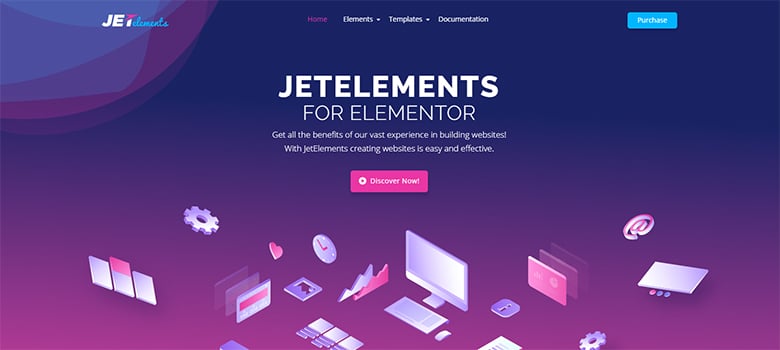 Get JetElements
In order to get all possible benefits when it comes to building your own online-project, you cannot pass by this incredible plugin. If you dream of getting your website ready in an effective and easy way, this add-on is exactly what you need. JetElements includes a great number of modules for different purposes. Among them, you can find the following ones:
post carousel and slider, advanced carousel, and animated box;
recent, featured, sale, best-selling, and top products;
image grid, justify, and masonry;
services and testimonials;
portfolio, audio players, Parallax effect, and many other amazing tools.
💰 Pricing: Pricing starts at $15 at TemplateMonster.
Best Security Premium WordPress Plugins
It's easy to take on an it-won't-happen-to-me approach when it comes to website security, but chances are, if your website hasn't already been compromised, it will be hacked sooner or later. That's why you need security and backup plugins for your site.
5. Sucuri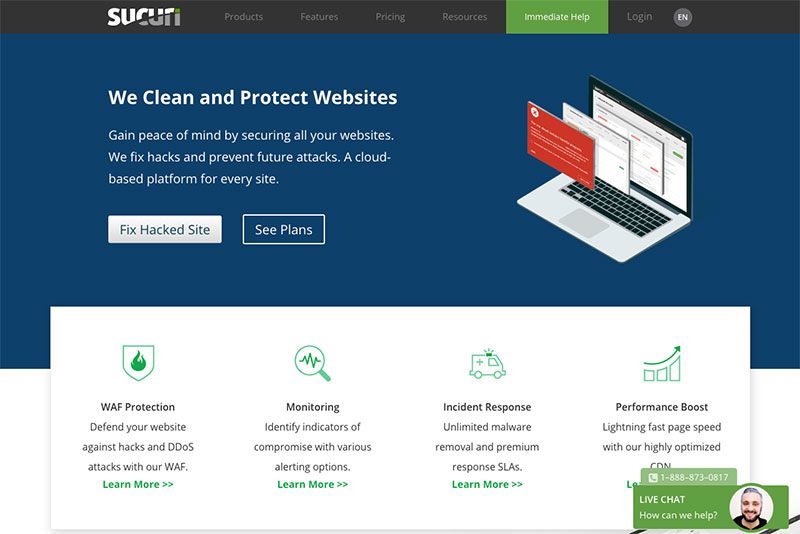 Get Sucuri
Sucuri is a trusted global leader in website security that specializes in WordPress security. Its free WordPress plugin provides a comprehensive suite of features designed to bolster sites, including activity auditing, remote malware scanning, blacklist monitoring, effective hardening, post-hack security actions, and security notifications.
Premium users get access to an enterprise grade Website Firewall designed to give you the best security protection any website can hope for. It protects your website from a variety of website attacks, including DDoS attacks, exploitation of vulnerabilities, Zero Day disclosure patches, and brute force attacks.
💰 Pricing: There's a free version available in the WordPress plugin repository. The premium version starts at $199.99 a year.
6. Defender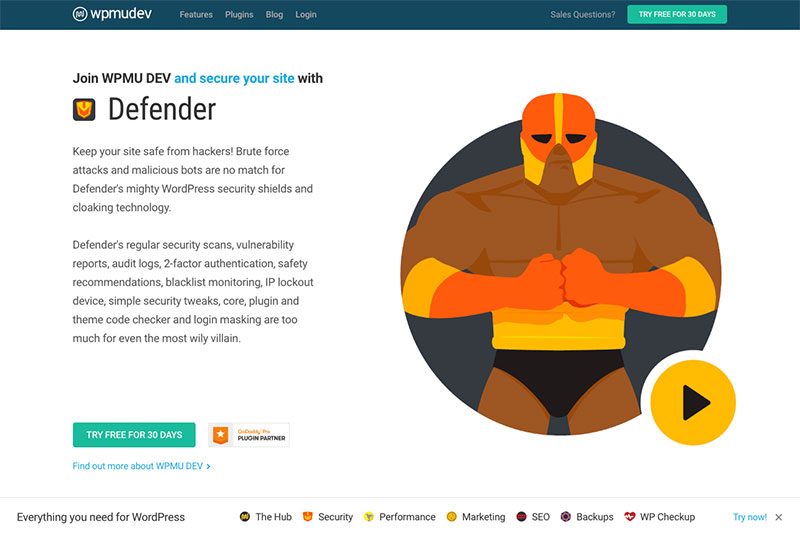 Get Defender
Defender is one of those plugins that flies under the radar, which is a shame because it's a beefy plugin that packs a punch as far as security goes. This plugin has all the features you'd expect of a premium WordPress security plugin and more:
Security scans
Vulnerability reports
Audit logs
Two-factor authentication
Safety recommendations
Blacklist monitoring
Brute force lockout
IP lockout device
Simple security tweaks
Code checker (for core, plugins and themes)
Login masking
File change detection
Automated backups (via Snapshot)
On top of all that, Defender has one of the most user-friendly UI's of any premium WordPress plugins for security I've used. Tweaking security settings can be a headache, but Defender makes it easy (and strangely, kind of fun!).
💰 Pricing: There's a free version available in the WordPress plugin repository. The premium version is included in WPMU DEV's full toolkit for $49 per month.
7. VaultPress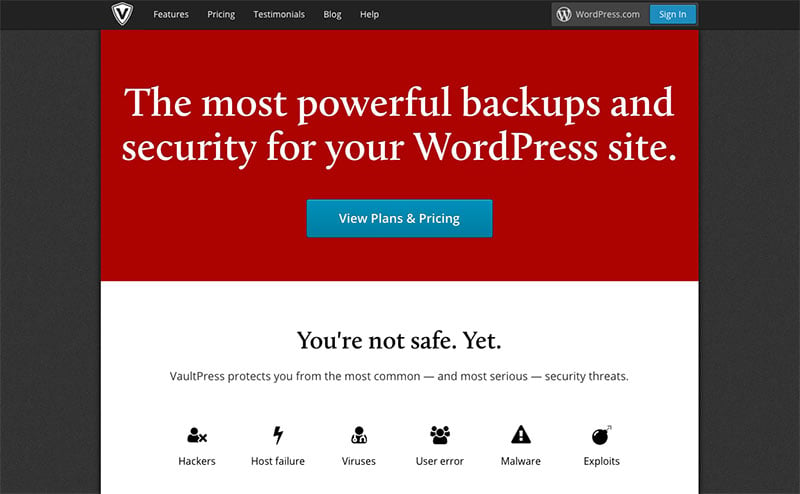 Get VaultPress
VaultPress subscription-based backup and security service developed by the folks at Automattic. It's now powered by Jetpack, and uses the same Automattic grid that serves over 32 million WordPress.com blogs and 330 million monthly visitors. VaultPress offers automated daily backups with unlimited storage space and a 30-day backup archive. It's also provides daily in-depth code scans for infiltrations and malware. From your VaultPress dashboard, you can easily restore any of your backups.
💰 Pricing: Jetpack pricing starts at $39 per year.
Best Performance Optimization Premium WordPress Plugins
You've got 15 minutes of free time to speed up your site. What do you do? For time-poor site admins who want only the best performance optimization plugins, WP Rocket and Smush are must-have premium WordPress plugins.
8. WP Rocket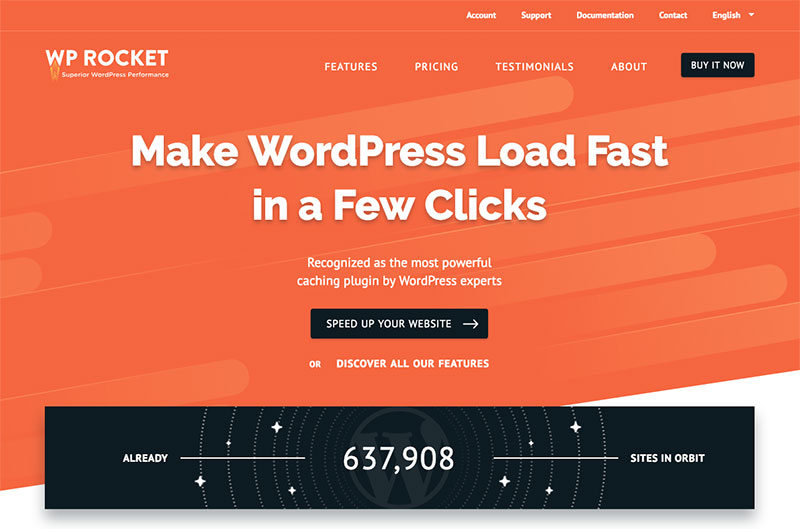 Get WP Rocket
WP Rocket is the most popular premium caching plugin for WordPress thanks to its huge list of features and user-friendly interface. Compared to free plugins like W3 Total Cache, which are confusing to configure, WP Rocket works as soon as you activate it and includes simple settings for further tweaking your site's performance.
In addition to browser caching, WP Rocket also provides:
Minification and GZIP compression for HTML, CSS, and JavaScript files
Database cleaning
Lazy loading
Cache preloading
DNS prefetching
File deferring
Google Fonts optimization
💰 Pricing: Pricing starts at $49 per year
9. WP Smush Pro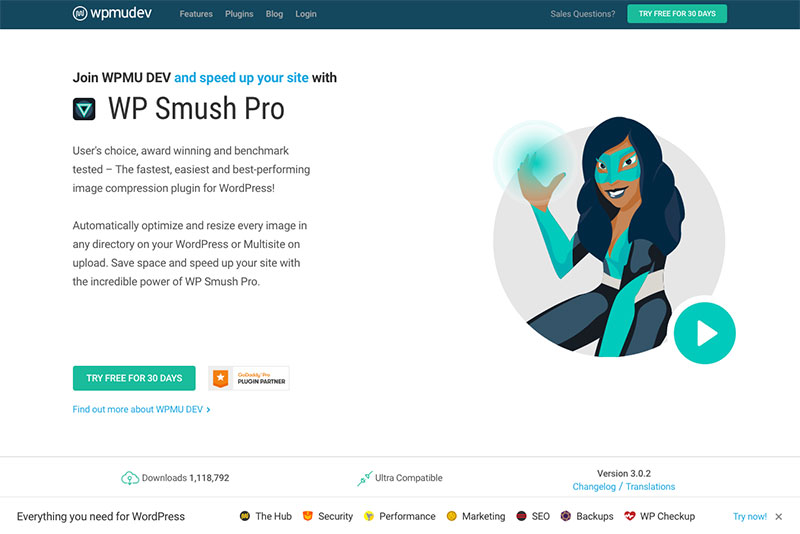 Get WP Smush Pro
WP Smush Pro is the most popular image optimization plugin for WordPress with 1+ million active installations. It works by applying lossless (or lossy) compression techniques to your images that shrink them in size without any noticeable loss in quality.
A useful feature of WP Smush is the ability to bulk smush images automatically when you upload them to your site so you don't have to do it manually. It also offers WebP conversion.
💰 Pricing: There's a free version available in the WordPress plugin repository. The premium version is included in WPMU DEV's full toolkit for $49 per month.
10. Optimole

Get Optimole
Optimole can be your all-in-one image optimization solution for WordPress. This premium WordPress plugin optimizes your images real-time with a cloud-based system to speed up your website. With the easy-to-setup options you can start improving your site in minutes.
Optimole optimizes your images automatically
Picks the right image size for the visitor's browser and viewport
Serves images via a fast image CDN​
Uses lazy loading to display your images
Optimole has full compatibility with popular page builders and you can easily integrate it in your WordPress site. It can be installed in a few clicks and then left in the back-end to do its job.
💰 Pricing: There's a free version available in the WordPress plugin repository. The premium version starts at €19/month.
Best SEO Premium WordPress Plugins
Need some help with your search engine optimization? There's one premium SEO plugin for WordPress that beats all others…
11. Yoast SEO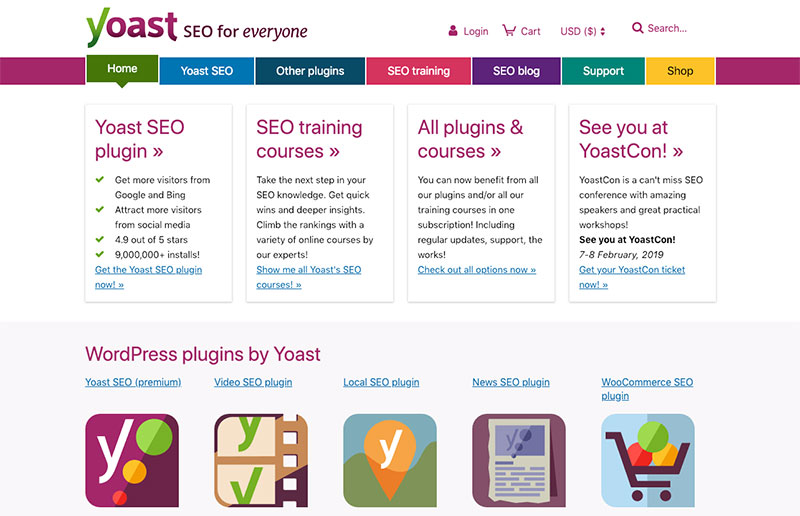 Get Yoast SEO
When you log in to any WordPress site, more often than not you'll find Yoast SEO installed. This plugin offers advanced SEO features that are easy enough for beginners to set up and configure.
The premium version of Yoast SEO includes:
Advanced XML sitemaps
Full control over site breadcrumbs
Set canonical URLs to avoid duplicate content
Title and meta description templating
Content and SEO analysis, including readability
Text insights
Automatic internal linking suggestions
💰 Pricing: There's a free version available in the WordPress plugin repository. The premium version is $89 per site per year.
Best Ecommerce Premium WordPress Plugins
WordPress isn't just the most popular content management system — it's also the world's most popular ecommerce platform when you pair it with WooCommerce.
12. WooCommerce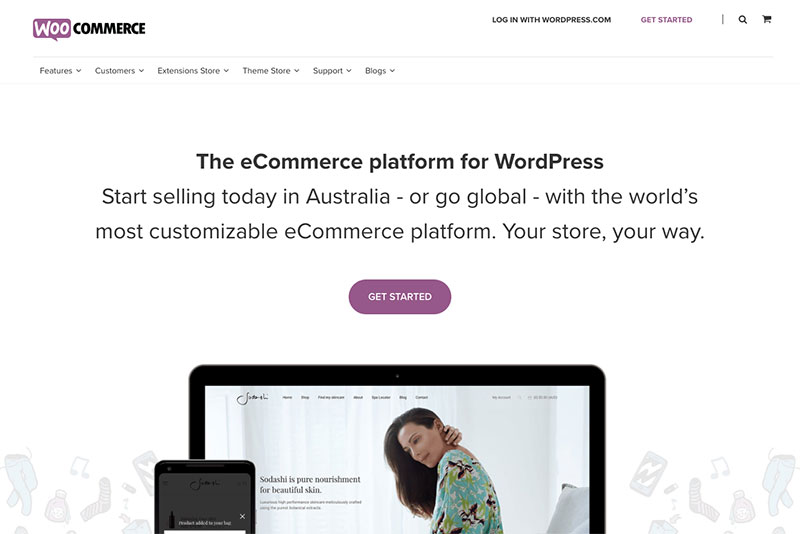 Get WooCommerce
With 4+ million active installs, WooCommerce is the most flexible and customizable ecommerce premium WordPress plugin. You can use WooCommerce to sell both physical and digital products.
Beyond the core WooCommerce plugin, the WooCommerce Extensions store provides access to hundreds of free and premium extensions, allowing you to add all sorts of additional functionality to your store.
💰 Pricing: WooCommerce is free, but you'll need to pay for any premium extensions.
13. WooCommerce Subscriptions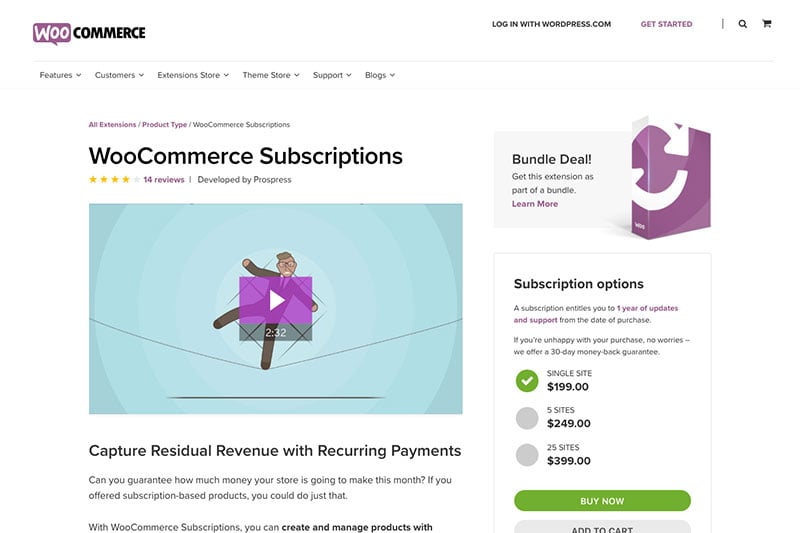 Get WooCommerce Subscriptions
Subscriptions lets you add recurring payments to your WooCommerce store, complete with subscriber management, tracking, and analysis.
You can customize Subscriptions to include payment models for both physical and digital goods, but also any services you provide. Create time-based subscription packages that can entice new customers based on package value, e.g. weekly, bi-weekly, and quarterly payments.
💰 Pricing: Pricing starts at $199 per site per year.
Best Forms and Booking Premium WordPress Plugins
No matter what kind of site you have, you'll want to keep in touch with people who visit — and for that you'll need a contact form. With the options below, you'll have access to advanced features and functionality.
14. Ninja Forms

Get Ninja Forms
Ninja Forms is one of the most popular premium form plugins for WordPress — it's powerful, flexible and user-friendly. People have decided over 16,000,000 times to download and use this premium plugin. You can build forms with drag & drop within minutes, and it is ideal for beginners, you can use it without coding knowledge. Developers will also find what they need, hundreds of functions, action hooks, filters that they can use to create their own custom functionality.
Ninja Forms is available for free, but you can do a lot more by upgrading to the premium version of the plugin. You have control of every elements, and you can easily put it on your WordPress site with widget or shortcode. Whether you choose the free version or decide to upgrade, you'll have a solid and reliable form that's easy to use.
💰 Pricing: There's a free version available in the WordPress plugin repository. The premium version starts at $99 per site per year.
15. Caldera Forms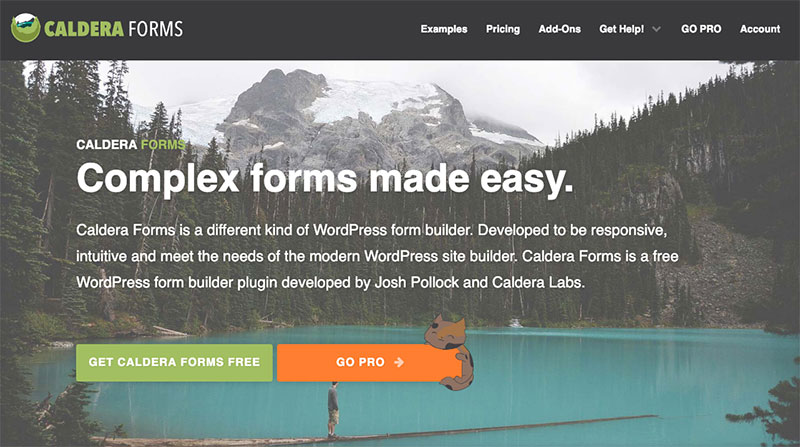 Get Caldera Forms
Caldera Forms makes creating complex forms super easy. Using drag and drop, you can create responsive forms with multiple columns and pages. You can also funnel user responses using conditional logic to get more robust and relevant information from visitors to your site.
What I really like about this plugin is its ease of use. Getting started is easy and you can create and add a form to your site in minutes.
💰 Pricing: There's a free version available in the WordPress plugin repository. The premium version is $164.89.
16. Amelia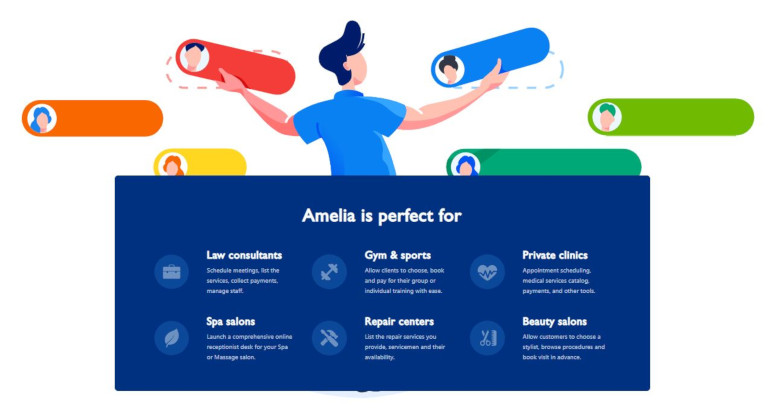 Get Amelia
Amelia is an enterprise-level appointment booking Premium WordPress Plugin, built with the newest technology. It can be your automated booking specialist which works 24/7. It provides a smooth booking experience for your customers, take care of the payments, and it will fully automate the interaction with the potential customers.
With Amelia you can receive a booking engine with lots of features, it's easy to use, you can install it with a few clicks. You can customize it to fit your needs on your website, and it has a tons of demos what you can use.
💰 Pricing: Amelia is priced at $59/year.
Wrapping Up
There you have it, the 16 best premium WordPress plugins. Do you use any of these plugins? Or do you have any favorites that didn't make the list? Let us know in the comments below!