Slider Revolution is by far the most popular paid slider plugin for WordPress. But did you know there are more fantastic free Slider Revolution alternatives that are just as good as the Slider Revolution? Yes, that's right – you can design and build beautiful sliders for your website without having to pay for a premium plugin.
📚 Table of contents
Plugins as Free Slider Revolution alternative
Do you want to create a slider for free? Then you may look for a free slider plugin which you can create stunning sliders easily. I collected 11 slider plugins, which you can use.
Smart Slider
Metaslider
Master slider
Gutenslider
Soliloquy
Slide anything
Ultimate Responsive Image Slider
Slider by 10Web
Genesis Responsive Slider
Cryout Serious Slider
Crelly Slider
From the 11 plugins I tested 4 which are potential Slider Revolution alternatives: Smart Slider, Metaslider, Master slider and Gutenslider.
I plan to choose a Rev slider template, which I'll try to recreate with each plugin. It won't be easy, because a free plugin can't fully replace a paid plugin, but let's try it! I chose this News slider template. There are thumbnails on the left, and there is a white box with a heading, a description and with a button.
What are the most important features of this slider?
Full width layout
Background images
Layers: heading, text, button
Thumbnails on the left
Autoplay
Fading background
Animation on the layers
Responsive slider
I will check in each plugin, can I recreate the same looking slider as this template, or what alternatives can I use. Then I will choose the best, and check it for more details.
Smart Slider
Smart Slider is a powerful and perfect free Slider Revolution alternative. This is one of the most popular slider plugins in the WordPress repository, has a 5-star rating and 800,000+ active installs. With this plugin, you can create sliders and blocks without coding knowledge.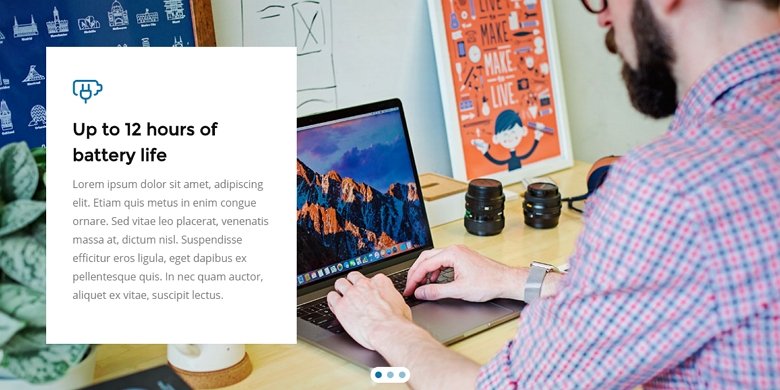 Live Preview
The drag and drop editor helps you create the slider as you have imagined, and the available layers can be freely used. The heading, text, images, buttons, YouTube and Vimeo layers help you create a slider that you can structure in rows and columns. You can easily create a responsive slider, and every layer is customizable.

With Smart Slider I could almost fully recreate the same looking slider as the Rev slider template, only one feature is missing: the layer animation. Layer animations are available only in the Pro version.
MetaSlider
With 800,000+ active installs, Meta Slider is one of the most popular slider plugins for WordPress. But is it the best free slider plugin?
Don't get me wrong, Meta Slider is a great plugin if all you want to do is create a simple image slideshow. The user interface is minimal and easy to understand and use. Creating a slideshow is a straightforward process – just upload your images, add captions, and then you can set the dimensions and transition effect.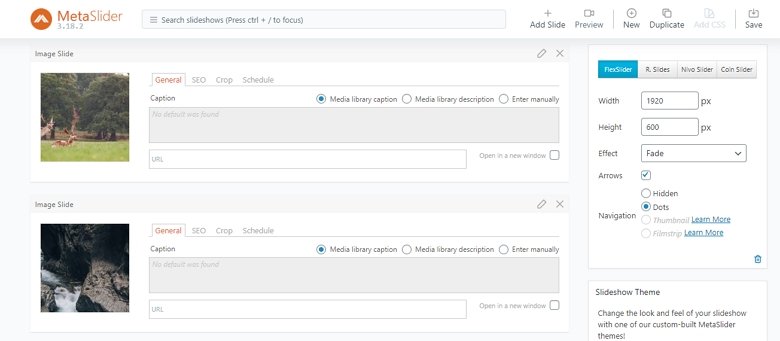 Unfortunately, layers are pro features, so you'll need to upgrade if you want to create more than just simple image slideshows with this free Slider Revolution alternative.
Master slider
This well-designed slider plugin, Master slider provides an easy to use interface for creating simple sliders. Quickly get started with one of eight free slider templates or build your own custom slider from scratch using this Revolution Slider alternative.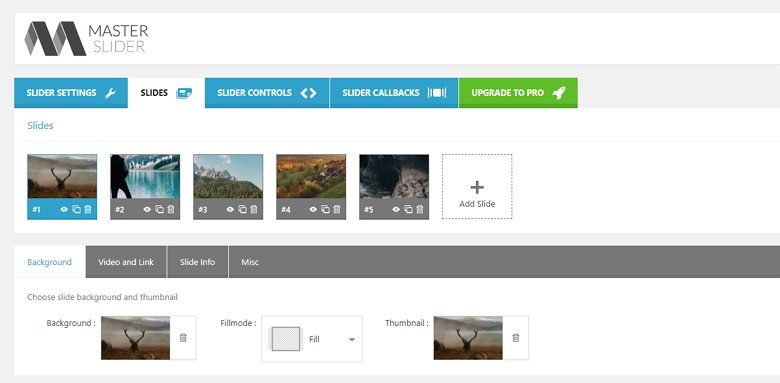 With the available settings you can configure the dimensions for your slider, basic transitions and speed, and simple navigation settings like thumbnails or bullets. Unfortunately, Master Slider hasn't option to use layers, it's a Pro feature.
Gutenslider
Gutenslider is a brand new slider plugin in WordPress, which was created for Gutenberg, the default editor of WordPress. It can be a great free Rev slider alternative, because it's easy to use. Additionally, you don't need to learn a new interface because Gutenberg is known by every WordPress user. You can use the known Gutenberg blocks as layers, which is a great advantage of a free slider plugin.

The top free Slider Revolution alternative plugins
My top four free Slider Revolution alternative plugins (in order) are: Smart Slider, Gutenslider, Master Slider and MetaSlider.
| | Smart Slider | Metaslider | Master Slider | Gutenslider |
| --- | --- | --- | --- | --- |
| Full width | ✅ | ✅ | ✅ | ✅ |
| Background images | ✅ | ✅ | ✅ | ✅ |
| Layers: heading, text, button | ✅ | ❌ | ❌ | ✅ |
| Thumbnails | ✅ | ❌ | ✅ | ❌ |
| Autoplay | ✅ | ✅ | ✅ | ✅ |
| Background fade | ✅ | ✅ | ✅ | ✅ |
| Layer animation | ❌ | ❌ | ❌ | ❌ |
| Responsive settings | ✅ | ❌ | ❌ | ✅ |
If you want to create a layered slider with text, images and video, Smart Slider is your best bet. For a basic, simple slider, Gutenslider is easy to use, and works well with Gutenberg.
So which option is the best alternative to Slider Revolution? Easy. Smart Slider. It's totally free and offers a lot of features as Slider Revolution. But can be Smart Slider the perfect free Slider Revolution alternative? Let's see it in more detail.
What does Slider Revolution offer?
Slider Revolution is a responsive Slider Plugin which you can use to create modern sliders for your WordPress site. This is a paid plugin that usually comes with premium themes, but you can buy it if you want.
Slider Revolution has an extensive option where you can use it. What can you use it for?
Hero image block. With this plugin, you can create a simple block for your page which can be a great header.
Video slider. You can create a video gallery, or you can put videos on your slides.
Full-width slider. If you want to create a simple full-width slider, Slider Revolution has an option for that, too.
Post slider. You can display your latest post in your slider.
It sounds really good, and Slider Revolution indeed has a lot of options. However, it is a paid plugin, the starter package costs $29/year. If you don't have a subscription package, the one-time payment is $79 only with a 6-month support. If you have a low budget project then you may have no money for a premium plugin. What can you do? Find a free plugin which can be a really good Slider Revolution alternative. Smart Slider can be a great choice for that.