When it comes to sliders for WordPress, there are two premium plugins that stand tall above the rest: Slider Revolution and Smart Slider.
What is Slider Revolution?
Revolution Slider or Slider Revolution by ThemePunch is a responsive, premium WordPress Slider Plugin. You can use Revolution Slider to create modern sliders for your WordPress site. Slider Revolution can be found in most premium themes, making it incredibly popular amongst WordPress users.
What is Smart Slider?
Smart Slider is an easy to use, responsive WordPress Slider Plugin. It has everything you'd ever look for in a slider plugin, such as layers and special effects. Unlike most other premium sliders, Smart Slider has a free version, which is a great alternative to many premium plugins.
Do Smart Slider and Revolution Slider has anything in common?
Both are feature-rich plugins that enable you to create beautiful and responsive sliders complete with impressive animations, layers, buttons and dynamic content. But comparing these two plugins is a challenge. Unless you want to spend time setting each of them up and creating sliders, there aren't any reviews that compare these plugins against each other. Until now.
In this post, I'm going to put these plugins to the test, comparing them side-by-side for their features, pricing and performance. I'll also walk you through a comparison project where I'll create the same slider using both plugins so you can see how they work – and which one is better to use.
By now you're probably thinking, "Well, of course she's going to say Smart Slider is the best because this is the Smart Slider blog!" Oh yeah, I could totally write a biased and boring sales post with a big "Buy Smart Slider!" button at the bottom of the page. But that's not my style. I like facts and not fake news. So this review is an honest to God account of my experiences with both plugins and what I genuinely think about them. Here we go.
Want to jump to a section quickly?
⚡️ Features
💰 Pricing
💪 Comparison Project
🔄 Creating a slider with Slider Revolution
🎓 Creating a slider with Smart Slider
⏳ Performance Test
🏆 Conclusion: The Best Slider Plugin Is…
⚡️ Features
Slider Revolution and Smart Slider push the boundaries (and even blur the lines, in Smart Slider's case) in terms of what a slider can and should be able to achieve in web design. Both enable designers and developers to create stunning hero headers, testimonials sections and more.
As far as features go, these plugins share many similarities but also have their own unique selling points. Here's a side-by-side comparison of their features:
| | Slider Revolution | Smart Slider |
| --- | --- | --- |
| Slider types | 3 (standard, carousel & block) | 4 (standard, carousel, showcase & block) |
| Template library | 80+ | 100+ |
| Layers | 8 | 23 |
| Dynamic generators | 8 | 22 |
| Object Library | ✅ | ❌ |
| Extra Addons | ✅ | ❌ |
| Default/Absolute layers | ❌ | ✅ |
| Slide library | ❌ | ✅ |
| Animated Shape Dividers | ❌ | ✅ |
| Slide Mixing | ❌ | ✅ |
Slider types
Smart Slider comes with two extra types of sliders: showcase and block. While you're no doubt familiar with standard and carousel sliders, here's a quick look at what all four of Smart Slider's slider types look like: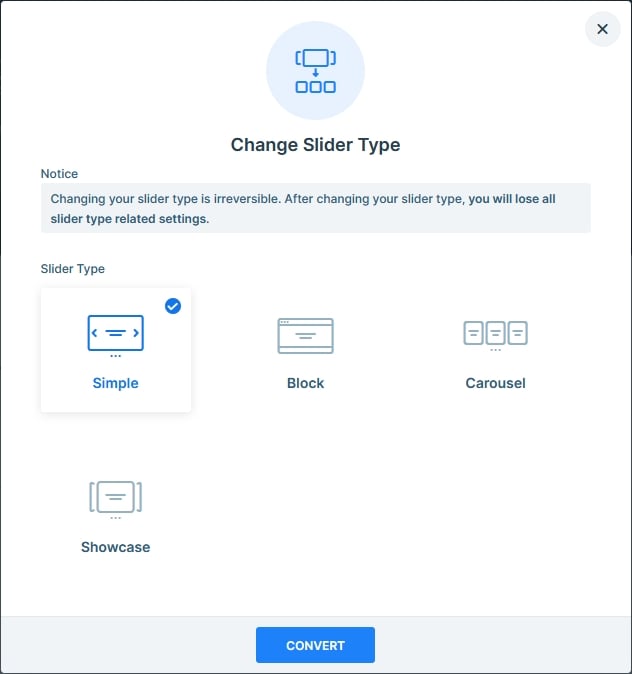 Template library
When you're time poor or just have no idea what you're doing when it comes to design (like me), you need a bit of guidance. Fortunately, both Slider Revolution and Smart Slider come with a stack of beautifully designed templates to get you started.
Here are some examples of the templates that come with Slider Revolution: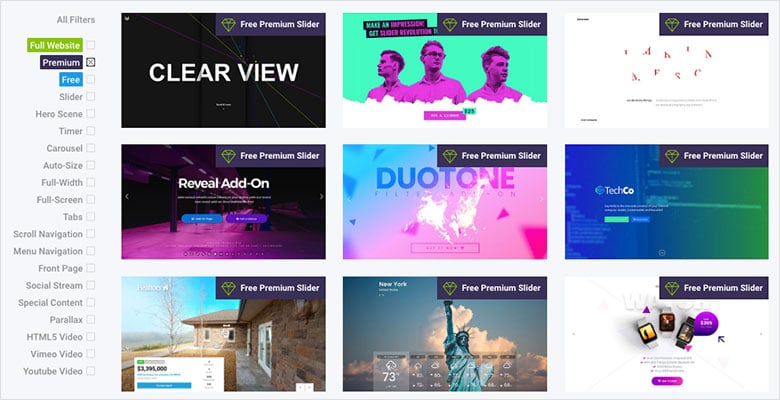 Here's what the template library looks like for Smart Slider: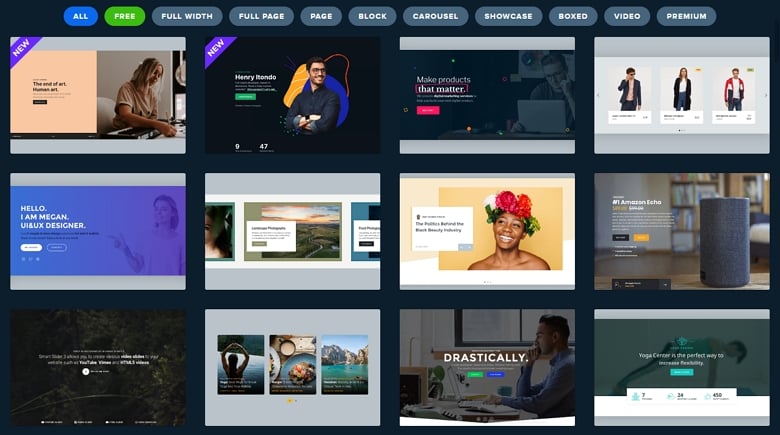 Layers
Both plugins come with the standard layers – heading, text, button, image etc. But Smart Slider has a bunch of extra ones for content (list, captions, transition, progress bar, counter, circle counter), media (Vimeo, video, YouTube, audio), and advanced layers (area, input, iframe, HTML).
While the basic layers might seem like enough for a slider, I found the advanced options in Smart Slider, in particular the row layer, indispensable, as you'll see later in this review.
Animations
Animations are a lot of fun to play around with when you're creating sliders, and Slider Revolution and Smart Slider deliver. Both plugins come with a stack of animation options that go beyond the standard fade, left, right options. Whether you want to add a subtle micro animation or a bolder flip, shake or bounce, it's easy to implement with both plugins.
Dynamic Generators
Want to auto-populate your sliders with photos from Flickr, videos from YouTube or show off your latest tweets? Both plugins allow you to use dynamic content, including WordPress pages and posts and WooCommerce. Smart Slider provides lots more dynamic sources – dribbble, Pinterest and NextGenGallery to name a few.
Unique Features – Slider Revolution
With the object library, you can add background images, transparents PNG objects, SVGs and font icons to your slides. Want to add a picture of a piece of toast to a slide? Easy – just search for it in the object library and add an image layer to your slide.
Slider Revolution also offers some great add-ons, including whiteboard and typewriter effects, slide backups, WordPress gallery, related posts and social sharing, coming soon, particle effects, polyfold effects, adjacent posts, filmstrip, 404, post featured slider, login page, slicey, before and after, weather, panorama, reveal and duotone.
Unique Features – Smart Slider
Smart Slider also has a bunch of cool features that Slider Revolution doesn't have. There are two different visual editing modes for creating your slider content: content and canvas mode. These editing modes really set Smart Slider apart from any other slider plugin. In content mode, the slider behaves like a page builder, while in canvas mode gives you freedom to work with your layers unobstructed, much like you would in Photoshop.
The Slide Library lets you choose from 100+ premade slides in different skins and in different categories. The library is massive and it's easy to get lost in all the beautiful designs (and have a hard time picking just one!).
The animated shape divider is another really cool feature unique to Smart Slider. Lastly, Smart Slider offers slider mixing. Basically, you can mix regular slides with sliders that contain dynamically generated content. This is an advanced feature and one that would be awesome to use in hero headers that are regularly updated with new content.
💰 Pricing
Both plugins have similar price points on the Standard packages, however you can see big differences at the bigger packages. Also Smart Slider has a free version.
Slider Revolution
This plugin's pricing is aimed at two distinct markets: freelancers who are creating sites for clients – there are available one-site and three-site licenses, and theme authors who sell products on ThemeForest.
| Starter | Enthusiast | Professional |
| --- | --- | --- |
| $29/year | $79/year | $129/year |
| 1 website | 3 websites | 5 websites |
Slider Revolution is often bundled with themes available for purchase at ThemeForest. This has helped make it a hugely popular plugin as many users get a copy of the plugin when they buy a theme from the Envato marketplace. It's important to point out that the bundled version you get with themes lacks a lot of features:
You can't import any premium slider templates,
Updates aren't available,
You can't access the Object Library or Add-Ons, and
There's no support.
Slider Revolution has one-time payment packages, in this case you don't need to pay a yearly fee, but you will get only 6 months support. Let's see the one-time prices!
| 1 sites | 3 sites | 5 sites | 10 sites |
| --- | --- | --- | --- |
| $95 | $250 | $415 | $765 |
| 1 website | 3 websites | 5 websites | 10 websites |
Smart Slider
There are five different pricing options, including a free version that's available for download. If you decide to give the free version a try, you can upgrade to the pro version at any time.
| Free | 1 sites | 3 sites | 5 sites | 10 sites |
| --- | --- | --- | --- | --- |
| $0 | $49 | $99 | $149 | $249 |
| – | 1 website | 3 websites | 5 websites | 10 websites |
Smart Slider offers a handy 14-day money back guarantee if you change your mind.
What I like about the free version of Smart Slider is that it doesn't constantly nag you to upgrade. You know all the ugly ads and nags you see in some free versions of plugins? There's none of that in Smart Slider. Instead, the plugin prompts you to upgrade only when you try to use a feature that's pro-only. It's unobtrusive and allows for an uninterrupted user experience.