Nowadays it is a common usage to create a nice-looking, clean and modern landing page where the users get useful information about your website. Have you thought that the whole page above has been made by using sliders and slider blocks? This landing page is built up from 6 sliders. It looks beautiful, it is fast and the reveal animation makes a stunning effect on the whole page.
If you have Smart Slider 3 Pro, you can import the whole landing page easily from the Template Library. This Healthcare sample features stunning blocks and sliders. It begins with a Heading layer with a reveal animation and after that 3 boxes come in from the bottom. This usage can be unusual because no heading image is used at the top of the page. However because of that the user can focus on the most important part of the page. The light colors determinate the whole landing page, which makes the page clean and modern, and there aren't crowded or annoying parts.
The main slider is the most important part of the slider group which can call the visitors' attention. The animated heading with the new reveal animation attracts the eye. The incoming cols have a nice hover effect, which can make the visitor click on them. So it can be a good use-case to put a link on the Col, and the visitor can navigate to another page.
On the second slider you can see an image below the box, you can have this overlap with the Canvas editing mode. Canvas mode lets you drag your layers anywhere, and you can put a layer above or below another.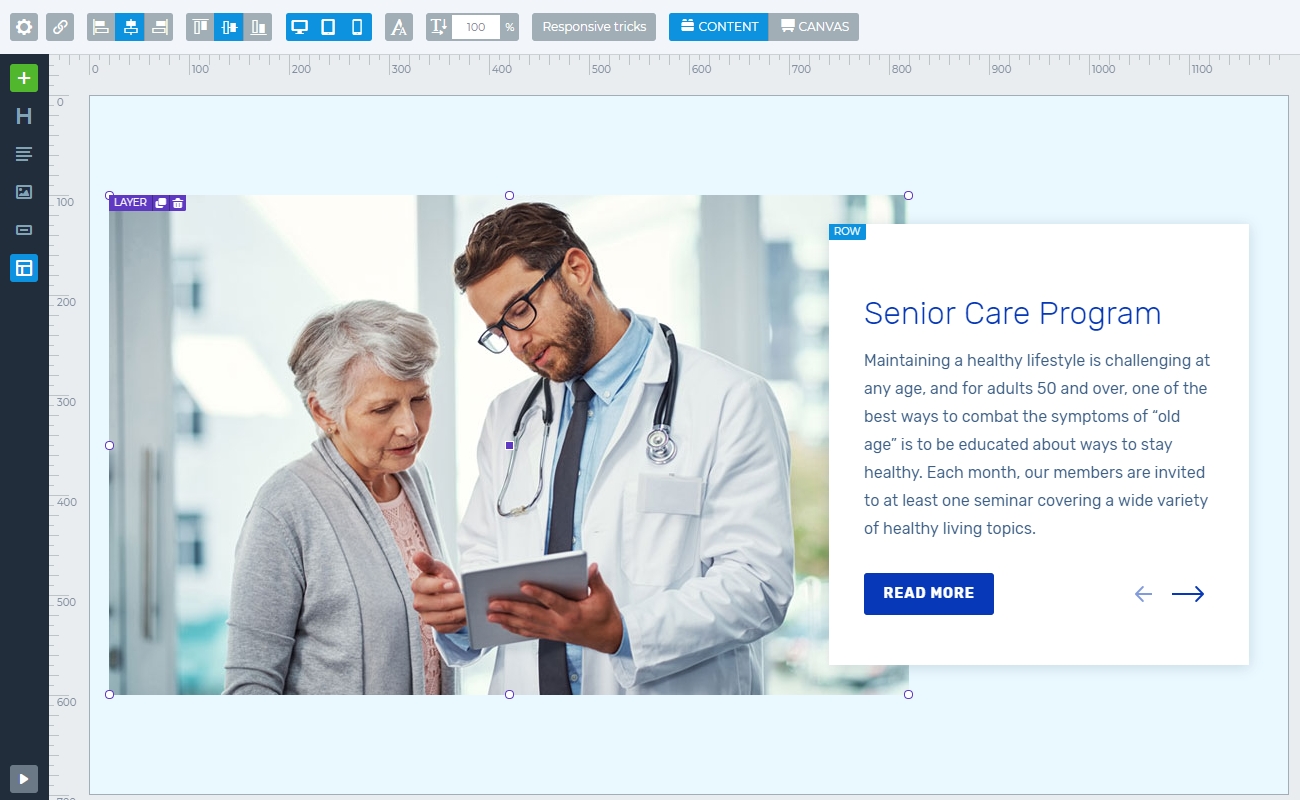 In the box there are 2 arrows with an action which navigates to the next or previous slide. You can also see that the slider has a slider background what you can set in the General settings. Finally, at the bottom of the page you can see a Counter block where there are animated counter layers which make the slider more powerful.
Core Web Vitals
PageSpeed Insights with Lighthouse analyzed this page on April 12, 2021. For the latest result analyze now!
Desktop
First Contentful Paint
0.3 s
Speed Index
0.6 s
Largest Contentful Paint
0.6 s
Time to Interactive
0.3 s
Total Blocking Time
0 ms
Cumulative Layout Shift
0.047
Mobile
First Contentful Paint
1 s
Speed Index
1.9 s
Largest Contentful Paint
2.1 s
Time to Interactive
2.9 s
Total Blocking Time
40 ms
Cumulative Layout Shift
0.003
---
Related Post: Introducing Reveal Animation
Related Post: Use Beautiful Layer Animations in Smart Slider 3 Pro
Related Post: 12 Beautiful Full Width Slider Examples
---