Twenty Nineteen is the new default theme for WordPress and has been designed to show off the power of the new block editor. What's more, it's super easy to customize if you're looking to add sliders to your site!
Twenty Nineteen features custom styles for all the default blocks and works great with custom blocks provided by third party plugin developers. It's also been built so what you see in the new editor looks like what you'll see on the front-end of your site.
It's a minimal starter theme that has an elegant aesthetic designed to be adaptable to a wide range of sites. Use it for your typography-driven blog or adapt it for your professional business website. It's also suitable for magazine, portfolio and non-profit sites.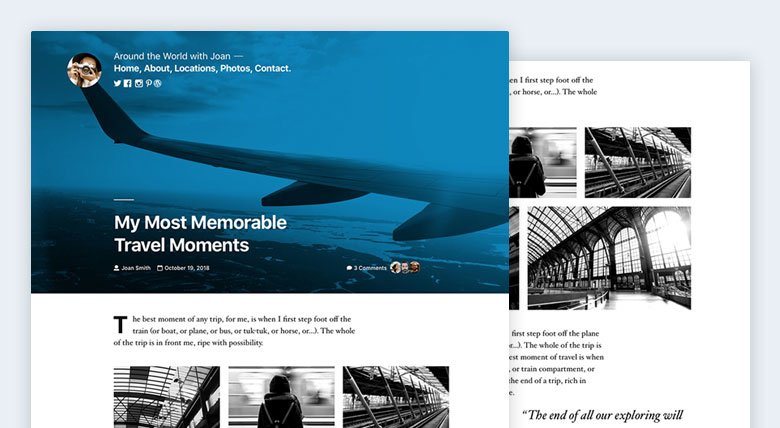 Twenty Nineteen was originally released with WordPress 5.0 and it is proving popular, with over 1 million active installations to date. I personally like the new theme design and have enjoyed tinkering with it in the new block editor (formerly the Gutenberg editor). It's easy to customize with blocks, and it feels relatively light compared to other free WordPress themes.
Let's take a look at Twenty Nineteen's design features, and then we'll show you how to easily add a slider to this fantastic free theme.
Twenty Nine Features At a Glance
With its pared-down, open aesthetic, Twenty Nineteen provides a great foundation for a wide variety of websites. Plus, with the WordPress Customizer, you can easily access theme options for your site.
Its features include:
Customizable With the New Editor
Twenty Nineteen is completely customizable with the new WordPress editor. You can choose any of the available blocks to create any kind of content for your site, from columns of text to full-width sliders. You can also use blocks provided by third-party plugins.
Unlike Twenty Seventeen, which has a fullscreen homepage design, Twenty Nineteen has a more contemporary full-width, single column design that looks great on all devices. There's ample whitespace, giving the theme a professional look and feel. The sans serif headline paired with serif body text makes for a classic typographical combination.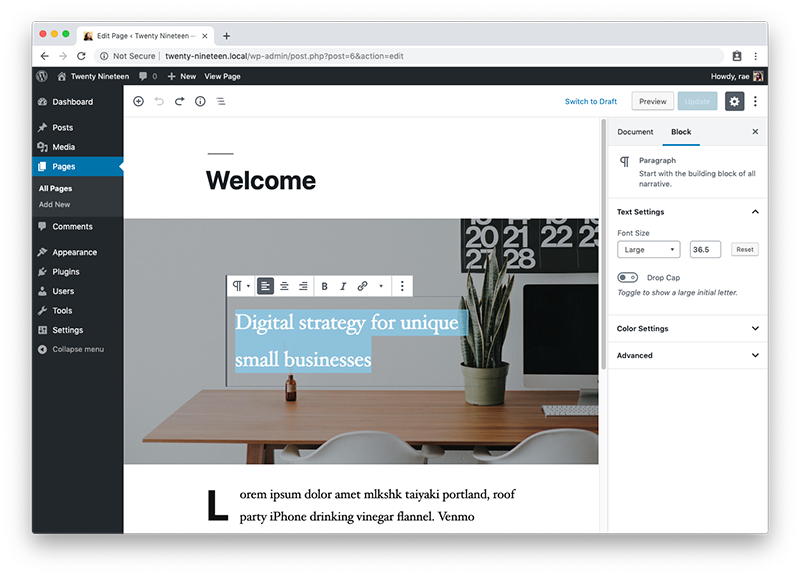 Supports Site Logos
Twenty Nineteen supports site logos in the header. Whether you have a personal blog, portfolio, or business site, you can easily add a logo or photo to your site, which will appear in the top-left corner together with your navigation menu.
To add a logo, open the WordPress Customizer and go to "Site Identity."
The new default theme also includes a social icons menu, which lets you add links to your social media provides in the header, too.
Supports Bold Features Images
With Twenty Nineteen, you can display featured images full-width or fullscreen (the images cover the full width and height of the screen).
Color overlays are a new feature in this default WordPress theme, which you can easily switch on and off. Twenty Nineteen uses a blue accent color by default, but you can change the primary color in the WordPress Customizer. This gives you loads of control over custom colors that make you look like a pro.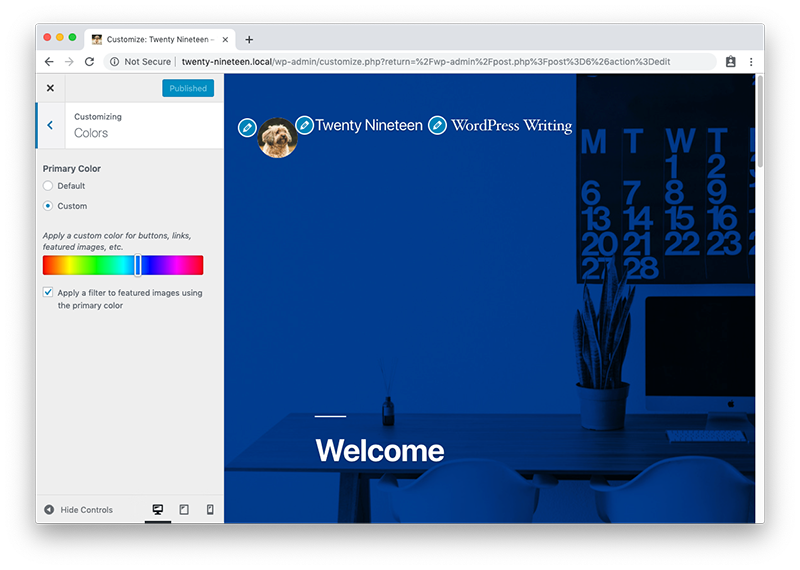 Widgetized Footer
There's a widget area in the footer, which includes all the widgets you would normally see in a sidebar, i.e. search, archives, categories, meta, recent comments.
On screens wider than 1169px, widgets are automatically displayed in a two column layout.
Why Use Smart Slider 3 for Your Twenty Nineteen Sliders?
Smart Slider 3 is a robust, feature-rich and user-friendly slider plugin for WordPress that comes with a custom block for the new WordPress editor. That means it's easier than ever to add a slider to your WordPress website!