Slider Revolution is by far the most popular slider plugin for WordPress. But did you know there are some fantastic free Slider Revolution alternatives that are just as good as – and often better than – Slider Revolution?
Yes, that's right – you can design and build beautiful sliders for your website without having to pay the $25 fee Slider Revolution charges for its premium plugin.
Below, I've put together a collection of the best free Slider Revolution alternatives for WordPress, which you can download for free from the official WordPress.org plugin repository. You'll also find a round-up of each plugin's features and examples of what their sliders look like.
Note
I tested each of the plugins in this post. Each option is compatible with WordPress 4.9.4, the most recent version of WordPress at the time of writing.
1. Smart Slider 3

Let's kick off with my all-time favorite slider plugin, Smart Slider 3. It's one of the most feature-packed plugins I've ever come across in the WordPress.org repository, and I'm not just saying that. Seriously, you get premium-level features for absolutely nothing.
Smart Slider 3 is powerful and the perfect Slider Revolution alternative. Using the content and canvas editor, you can use drag and drop headings, text, images, buttons and video to build your slides, create layers, and everything from your typography and navigational arrows to your animations and autoplay. All without touching code. But if you do want to touch code, you can edit the CSS to further style your slides.
If you'd rather not design your slides yourself, there are eight templates to choose from, which you can import and edit to suit your website. Here's an example of one of Smart Slider 3's templates: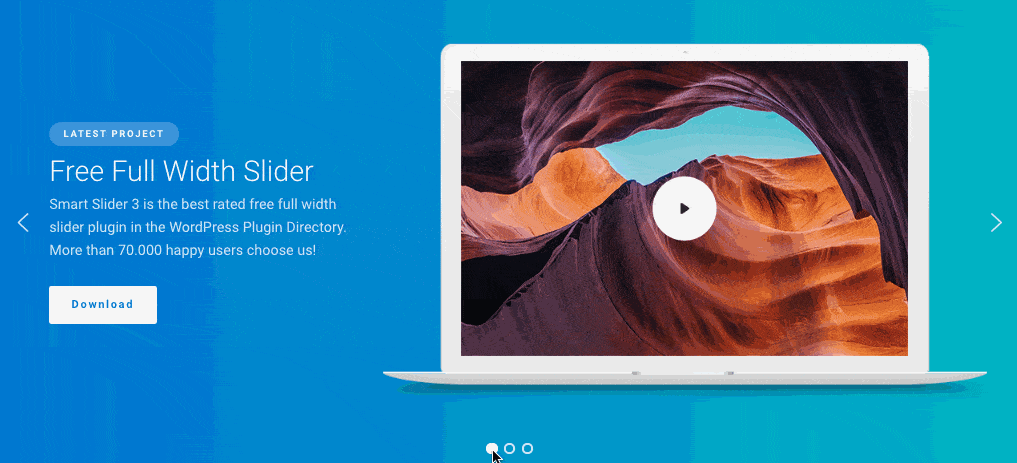 Notice the "Download" CTAs and video? Not only can you include buttons in your slides, but with Smart Slider 3 you can add YouTube and Vimeo clips that play within your slides – there aren't any other free slider plugins that I'm aware of that offer that kind of functionality.
You can upgrade to the premium version of Smart Slider 3 for $35 and it includes even more features (which in my opinion knock Slider Revolution out of the park) including 100+ slider templates, 21 layers, 22 dynamic generators, five slider types, animated shape dividers, and slide mixing.