As a web developer, I'm sure you've asked yourself: should I use a slider in my next project? You might even did your own research on the topic. If so, you probably found daunting articles claiming you should not use a slider, ever. Nonetheless, sliders are the most popular design elements of WordPress sites. Clients, designers and theme developers love and cherish them. Because of this, many developers face the question: should I use a slider, too?
Why do people like having sliders on their websites?
Most themes, both free and premium, feature a gorgeous slideshow on their home page. As a matter of fact, the best selling WordPress theme, Avada, has not one but four slider plugins ready to use. This suggests their clients that they should use a slider, too. After all, sliders are excellent to display information in a compact manner.
So, should you use a slider in your next project? To answer the question, it's important to understand why people like having a slider.
To make new content stand out. You can use a slider to show your latest blog posts. You can place this post slider on the homepage, for instance. Then it will help visitors learn more about the new content of your site.
Showing off content. Sliders are great to show testimonials or products, because they create a context. When visitors browse your ecommerce website, they know what to expect when they interact with the slider.
Storytelling. Sliders excel in many areas of the web design. What they're better than any other tool is telling a story. Visitors can go forward and continue their adventure once they finished one slide.
Sliders are flexible. In fact, sliders are the most versatile design tools at your disposal. In fact, you can replace any part of your website with a slider. However, that doesn't mean you should.
They're visually pleasing. As a matter of fact, it's hard to argue with this. Sliders are one of the most beautiful design elements you can have on your website.
Because everyone else uses sliders. If you check out a couple of landing pages, you'll probably see many sliders there. While it's not the best reason to have a slider, it's an important factor for many people.
How to use a slider on your website?
Sliders are versatile design elements that can fit any website. Because of that, there are good and bad ways to use them. In fact, I could write endless lists to tell you what you should or should not do with your slider. Instead here are five easy-to-follow rules to help you answer the question: should I use a slider?
Create sliders with a purpose. When you put any element on your website, they must serve a purpose. No matter how tempting it is, don't use a slider just for the sake of having one.
Keep user experience in mind. Sliders are logical design elements, but that doesn't mean you can forget about the visitor. Make sure any action you want them to take is easy and straightforward. If you add a CTA, make sure it's easy to notice.
Give control. It's popular to make sliders play automatically. If you choose to do this, make sure to allow the visitor to stop the autoplay on demand.
Give context. A large image on your home page without any context will do no good to your website. Besides, it'll confuse your visitor and have a negative impact on your website. Add some text to the slides, like a heading, a description and a CTA button.
Avoid too much content. There's only one thing worse than a slider without any content: one that has way too much. Of course, too much content on a slider is rather subjective. But if your slider is full of text and there's not a single empty line, you can be sure that its too much.
Why don't people like sliders?
It's hard to find any other design element that divides designers and developers as much as sliders do. The internet is full of articles claiming that sliders are evil and you shouldn't use them.
On the other hand, there are many good sliders out there, but they're being punished by other's bad practices. Sliders aren't as bad as some people try to make them seen. In fact, they're versatile enough to let you use them for any purpose.
So here are the most common seven reasons you'll find about why you shouldn't use a slider.
1. Sliders lower conversion rate
Usually, people put sliders to the top of the page. This makes them use up their most important real estate, without urging users to take action. An article I found claims that even if you put a CTA button on each slide, visitors won't click on them. Well, if you check out the example slider they used to support this theory, you can confirm it's true. You need to focus on the slider to notice the subtle Shop now button.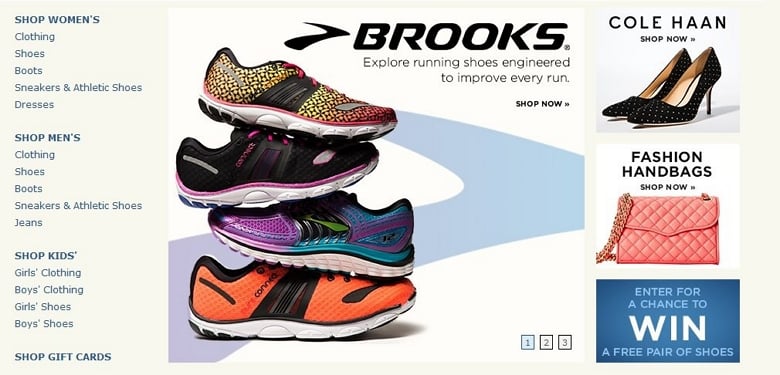 In fact, a good slider plugin lets you create much better CTA for your slider, which stands out and easy to see. A good CTA on your slider increases the conversion rate, because it gets clicked.
2. Sliders cause banner blindness
That was one of the most popular reasons I've seen. Banner blindness, in case you're wondering, means that people ignore a section of a website, because it looks like an advertisement. People don't like ads, that's why adblock extensions are so popular. If your slider looks like a banner or advertisement, visitors won't notice them.
The Neilson Norman group ran a usability study back in 2013. The visitor had to go to Siemens' website and see if there are any special deals on washing machines. On this site, there were two sliders, which failed to do this simple task.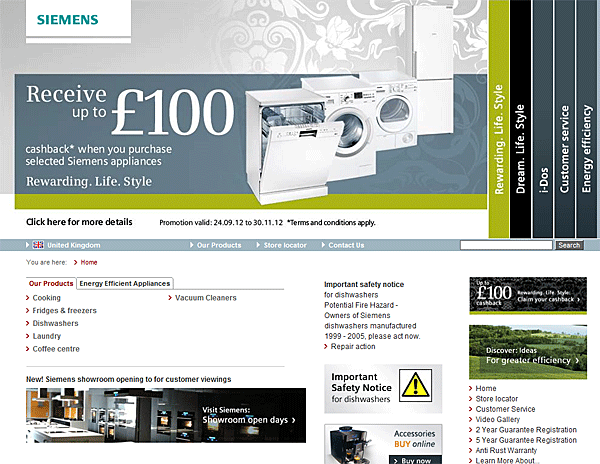 Here's the biggest problem with the sliders on that page: they look like an ad, which people ignore. To make things worse, the top slider keeps rotating every 5 seconds. Now imagine you just arrived to the website and try to read and understand the first slide in five seconds. It's an impossible task, no wonder the visitor ignored the slider.
3. Sliders are not SEO friendly
SEO is an important factor for every serious website. Therefore, website owners carefully choose what to put to their site to make it SEO friendly. However, their efforts are pointless if they add an element that isn't SEO friendly. As a matter of fact, some people think sliders destroy the SEO of the page they're on.
The fact that there are many sliders, which aren't SEO friendly in 2019 is disturbing. But not all slider plugins follow the bad example. For instance, Smart Slider 3 is an SEO friendly slider plugin. As a result, it will not only not ruin your SEO, but it can help improving it.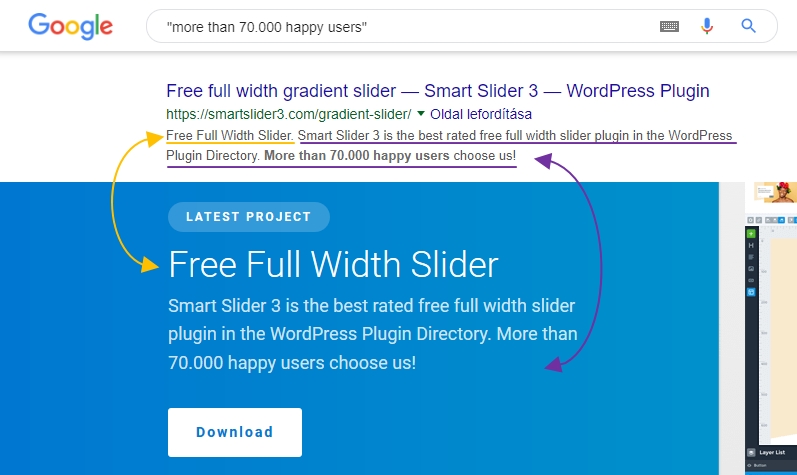 4. They move too fast
I'm sure you've came across shouldiuseacarousel.com when you were trying to decide if you should use a slider. This website builds its argument on user experience.
The slider they use autoplays, like lots of other sliders do. Not only that, it moves so fast, it's impossible to read the content of the slides. This forces the visitor to keep switching back to be able to read each slide's content.
Here's the thing: sliders don't have to autoplay. Neither do they have to autoplay fast and sacrifice the user experience. In case you really need autoplay, then rather allow the user to stop and restart it when needed. But you can completely forget about autoplaying your slider. Instead of autoplay, consider giving full control to the user. Create CTA buttons, which switch slides when the visitors clicks them. This way the visitors get what they like the most: control over the content.
5. Sliders aren't responsive
We're living in an era, where over 60% of mobile users browse the internet from phone. This is a large number, which justifies the need of a good, responsive website. Despite the large demand, there are still many sliders, which are not responsive. Because of that, the site they're on won't be responsive anymore.
Smart Slider 3 isn't one of the not-responsive slider plugins. In fact, it offers many options to optimize your slider for mobile devices. Because of this, you don't need to worry about the responsive behavior of your slider if you choose Smart Slider 3.
6. Sliders are slow and will slow down your website
A heavy slider on your home page drastically slows it down. It also wastes important real estate on your site. For this reason many people suggest using a hero image or a static image instead of a slider. Unlike most sliders, these elements need only one image, which reduces the files the side has to load.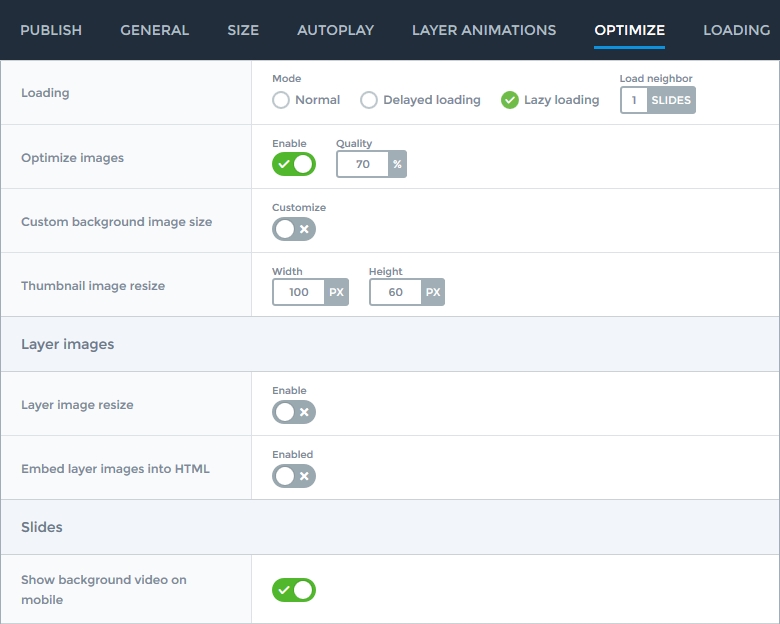 But a good slider plugin, like Smart Slider 3, cares about the speed of your website. It has cool optimization features, like lazy loading or image resizing. As a result, your website can load faster – even with a gorgeous slider on it!
7. They have accessibility problems
There are many examples and recommendations to help developers make their slider accessible. But many developers choose not to follow them. As a result, their product ends up having accessibility problems. Their users are left with two choices: drop the slider or fail to make their website accessible.
We know how important it is for everyone to be able to browse the web in a convenient way. This is why we developed Smart Slider 3 with accessibility in mind. In fact, we always improve the slider's accessibility.
Conclusion
After reading many articles on the topic, I've came to a surprising conclusion. While all articles claim that sliders are bad, it seems it's not the actual sliders that they don't like. It's rather the sliders' design choices and the way they were set up.
Indeed, they're right in some ways. If a slider isn't user friendly, or bad for SEO or not responsive, it has no place on a website. But a slider that fulfills these criterion and is made well has its place. After all, sliders are the most versatile design tools you can use. So if you still haven't answered the "should I use a slider?" question, there's one last thing you need to know.
Sliders aren't evil, they're just not used well.