Are you thinking about creating an Avada slider for your WordPress site? Avada is the most popular premium theme for WordPress, providing powerful multipurpose options and tools for creating any kind of website.
Avada comes with a purpose-built slider tool, Fusion Slider, which gives you the flexibility to add animated and responsive WordPress sliders to your site. The theme also comes bundled with three more slider plugins — Slider Revolution, LayerSlider, and Elastic Slider — giving you even more options for building stunning Avada sliders for your site.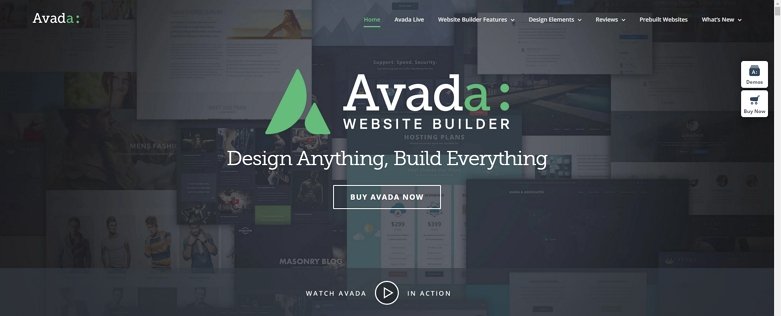 But as we'll explore in this post, when you use these bundled plugins, you won't be able to access slide libraries, templates, updates, support and other features you thought you paid for when you bought Avada.
So let's take a look at why the slider plugins that come with Avada don't provide the full slider functionality you're probably expecting. We'll also take a look at the free version of Smart Slider 3, which is a better alternative for creating stunning Avada sliders for WordPress.
The Problem with Bundled Avada Slider Plugins
When you purchase the Avada theme, it comes with four different slider options, which is impressive! Not only does it come with Fusion Slider, which has been developed especially for Avada, but there are three more slider plugins included. Lots of choices, right?
The problem is, the slider plugins that are bundled with Avada lack important features and functionality you need when building a slider for your website, including:
You can't import premium slider libraries or templates,
Updates aren't available, and
There's no premium support.
ThemeForest themes such as Avada offer slider functionality via an extended license that the theme author buys from the plugin developer. This means that:
The slider plugins bundled with Avada can only be used with Avada. This means you can't use these plugins if you switch themes;
If you need help, you can't access support directly from the slider plugin developer. You can only ask Theme Fusion for support (and they might not be able to help you anyway); and
Bundled slider plugins can only be updated when new versions of Avada are released, i.e. you have to wait for updates, which leaves your site vulnerable to security threats.
It's important to know that the four slider plugins that come bundled with Avada are not your only Avada slider options — you can use other slider plugins, too!
In fact, it's actually a good idea to use a standalone slider plugin, not a bundled one. These slider plugins give you access to more features, updates, and support without any licensing restrictions.
Why Smart Slider 3 is the Best Slider Plugin for Avada Theme?
A better, lightweight and feature-packed solution for Avada sliders is Smart Slider 3 — and, it's free!
So what makes Smart Slider 3 a great solution for creating an Avada slider? It offers just the right number of features so you can create a beautiful slider with a complex design, all without having to upgrade or purchase a license.
Smart Slider 3 comes with content and canvas editing modes, which allow you to visually build your sliders using drag and drop headings, text, images, buttons and YouTube or Vimeo videos. You can also create layers and control everything from your typography and navigational arrows to your animations and slider autoplay.
If you like working from templates, there are eight free templates to choose from, which you can import and edit to suit your website. Here is an example of one of Smart Slider 3's free slider templates: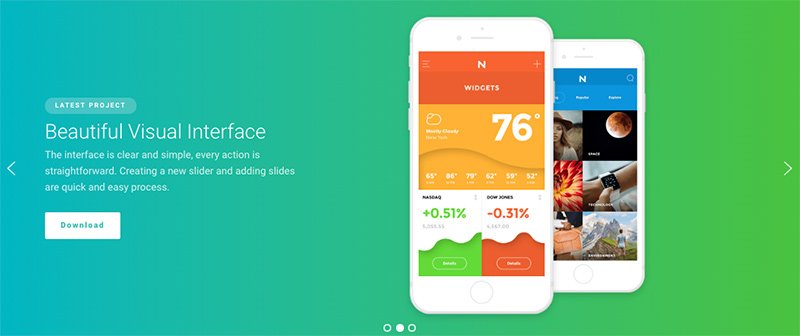 The best part is, Smart Slider 3 is really easy to use and the free version comes packed with features that rival most premium slider plugins. There's a pro version of Smart Slider 3 available, which I've compared with Slider Revolution here. But really, the free version is all you need to get started adding a beautiful Avada slider to your website.
How to add Smart Slider 3 to Avada Theme
After you finished working on your new, beautiful sliders, it's time to make them show up on your site. After all, that's the reason you made them: to enhance your site with beautiful pictures and effects. Since Avada is a WordPress theme that doesn't integrate Smart Slider 3, it's a little bit tricky to make your sliders show up. But worry not, there's a couple of easy way to add Smart Slider 3 to your website!
Publishing Smart Slider 3 using Fusion Builder
The easiest way to add an Avada Slider to your site using Smart Slider 3 is via Fusion builder. Create a Column, add a new element and search for "Smart Slider 3". Add this element, then select the slider you want to show.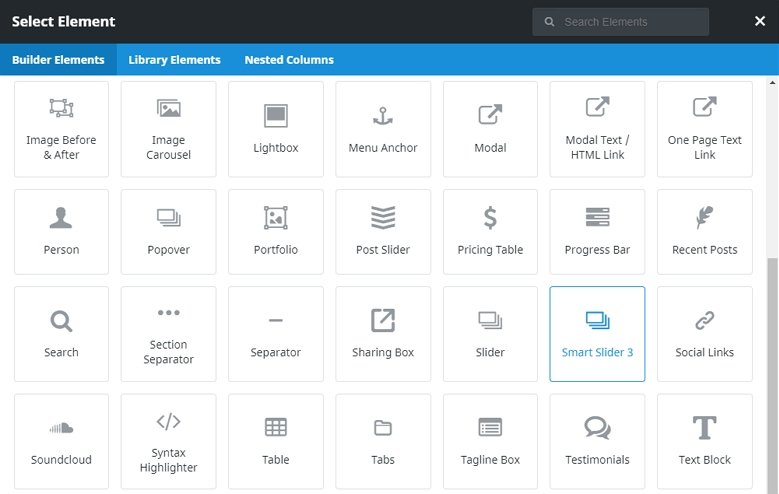 Using a child theme to add Smart Slider 3
Another great way to add Smart Slider 3 to your Avada theme is using Avada's child theme. Child Themes allow modifying the theme without an update erasing them. We put together an excellent tutorial which has detailed instructions on how to publish the slider using the child theme.