Strong imagery is a must for any website, but even more so if you have a commercial need to promote your work or sell your products online. One of the best ways to showcase your images is using WordPress themes with sliders.
WordPress themes that integrate with sliders – and vice versa – provide an ideal way to display multiple images fluidly and in an eye-catching way that grabs your visitors' attention the moment they land on your site.
But before you go downloading that theme you like with its shiny built-in slider, there are a few things you need to know first…
The Problem with Bundled Slider Plugins
What you might not know is that themes that offer slider functionality usually provide it via a third-party plugin. Here's how it works:
The theme author buys an extended license for a slider plugin from a plugin developer, and
This extended license allows the theme author to include the slider with a theme they sell.
A popular example of this is Slider Revolution, which is by far the most popular slider plugin for WordPress. How did it get so popular? It is bundled with hundreds of themes in the hugely popular ThemeForest marketplace, including Avada, the best-selling theme of all time on the site.
You might be thinking, bundling plugins with themes makes sense. After all, if a theme author designs a theme to include a hero slider header, they should provide the functionality to achieve it. Plus, bundling plugins makes it easier for users to get a site up and running quickly since they don't have to buy additional plugins to use with the theme.
Yes, it does make sense. But it's important to be aware of a few traps. Specifically:
Bundled slider plugins can only be used under the same license as the theme they came with, i.e. you can't use the slider plugin with a different theme;
If you need help using the slider plugin, you'll need to get in touch with the theme author you purchased from during your support period – you can't access support directly from the slider plugin developer; and
Bundled plugins can only be updated when a new version of the theme they are attached to is released. Unless you buy the slider plugin separately, you'll have to wait until the author of the theme provides the latest version of the bundled plugin with their next theme update.
When users purchase a theme bundled with a slider plugin and later realize the plugin they thought they had also purchased is completely useless with other themes, well… let's just say it's caused confusion and later frustration amongst ThemeForest customers: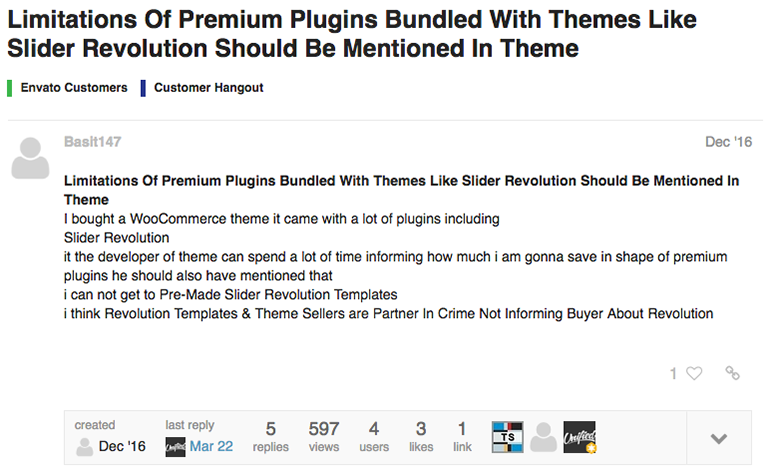 Look, I'm not out to bash Slider Revolution here. I think it's a fantastic plugin. It's just unfortunate that the licensing around bundled plugins – especially themes bundled with slider plugins – is confusing. Users aren't getting what they thought they paid for.
Which is why I think the solution is to use standalone plugins.
Why Standalone Plugins Are Best
A standalone plugin is a plugin that you download or buy on its own, i.e. it doesn't come bundled with another product. You can download standalone plugins from the official WordPress Plugin Directory and from marketplaces like CodeCanyon (which is part of the Envato company umbrella that ThemeForest also falls under).
When you download a standalone plugin, you get all the benefits of a regular license, including:
You can use the plugin independently with any theme;
You can update the plugin whenever there are new updates available from the developer – you don't need to wait until your theme can be updated; and
You get access to support.
If you're launching a new website or planning a redesign and know that you'll need a slider, it's best to download or buy it separately from a trusted slider developer. This way, you'll know that the plugin will work with any theme and if you need support you can count on a quick response from the very people who built it.
Smart Slider 3: The Highest Rated Slider Plugin for WordPress
When it comes to slider plugins, yes, Slider Revolution is the most popular premium option. But did you know Smart Slider 3 is the highest-rated slider plugin for WordPress? With 430 five-star reviews and 200,000 active installs recorded in the WordPress Plugin Directory, you can't go wrong. Plus, it's free to download.
There's a pro version of the plugin, which I've compared with Slider Revolution here. But really, the free version is all you need to get started adding a beautiful slider to your website.
Let's take a look at themes that integrate nicely with Smart Slider 3, along with ideas for how you can feature sliders in your theme.