How your slider works might have a bigger design influence on your website, than the actual contents on it. You need to carefully pick the right choices of what you would like to say with your slider. It can be "party all time", or "we are professionals", maybe something else. But you don't want it to be too simple, which wouldn't tell anything besides "boring". The background animations give you many options to choose from, but being boring isn't one of them.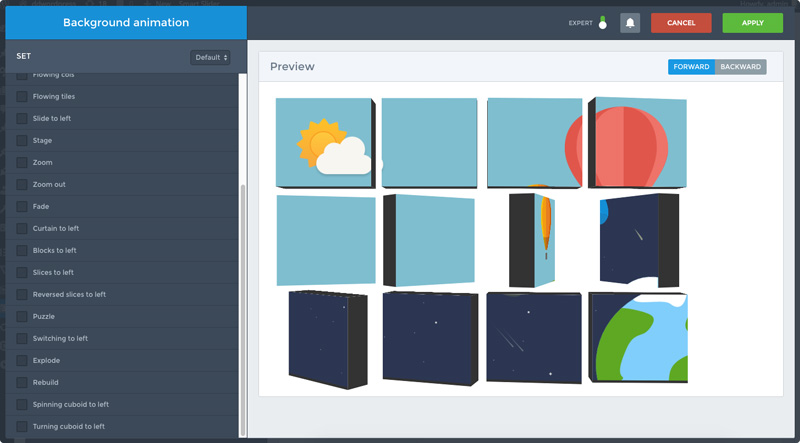 Attractive
The best thing about background animations is that they are attractive. They can be implemented to the background images, which usually cover your whole slides, so the effects can be very powerful. You can also handle them easily, we have "sets", where you can even choose from only vertical animations, if your slider is set up to have a vertical behaviour. This animation option is available globally, but you can select them individually for you slides too to have specific effects on the different slides. There is a preview, which helps a lot with picking out the animations. Next to the background animation, the Ken Burns effect is worth mentioning, which is also an effect happening to the background image.
3D animations
Your images doesn't have to be flat, but you can choose from our 3D animations.
Out of the box
There are some animations, which aren't contained in the size of the slider.
Inside the box
And there are animations, which are contained in the size of the slider, so they wouldn't go over the other contents of your website.

Vertical
You can also choose vertical animations, in case you want a different approach for your slider.

Horizontal spin to bottom
Spinning cuboid to bottom
Version Overview
PRO
22 more default (horizontal 2D and 3D), 23 more vertical and 16 more RTL animations
FREE
6 default, 4 vertical and 2 RTL
---
Related Post: What is a Full Page Slider and How to Use it?
Related Documentation: Background animation for Simple type sliders
---