The navigation of the sliders are the arrows, bullet, thumbnails, and all options which can make your slider go to its different slides. It is important to have some of them on your slider, because you should always give control to the user, so they would be able to choose what he wants to look at. Letting the visitors of your website have some sort of managing over the content will create trust in them.
Arrows, bullets, thumbnails
These are the basic navigation controls. They are simple and well known, so anyone would be able to use them, as they don't have much of a learning curve. It can be frustrating if you aren't able to switch slides easily, and that is why we suggest using at least one of these controls. You could even mix them, the arrows can look nice with the bullets. But don't overuse them, having all three would be a little much.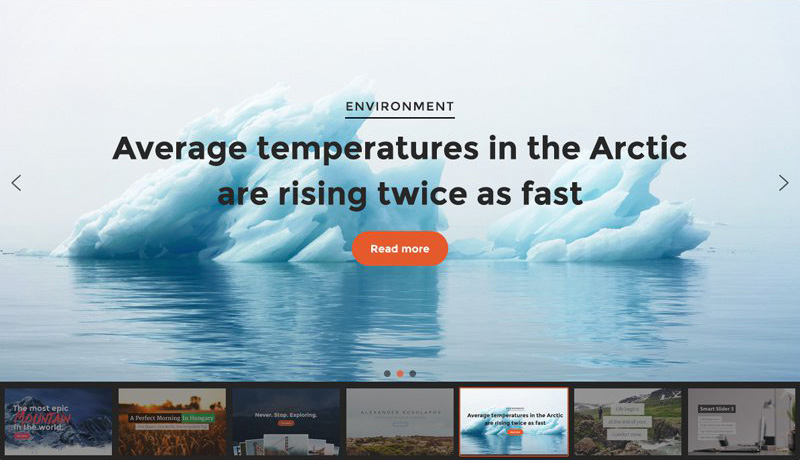 Autoplay control
With the slider autoplay setting turned on, you can put down an autoplay control for the users to enable them to stop and resume the automatic sliding. This gives a little fewer options what they can do with the slider, but it's still better, than nothing. By using the indicator too, you can make a great looking slider built around this feature.
Mouse options
A control doesn't have to be necessarily something visible, but it also can be your mouse or keyboard. Most mouses have a scroll wheel in them, what you can use for navigation by turning on the mouse scroll option. Maybe you can even build up your website in a fashion, as it would be the continuation of the slider, as we did it in this demo too. Another setting is the drag option, which will allow your mouse cursor to move your slide. This makes the switching more interactive, which is always good.
Keyboard, mobile and tablet
With the keyboard option you will be able to turn on the navigation for your keyboard arrows too. You can read more about what you can do with your keyboard here.
The mobile and tablet related options are the touch, which is letting the user to swipe to the next and previous slides, and the tilt, which turns on the sliding for those mobile and tablet devices, which have sensors to notice the tilting of the phone or tablet.
Custom navigation
And last but not at least, we made an option for you to enable you to switch to the different slides by pressing a layer or the whole slide. This option is available at the links, what you can select for any layer, or for your slide, and under the actions you will be able to find the "Go to slide", "Previous slide" and "Next slide" options, which will make your slider switch to the given slide. If you want a navigation, which can be reached from every slide, you can create a static slide, and that will always be over your slider without switching away.
Core Web Vitals
PageSpeed Insights with Lighthouse analyzed this page on April 12, 2021. For the latest result analyze now!
Desktop
First Contentful Paint
0.3 s
Speed Index
0.6 s
Largest Contentful Paint
0.7 s
Time to Interactive
0.3 s
Total Blocking Time
0 ms
Cumulative Layout Shift
0.068
Mobile
First Contentful Paint
0.9 s
Speed Index
1.8 s
Largest Contentful Paint
2.6 s
Time to Interactive
0.9 s
Total Blocking Time
0 ms
Cumulative Layout Shift
0.043
---
Related Post: Use Beautiful Layer Animations in Smart Slider 3 Pro
Related Post: 12 Beautiful Full Width Slider Examples
Related Post: What is a Particle Effect and Why Should You Use It?
---