Many softwares brought the keyboard navigation into our lives. And they made them an everyday tool to allow people to use their interface faster. Try to imagine your life without Ctrl+Z, and you will feel the importance of the hotkeys already.
Using your keyboard with Smart Slider 3
The first keyboard related option in our slider I will talk about is the keyboard navigation. The keyboard navigation is basically a feature that enables you to make your slider slide to the next or previous slides using the arrow buttons on your keyboard. It might not sound like a big gamechanger, but if you take a deeper look, this is an essential part of the slider which should probably be always used. Why? Unfortunately, there are a lot of people who have some kind of disabilities. For example people with locomotor disabilities rely on a keyboard, because it's just not easy for them to click on an arrow. And it's almost impossible to click on a bullet point. Also there are blind people. Yes, blind people are using the internet too, with programs which can read the content. I'm not saying that every one of them will notice that you have a slider, and they can switch it with the keyboard. But if even one of them would do it, wouldn't it be nice to know that you have thought of them too?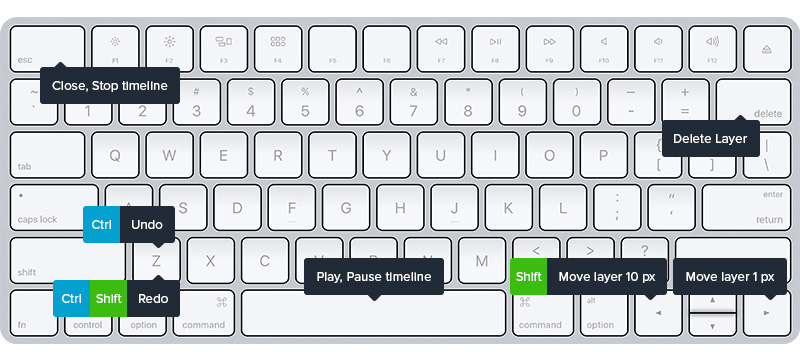 Cool features
We made our code in a way that it can identify which slider is currently on your screen. So you can have this keyboard switch turned on for many sliders, and they will know which one should slide. In our backend we have a bunch of hotkeys inspired by other desktop softwares like Photoshop or Sketch. In this documentation you can find the full list. There is one more thing that might be hard to notice; it is because it's unexpected in Joomla or WordPress, that you can copy/paste your layer by right clicking on them. And there will be more elements in the paste list, not just the latest.
The point is that sometimes you don't have to learn. It's enough to know about the options you have, and try to look at the smallest features with a wider perspective.
---
Related Documentation: Hotkeys
Related Post: How to Create Beautiful Responsive Image Slider?
---