In Smart Slider 3.2 we introduced the Slide Library, which allows you to select premade slides. We released it with its first theme kit, Orion. Orion contains more than 100 slides in five categories. There are two available skins, light and dark, so the slides will fit into any kind of website.
While you can already create amazing slides with Orion, we are going to create new slides, new categories and completely new theme kits to choose from. Each slide will be unique and they'll fit perfectly together. If you use many slides from the same theme kit on your site, they'll look nicely together. Plus, they're ready for use like the slider templates but these are slides only. So you don't need to import a whole slider just to get one slide you like.
New categories
We've created lots of new slide templates, and some of them need new categories. This extends the flexibility of the Slide Library. The new categories are the following: Team, Product and Number. Each categories have ten different, brand-new slides. All slides are available in both dark and light version, so they fit into any kind of website. And they look super trendy as well.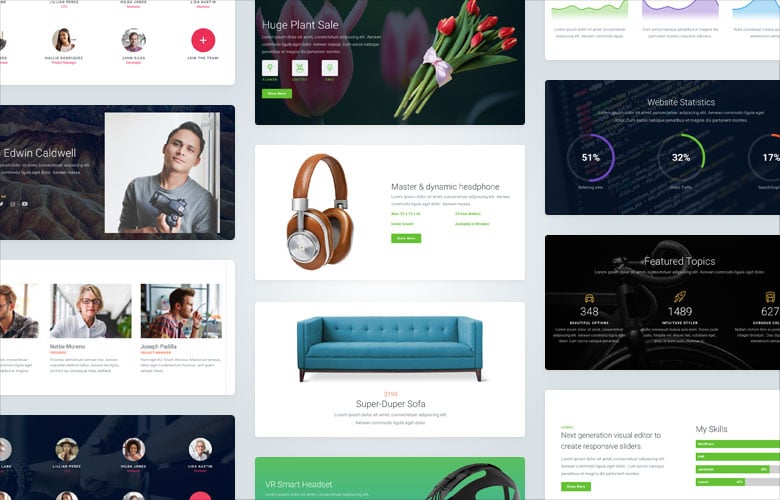 Team slides
This category contains beautiful slides to create an amazing team slider. You can introduce all members of your team in a single slide, or highlight them one by one. Team slides are also great to create a page with your job offers, when there is any available position.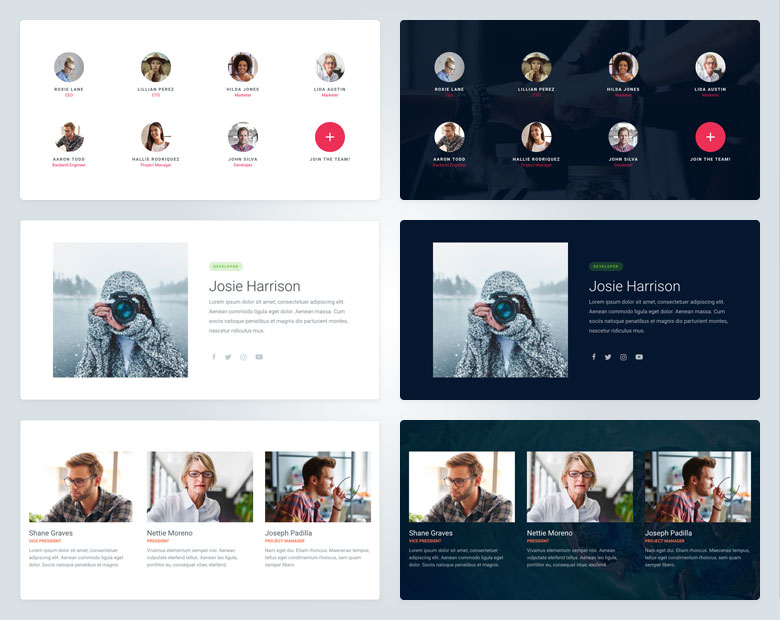 Product slides
Do you have a webshop? Or would you like to showcase your service in a nice and creative way? You'll appreciate the new product category. It contains amazing slides to inform your future buyers about your products. They're nice looking and responsive, and we used the new layers wherever it was possible to give them a boost.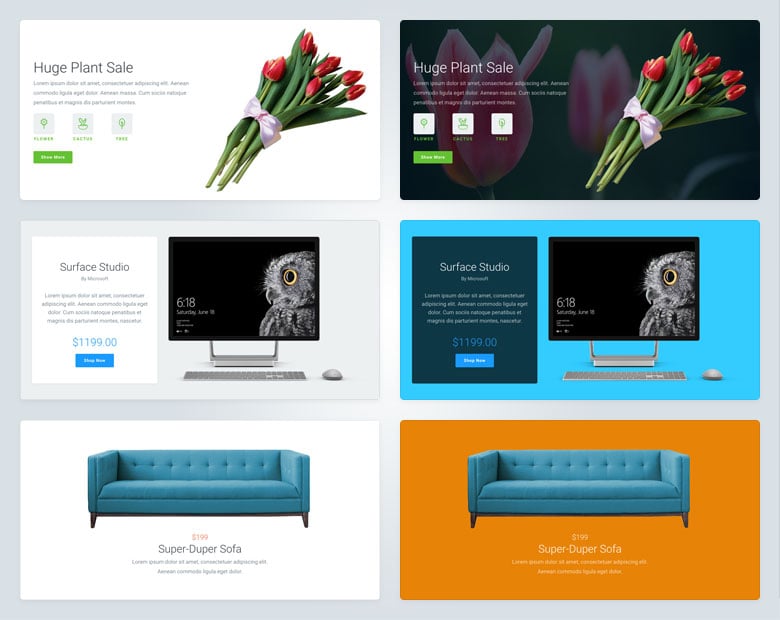 Number slides
This category way built to showcase the new counter layers and provide great ideas on how to use them. For example, there are slides width progress bar to showcase your skills, if you are making an about block. You can also find and example where we use the counter to show statistic in a very creative way.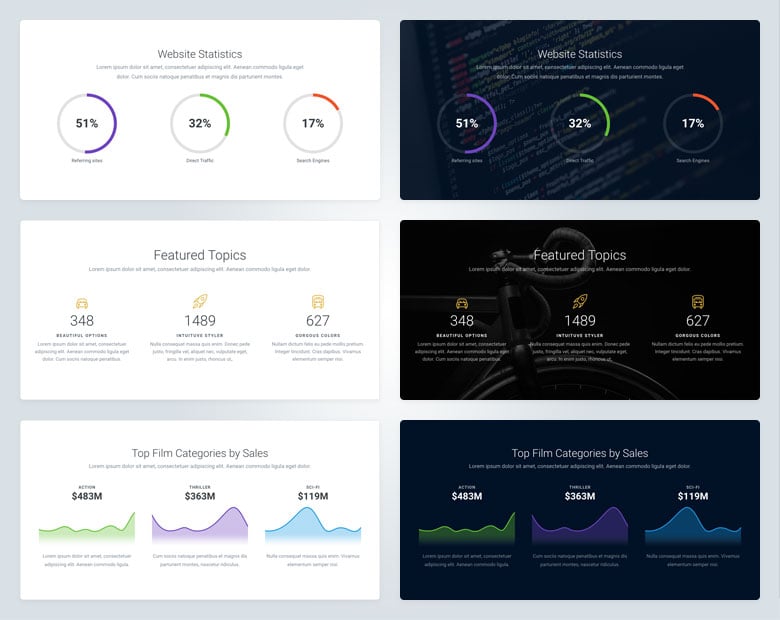 Slide Library update
Before releasing the second, brand-new theme kit, we would like to fine-tune Orion first. This includes adding new slides (for the free version too) and updating old slides with the recently released features. We updated some slides and replaced simple text layers with counter layers. We also adjusted the button layer at some slides to use its new feature, which allows putting an icon on the button. Give Slide Library a try for free!
Try Slide Library
New slider template – Space Conference
Organizing an event or conference is always hard work. Creating a nice looking website to inform the participants might be a real challenge. We created a clean conference template to help you. This template saves your precious time which you can use to do the finishing touch on your event.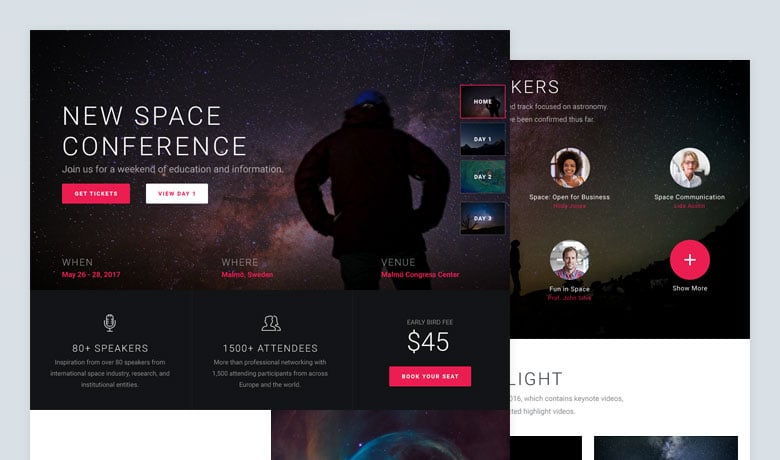 New slider template – Blogger
There's not secret recipe to create a big an successful blog. Having a nice landing page is a good start to create an appealing site. The new slider template, Blogger was created for people who build their blogs with care and love. It has all the blocks and sliders your blog needs, all you need to do is change the content. Of course, the template is suitable for businesses or agencies as well.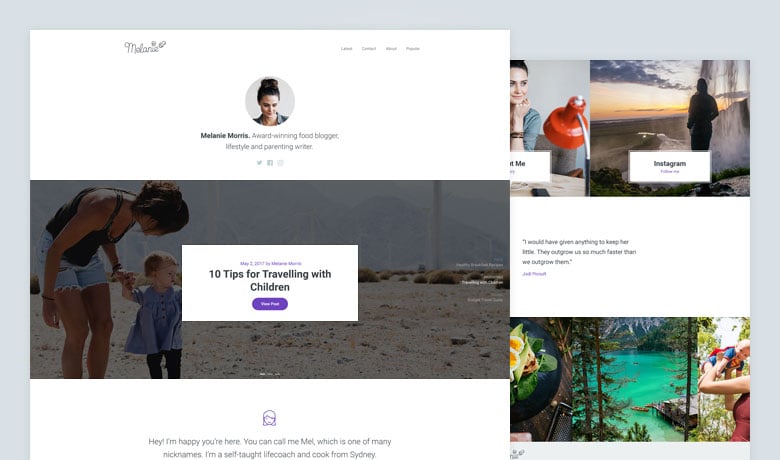 Conclusion
I've always felt Slide Library and the Template Sliders are at the most important Smart Slider 3 features. You can download and change these samples and get a nice looking slider, block or page quickly. While you're changing the pre-made sample, you learn more and more about the slider. Maybe without realizing you're learning. The new categories and templates will fill the same purpose. Which one is your favorite? Which template did you download first?