It's time for a new Smart Slider 3 PRO update which brings you yet another amazing new feature: particle effect. Doesn't it sound familiar? Because it's pretty new, but I can guarantee it's amazing.
What is the particle effect? Well, it's a stunning new design effect which helps your site stand out of the crowd. It displays a lot of tiny particles, which move around. The particles can also interact with each other such as creating a line between two of them. For instance, they can add new particles by clicking on the slider and the result is gorgeous. The particle effect is a great tool to make your site unique and memorable. What else can you ask for?
General overview
Before we dug deeper into the particle's details, let me lay down the groundwork. The particle effect is available in every slider type except Accordion type. Once you have the correct slider type, you can find the effect at the Particles tab in the Slider Settings. We have added a nice and handy control panel where you can select a predefined effect, which you can fine tune. Or you can generate your own code and use that. I'll get back to this part later, but first check our latest video about the particle effect:

Loading and fine-tuning a preset
Loading a preset is pretty easy. Enable the effect, select a preset, preview it to see how it looks. You can change the color of the shape and line, adjust the speed and the number of particles. It's pretty fun to play around with these settings when you are creating the perfect effect.
Custom Particle Effect
If you can't find the effect you are looking for by selecting a preset, you can create your own. You will need to go to this website first, where you can generate your effect. When you are done, download the config in JSON, and paste the downloaded file's content to the Custom field. (You can open the JSON file in your favorite text editor.) A small tip: your browser might start lagging while you are creating the effect. When this happens you are probably overusing its resources. To avoid similar problems on your site, reduce the number of particles and other effects. You should reduce these until your browser works with an acceptable speed again.
New templates – Particle slider
Since we've released such a big new feature, we felt we had to create a few new samples to show how awesome the new stuff is. Generally, when we add a new feature, it's not so hard to imagine how it looks on a slider. That is because the new features are usually well known. The particle effect isn't as popular as the counters so people might not be able to imagine them in a slider. For this reason, we released a couple of new samples where you can see the particle effect in action. So hop on the creative wagon and check out the new particle slider samples!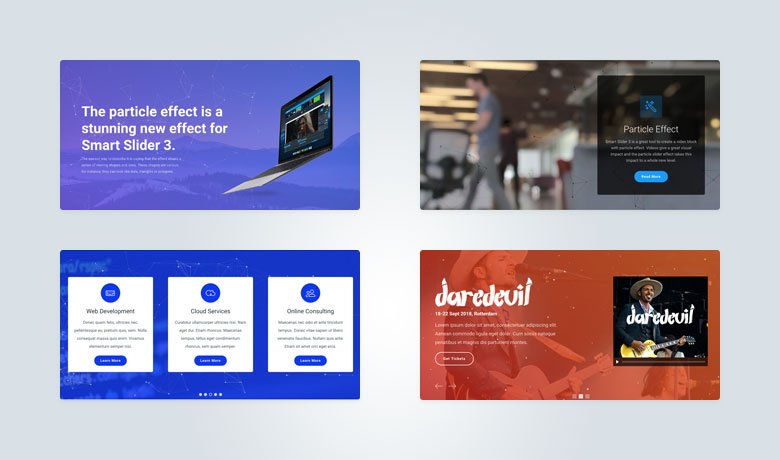 New templates – Video slider
The particle effect isn't the only new stuff you get today. We've released a whole new set of slider templates focusing on videos in your sliders. Smart Slider 3 supports YouTube, Vimeo and MP4 videos, which is quite cool. These new slider templates give a visual example on all the possibilities. You can check them out here.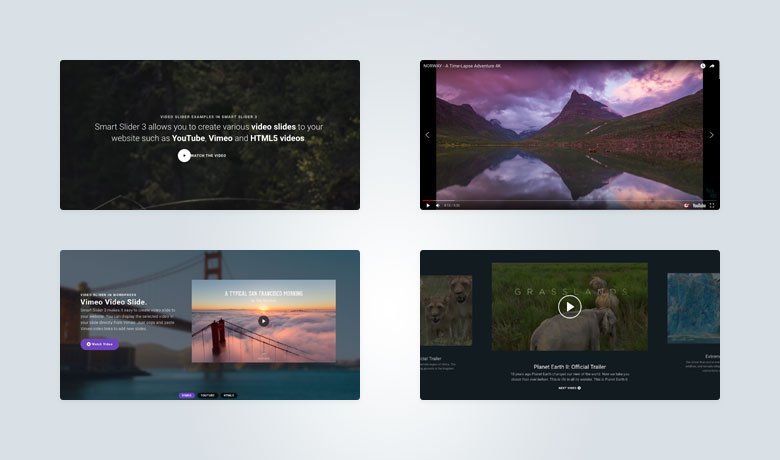 Joomla update indicator
When we released Smart Slider 3 it used its own update indicator. This means the notification on the available new version showed up only in the slider's dashboard. As time went by we made it available for WordPress users to manage Smart Slider 3's updates via WordPress' update manager. It's time to announce that from now on our Joomla users will receive the update notification. If you are a Joomla user, you will need to update your Smart Slider 3 to version 3.2.5 or newer first. Then when we release a new version, you'll see the update notification at your Joomla's Update.