At the time of writing, Smart Slider offers an impressive collection of over 170 unique slider templates. You can import them with just a single click, making the process of slider creation incredibly efficient. All these templates are fully customizable, granting you the freedom to edit every element they contain. You have the flexibility to replace the images with your own, modify demo text to align with your website's content, and much more. Furthermore, you can easily add or remove layers as you see fit.
However, Smart Slider offers more than just ready-made sliders. In fact, it has a Slide Library, which offers slide templates. You can use these to create custom sliders or to add a new slide to your existing slider.
What is the Slide Library?
The Slide Library is actually very similar to the Template Library. The main difference is that you don't import ready sliders, but you load one slide template at a time. This allows you to build each slide of your slider one by one. You can choose the next slide from the various categories.
The Slide Library contains 8 categories, and each of them contains 10 slides. That's a ton of slides to choose from! The available categories are header, media, feature, content, testimonial, team, product, and number. For example, the header category contains slides that'll help you create nice headers. Would you instead display your clients' testimonials? Have a look at the Testimonial category to pick fitting designs.
Where to Find the Slide Library?
You can access the Slide Library at your slides. First, go to the Slide Editor by clicking on the slide thumbnail. Then, open the Add panel and go to the Library tab. Here you can select the theme you want to pick slides from and open the categories to browse the slides. To load a library slide to your currently edited slide, click on its thumbnail. Please note, that any content you had on the slide before it is overwritten.
Some slides are available in the Free version of Smart Slider. We have marked the Pro-only slides with a Pro badge. To be able to download these slides, you need to activate your Smart Slider Pro plan on your domain.
Introducing the New Slide Library Theme, Monolith
When we launched the Slide Library in 3.2 it contained one theme, Orion. Our goal with the Slide Library was to offer slides with matching designs. In addition, Orion had more than 100 slides like this, so it was a great start for the Slide Library. Today, I'm thrilled to introduce our latest addition to the Slide Library family, Monolith.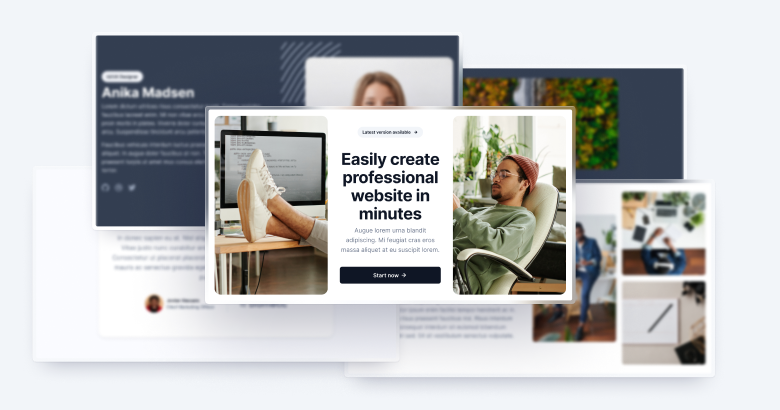 Explore Theme
This new theme elevates the Slide Library experience to new heights. Monolith's slides boast a modern, unique, and colorful design that can effortlessly breathe life into your projects. In addition to expanding each library category with 10 fresh slides, Monolith also offers both dark and light themes for every slide, enhancing your creative possibilities.
New Slider Templates
To demonstrate the sheer power and versatility of the Slide Library, we've gone the extra mile by creating not one, but four remarkable templates. These templates are based on individual Slide Library templates, showcasing the stunning capabilities of the Monolith theme.