Navigation is one of the most important part of a website. It is nearly impossible to find a webpage which doesn't have some kind of links, whether these links are pointing to some other pages on the same site (local link), some other parts of the page which the user is viewing (bookmarks) or to some other web pages (external link). Links make the website interactive which helps to increase the user experience. Some people think that linking to external websites will cause their visitors to leave their website, but this has been proven to be false. Additionally, using links to make every page in the website accessible are necessary to have good SEO result.
Links are also useful to create statistics, for example on how many people have opened a specific page in your site. If a page hasn't been reached as many times as you would like it to be reached, you can improve its SEO and put some links to that page on your most viewed pages. It is possible that you have already put the link to the page to an emphasized place, where you would think it is clearly visible, but barely anyone has clicked on its link and reached the page. You can create a click heat map to see which places have been clicked the most in your site and it would help you figure out why the link is overlooked.
Link in Smart Slider 3
When Smart Slider 3 was made, we wanted to make sure that any kind of navigation will be possible using the product. Due to this goal, we made an option to add links to almost every layer, every individual slide and each slider, so you could keep track on where your users are clicking, or simply navigate them to some other page of your website.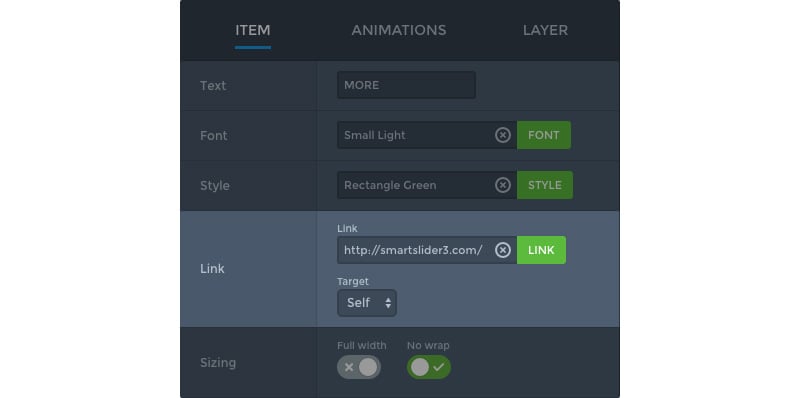 Of course, pasting the desired location to the link field is not the only possibility of the link feature in Smart Slider 3. If the place where you would like your button to point is a post (if it's a WordPress site) or article (on a Joomla site) of yours, there is an option to simply select this post or article by entering some keywords, like a part of its title. This feature is good to easily connect your slider to some already existing page in your website.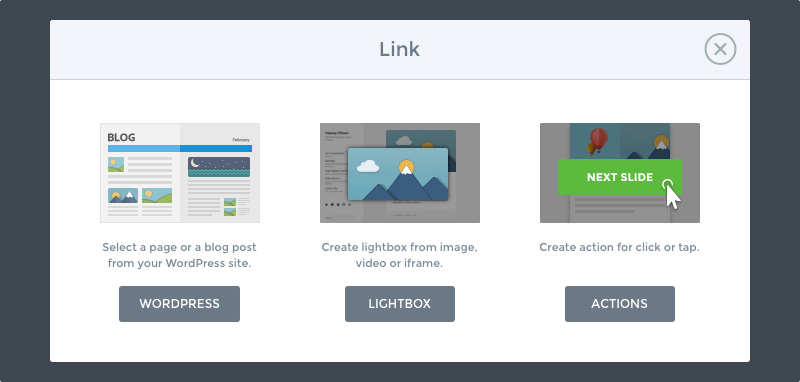 Actions
When making a one page website it can be really important to be able to scroll to a certain point of the page. Smart Slider 3 Pro doesn't just offer to scroll to your "About us" section of the page, but it makes it possible to smooth scroll below the slider. Using this Scroll to function, you are able to create beautiful one page websites easily.
Links can be used to navigate within the slider itself. You can take your user to the previous, next or a specific slide when they click on a button in the currently viewed slide to show them some other contents, making a one page website from the slider itself. If you are using events and layer animations, you can trigger them using the links.
To use or not to use: lightboxes
Everyone loves lightboxes. They're usually used to show images in the same page just in larger size, or show a video, maybe load some form which the user can fill without having to worry that the other parts of the website will catch the user's attention. The common usage is that the user can only get the extra content of the lightbox when they click on a button, therefore they expect something to happen when they click, and the popup won't be an unwanted surprise. But when should you use lightboxes instead of redirecting your user to a new page? Jimmy Breck-McKye listed a few really good points to help you decide which method will be the best to increase the user experience.
The most common lightbox use-cases are images, but people often use videos in a lightbox, too. Smart Slider 3 Pro allows you to use multiple images, videos and pages from your (or other's) site in one lightbox. Yes, you get it right, you can mix these links within the same lightbox, and you can even set a slider autoplay interval on the lightbox, so once it is opened, it will display the images (and other content) without having to wait for a user interaction.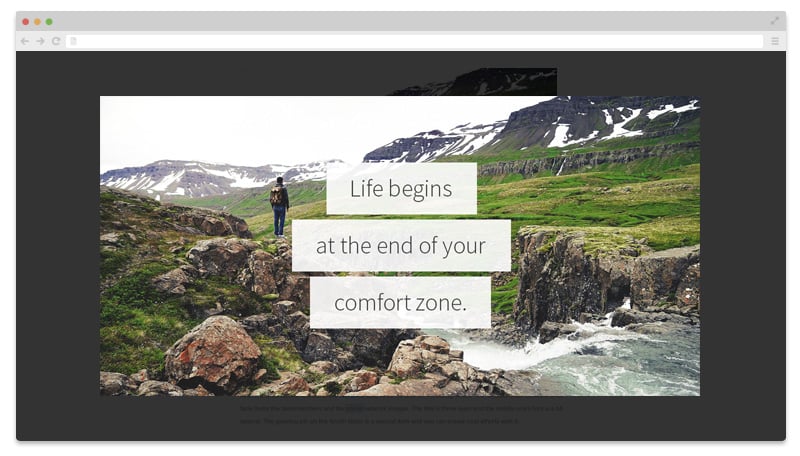 Creating lightboxes from your background images can be a time consuming task when you have lots of images. Smart Slider 3 offers an option to create a lightbox from your background images with one click only. A notable limitation of this function is that if you have just one slide without background image, the option won't work.
Core Web Vitals
PageSpeed Insights with Lighthouse analyzed this page on April 13, 2021. For the latest result analyze now!
Desktop
First Contentful Paint
0.3 s
Speed Index
0.4 s
Largest Contentful Paint
0.8 s
Time to Interactive
0.3 s
Total Blocking Time
0 ms
Cumulative Layout Shift
0.045
Mobile
First Contentful Paint
1 s
Speed Index
1.6 s
Largest Contentful Paint
2.4 s
Time to Interactive
2.3 s
Total Blocking Time
50 ms
Cumulative Layout Shift
0.005
---
Related Post: Add Lightbox Slider to your WordPress site
Related Post: Use Beautiful Layer Animations in Smart Slider 3 Pro
Related Post: 12 Beautiful Full Width Slider Examples
---