Hero images becoming more and more popular these days. It's not surprising, really. The loading time of a single image is really fast. Hero images are elegant. Usually, it's just a few words, a call to action button and a background to fill the browser (horizontally and some cases, vertically, too).
Would you like to read more about the hero layout? Here is an excellent article on how to create a beautiful hero image using Smart Slider 3. Naturally, button layer is not limited to this one-slide hero layout, it can be placed on a slide where there are multiple slides ready to be seen.
You might ask: apart from the buttons being fancy, is there any function of having them? Of course there is! A button makes your site interactive. It basically screams for the user's' attention (without disturbing them), and it is widely used to direct the users to some other part of the current page, or a new page of the site.
Link
The button layer wouldn't be much of a button if you wouldn't be able to add a link to it. Simply paste the desired URL, and the button is ready to be clicked. Using a slider that has multiple slides and you would like to go to some other slide inside? That is possible in the Pro version of Smart Slider 3. And it's pretty easy: click on the link button, hit Actions and select the method you would like to use to switch slides.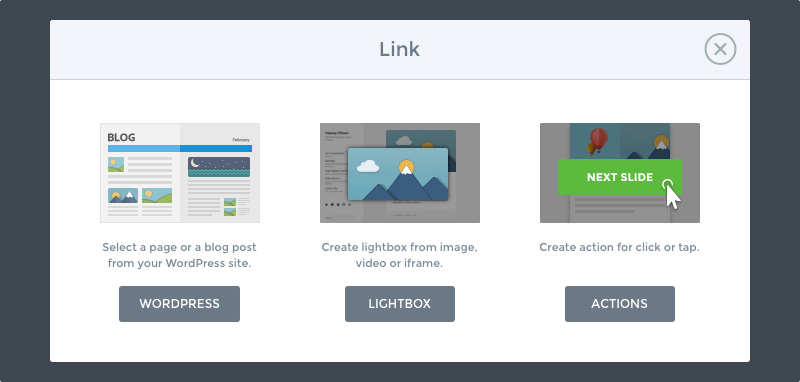 Using the button layer and the Link feature it is possible to create a website entirely based on Smart Slider 3. And you don't have to write a single line of code either.
Custom CSS class
You can use our Font and Style manager to customize your button so it can match your site's layout. So basically, you can make your button look as you would like it to, without coding or moving away from our interface.
Sometimes for people who are familiar with CSS it is much easier to write a few lines of code to style the content of their site, and we wanted to grant the opportunity for these people to do so. The button layer has an option to add a Custom CSS class, so it is possible to automatically style all the buttons in your site, including those that were made in Smart Slider 3.
Being able to add a custom class can be important not just for the CSS lovers, but the coders, too, when they are creating custom functions that are triggered via this button.
Version Overview
PRO
FREE
Button layer
Simple links
Font & Style manager
Related pages