WordPress 6.0, the second major WordPress release of 2022 is scheduled for release soon. What to expect from the next WordPress version? What are the most exciting changes? Let's explore them together!
WordPress 6.0 release stages
Every major WordPress release goes through certain release stages. This allows volunteers to thoroughly test the new version before public release. Currently WordPress 6.0 is scheduled for release on May 24, 2022. Below there are the stages of the 6.0 release:
| | |
| --- | --- |
| 12 April 2022 | Beta 1 |
| 19 April 2022 | Beta 2 |
| 26 April 2022 | Beta 3 |
| 2 May 2022 | Beta 4 |
| 3 May 2022 | Release candidate 1 |
| 10 May 2022 | Release candidate 2 |
| 17 May 2022 | Release candidate 3 |
| 23 May 2022 | Dry run |
| 24 May 2022 | WordPress 6.0 is released |
Most important changes in WordPress 6.0
The new major WordPress release introduces significant changes and improvements. Some of the changes help moving towards WordPress being a complete site editor. One of the most important steps for this is to update the Gutenberg editor in WordPress core.
Gutenberg update
Major WordPress releases include the latest version of the Gutenberg plugin. Gutenberg was introduced in WordPress 5.0. back in December, 2018. Since then, it has become the new way to edit pages and posts in WordPress. Additionally, it has managed to divide the WordPress community as soon as it arrived. There are many users who love the new editor and are eagerly waiting to see how much it can evolve. However, there are many other users who hated Gutenberg from the minute they could start to use it.
WordPress 6.0 will integrate Gutenberg 13.0. This new version includes many improvements to help Gutenberg evolve into a site builder. Of course, there's a long road ahead before Gutenberg can turn into a website builder. Let's check some of the most exciting improvements Gutenberg 13.0 will bring to WordPress users!
Selecting text across blocks
The Gutenberg editor uses blocks to build content. A paragraph is a block of text, so are headings, images and other content. Previously when you tried to select texts, you could only do so within the current block you were editing. However, from now on you can select text between several blocks. It can be useful for formatting the text.
Additionally, it helps to make the editing workflow smoother. You can quickly get rid of the text you no longer need that's divided into more blocks.
New blocks and block enhancements
Blocks help you build content, so it's always nice to have a new selection of blocks. Gutenberg 13 includes a couple of new blocks. Some of the most interesting new blocks are:
Stack: Lets you stack your content vertically.
Avatar: Helps to display the avatar of a specific user or the author of the post.
Read more: Creates a Read more button that links to the post. Useful in category pages.
Post Author biography: Displays the biography of the post author.
Comments query loop: This block is actually replacing the Post comments block. Gives advanced customization features to style the comment list.
Block enhancements
There are many block enhancements coming with WordPress 6.0. Here are the most notable ones:
Featured image at media and text and cover blocks. Previously the featured image was only available at the post featured image block. From now on it'll be possible to add the featured image to the media and text and also to the cover block.
Lock reusable blocks. Helps to prevent (accidental) changes in a single instance of a reusable block.
Typography options for container blocks. Group, row, and stack blocks have typography options from now on.
Keeping block style. If you change your block type (e.g. from paragraph to heading) the block styling will stay. This includes color and typography.
Gallery spacing. The Gallery block now offers the possibility to set the spacing between the images.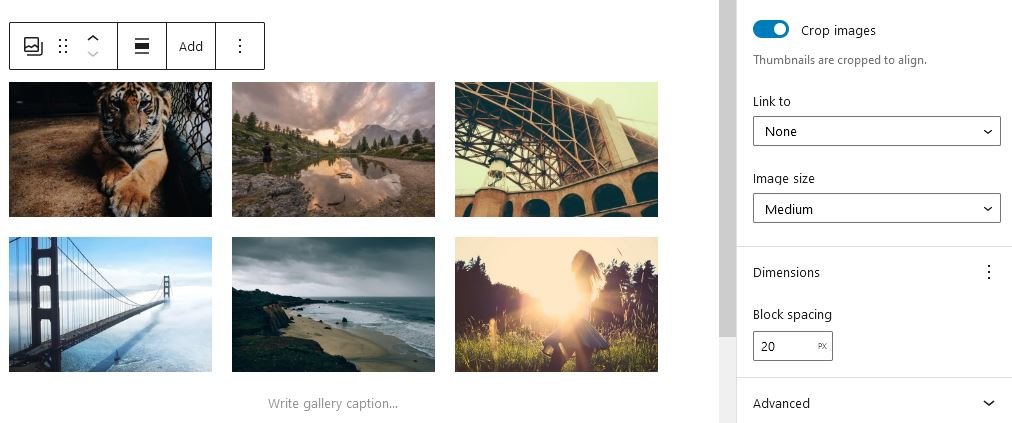 New Full site editing changes
Full site editing was first introduced in WordPress 5.9. It's a collective term for WordPress' new features. These new features include template and site editing. You can think of it as the first step to make WordPress a complete website builder tool. Users can edit their sites using blocks in many ways that before were only possible by writing code. However, they'll need a block enabled theme that supports full site editing.
Keep in mind that in WordPress 6.0. Release Candidate 1 the Full Site Editing feature is still in Beta.
Theme styles
The first new feature of the Full Site Editing is the ability to switch theme styles. Each theme can have many separate theme styles which you can change by one click. For example, there might be a style which has white background and dark text colors. But the theme devs can define another style which has a blue background and light text colors. Font families, text sizes can also differ among styles.
New page templates
Due to the Gutenberg 13 integration, WordPres 6.0 will have five new page templates. The new templates are the following: author, date, categories, tag, and taxonomy.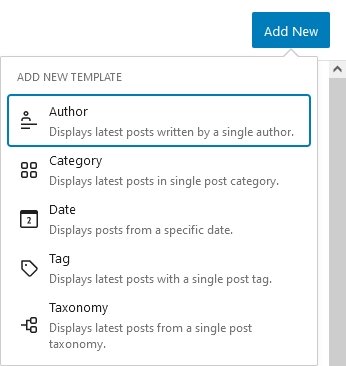 Export block themes
WordPress 6.0 will allow you to export the created block-based theme to re-use it on other sites. It's also a good way to have a backup of your customized theme, just in case.
Under the Hood changes
Apart from the visible changes, WordPress 6.0 comes with a bunch of under the hood improvements.
Webfonts API. Provides an efficient way for theme authors to manage local fonts with PHP or theme.json.
API to prevent certain blocks from appearing in Widget Areas. Not all Blocks were made to be used as widgets. WordPress 6.0 offers developers an API to prevent blocks from showing up at the widget areas.
Conclusion
WordPress 6.0 brings important changes to website owners. These changes make it easier for people to create their own site visually and customize it as they see fit. WordPress 6.0 is another small step to make WordPress a site editor, like Wix or Squarespace. However, there's still a long road ahead but let's be optimistic. Gutenberg editor will keep improving and unlock more and more options for site owners. As a result, WordPress can grow as well.