Many people say Gutenberg is the future of WordPress, while others disagree. If you check the reviews of the Gutenberg plugin, you'll find lots of people who dislike and eager to disable it. Well, bad news for them: Gutenberg isn't going to go away anytime soon. In fact, more and more developers create new Gutenberg plugins to extend its functionality.
What is the Gutenberg editor?
Before you can learn about the best Gutenberg plugins to add to your site, let's see what Gutenberg is. Gutenberg is WordPress 5.0's new editor to create content for your site. Gutenberg brings a new idea to create content: using blocks. What's a block? A heading, a paragraph of a text or an image. To make it simple, a block can be anything you can add to your page or post content.
Gutenberg is a visual editor and it's super easy to use. It allows fine-tuning of content in a way that was only possible with shortcodes before. The future is the visual editing and Gutenberg does a marvelous job at supporting this.
A nice touch for WordPress theme developers: Gutenberg allows customizing its editor. They can make the backend editor look and feel like a frontend editor. For example, Gutenberg can use the font family and size at the backend, what the frontend uses. Theme developers can change the content width, set background color, and many more.
How to use Gutenberg?
When you create a new post or page in WordPress 5.0 or above, Gutenberg will open. Using its visual editor, you can write your next most trending post, or create a stunning page. Everything is visual and live, so you'll see the result right there.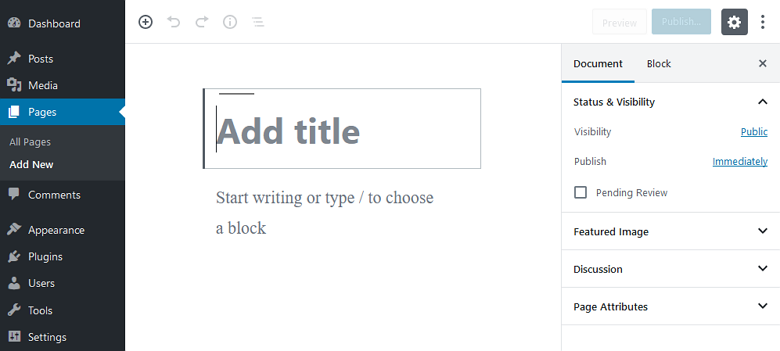 Using Gutenberg couldn't be simpler. Type the title of your post or page to the large "Add title" field, then start creating content below. You can use many different blocks to create your content. You'll probably use the paragraph, heading, image and button blocks the most. But you can easily add a list, video or a simple gallery with Gutenberg.
What are the best WordPress Gutenberg plugins?
Every website is unique and has its own needs. Because of that, many developers have created custom blocks for the editor and released it as a plugin. As a result, many amazing WordPress Gutenberg plugins were created for the community.
This means you will find what you need for your website for sure. On the downside, having many plugins to choose from makes it complicated to find the plugin you are looking for. To help you with your quest, here's a list of some of the best Gutenberg plugins you can find. Best of all, they're all free plugins. So let's dig in!
1. Gutenberg Blocks – Ultimate Addons for Gutenberg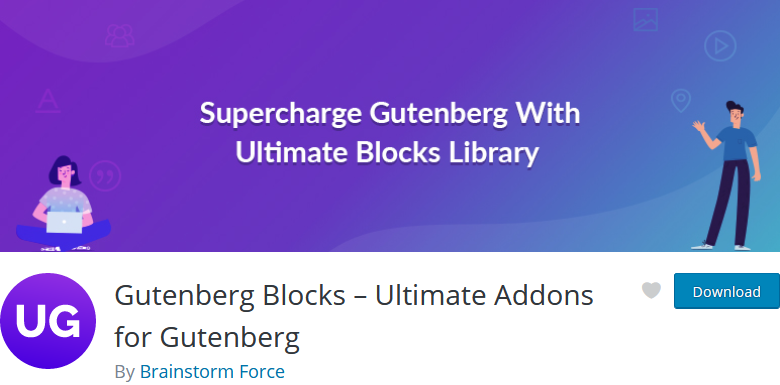 Download
Ultimate Addons for Gutenberg is one of the most popular plugins for Gutenberg. The plugin offers many useful widgets. Additionally, after installing Ultimate Addons plugin, you won't need to waste time to figure out which new content was added. The developers have created their own panel, where their blocks are easily accessible.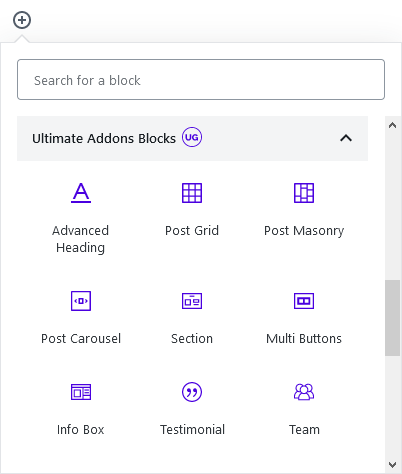 Some of the coolest blocks you can create: advanced heading, testimonial, social share, content timeline, blockquote (with an option to tweet the quote). There's also a table of contents block which is useful for bloggers. It automatically reads every heading from your post and creates a table of contents for easy navigation. The block updates itself, so you don't have to maintain it. Gutenberg blocks is really trying to be the ultimate blocks plugin for Gutenberg.
2. Kadence Blocks – Gutenberg Page Builder Toolkit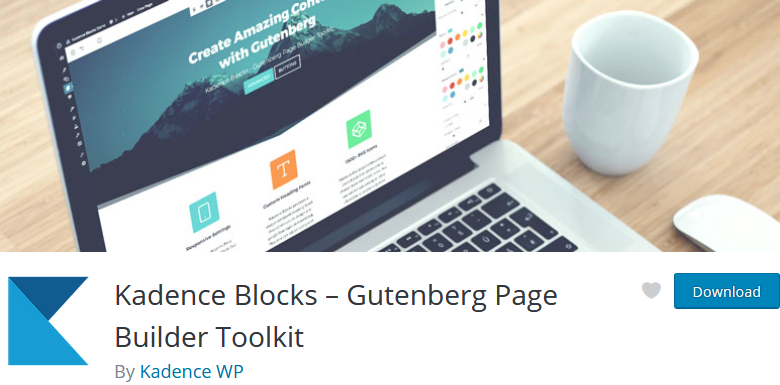 Download
Kadence Blocks is yet another popular WordPress Gutenberg plugin. In this plugin, you can enable or disable the blocks you need. This way you can keep your editor nice and clean, without showing options you'll never use. They also create their own panel to access their blocks in one place.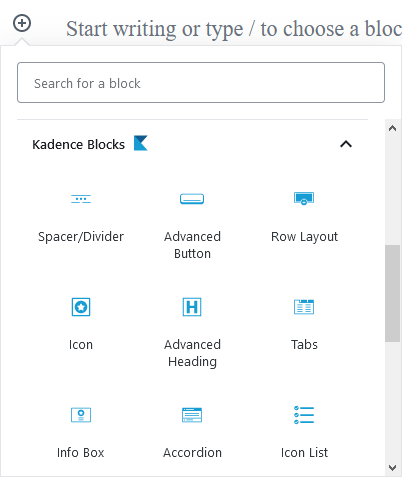 Some of the coolest blocks they have: Spacer/Divider, Advanced Button, Tabs, Info Box. You can also create an accordion layout where you can adjust the content of each tab by moving any block. I like how well this integrates with the Gutenberg experience.
3. Atomic Blocks – Gutenberg Blocks Collection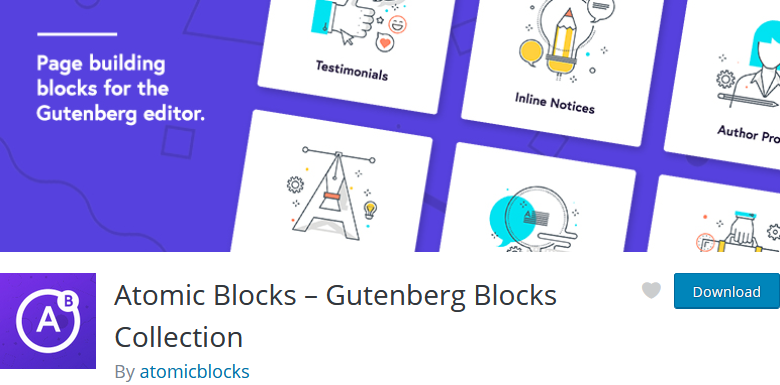 Download
Atomic Blocks offers a handful of useful blocks to enhance your posts and pages. The plugin's header shows some interesting icons which I have expected to see in Gutenberg. After seeing their colorful banner, it was disappointing to see that their icons are so simple.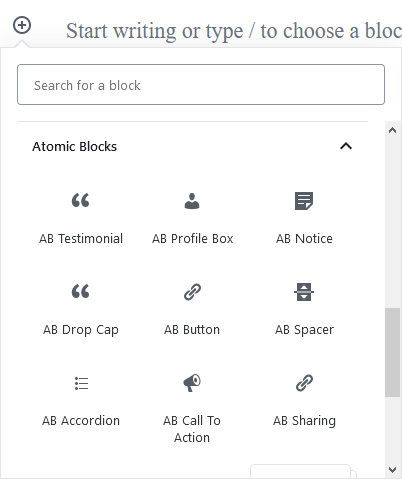 Some of the best blocks are: Notice, Drop Cap, Profile Box, Sharing (you can use this to share on Facebook or Twitter). They integrate with Mailchimp and have a handy block to allow adding a newsletter subscription block. The pricing block they have is one of the coolest blocks I've seen.
4. Stackable – Gutenberg Blocks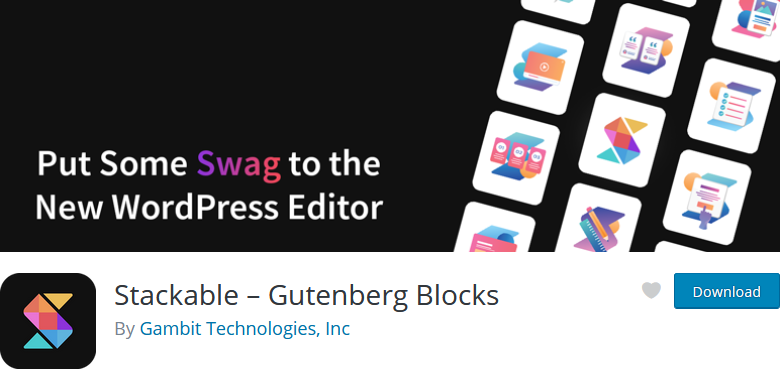 Download
Stackable – Gutenbergs Blocks extends your Gutenberg editor with a list of colorful blocks.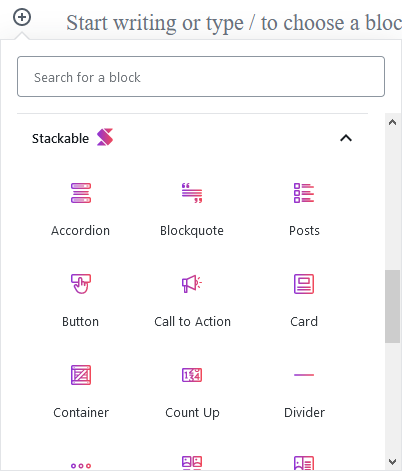 Some of the coolest blocks are: Notification, Blockquote, Team Member and Call to Action Button. They also have a separator block that looks like the Shape dividers in Smart Slider 3. My favorite block from them is their Card block. You can use it to create a block with an image, heading and description.
5. Advanced Gutenberg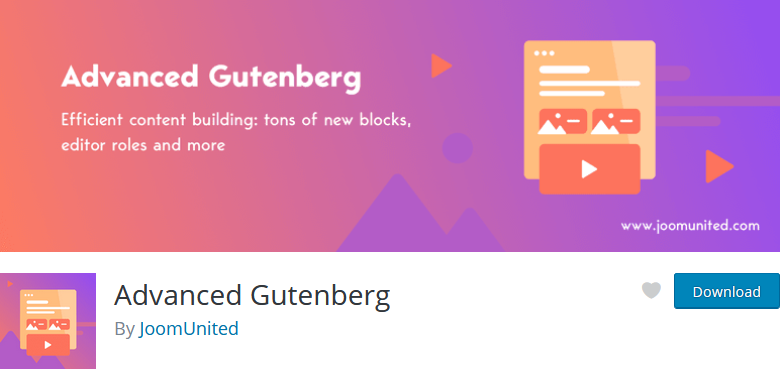 Download
Advanced Gutenberg by JoomUnited is yet another WordPress Gutenberg plugin. It promises to add all the missing blocks and configuration you need to build professional websites. Indeed, they offer some unique but useful blocks to enhance your website.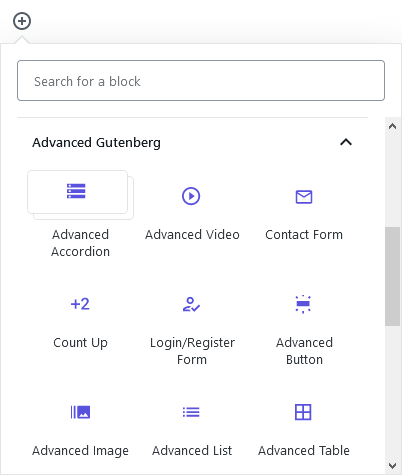 Some of the coolest blocks are: Advanced Accordion, Video, Count Up and Social Links. Another block I loved is the Login/Register Form block. Many people want to handle the login and registration outside of the /wp-login.php for some reason. Advanced Gutenberg Blocks makes it easy to create a page and have a login/registration form inside. For this reason, many website owners will love JoomUnited's plugin.
6. Gutenberg Blocks and Template Library by Otter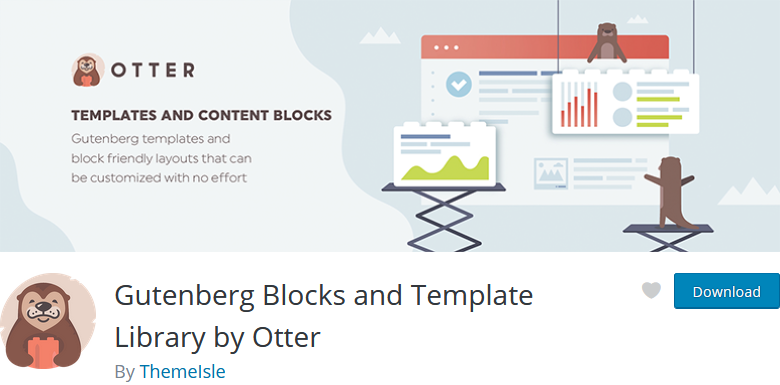 Download
ThemeIsle's Gutenberg Blocks plugin starts with a cool tour to learn the basics of their plugin. Some of the options they show are targeting developers (like the option enable the Custom CSS module), so it might worth disabling it during the tour.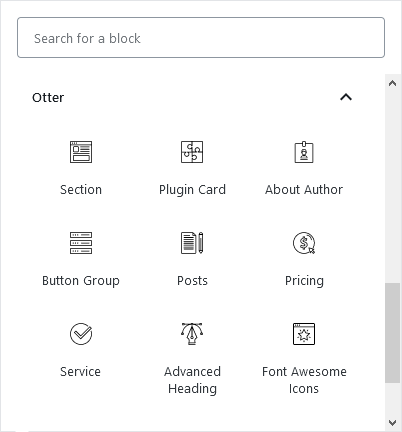 Some of their best blocks are: About Author, Service and Pricing. What's cool in this plugin is that they don't only offer blocks. They offer templates (created with Gutenberg blocks) to help those who don't have an eye for design. To add a template, add a new section under the Otter panel.
7. WooCommerce Blocks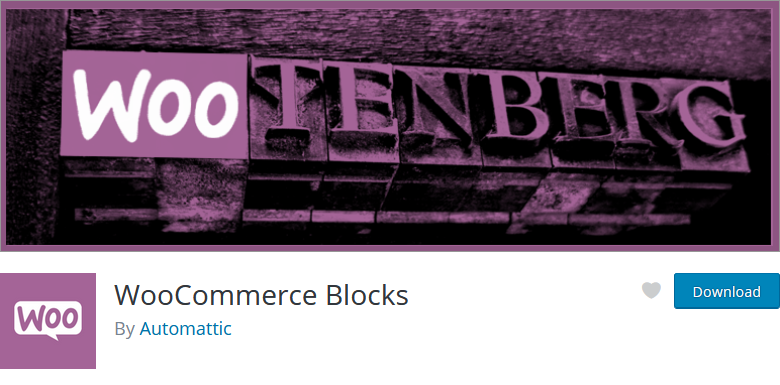 Download
Ecommerce is blooming. Because of this, it's not possible not to add a Gutenberg plugin with eCommerce features to our list. Meet WooCommerce Blocks which is the most popular Gutenberg plugin to add WooCommerce blocks to your post or pages.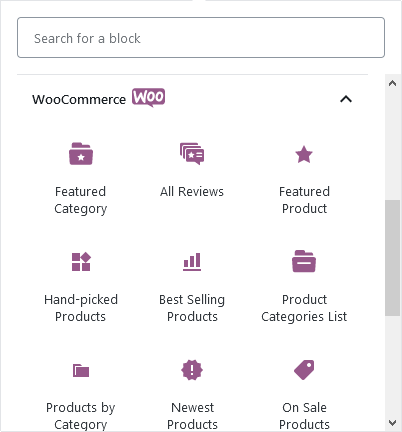 The most notable blocks are: Featured Product, On Sale Products and Products by Category. I love the Reviews by Product block, as it's very useful for promoting any product. The Newest Products block is also great, especially for landing page building.
8. Page Builder Gutenberg Blocks – CoBlocks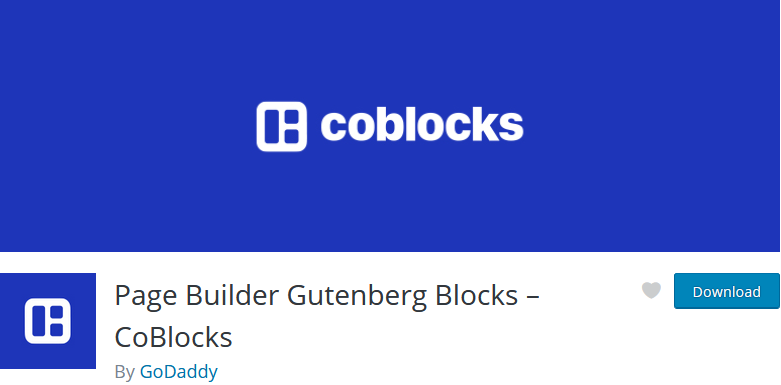 Download
CoBlocks has some interesting features some of which target business owners. For example, they have a Hero block which you can use to create a beautiful hero section for your website. There's also a Contact form block which you can use to add a simple contact form to your page. A contact form can help you get new clients (e.g. if you're a photographer) so they are important to have.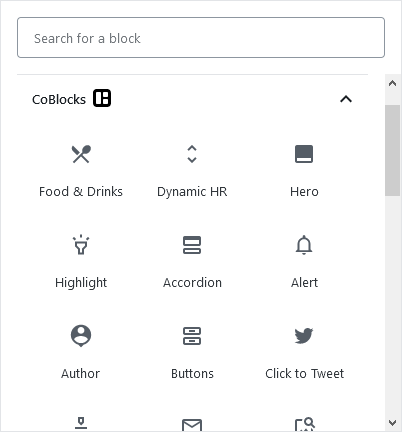 If you run a restaurant, check out CoBlocks. Their Food Item block will be super useful to display your menu. Their Social Profiles block seems to allow the most social sharing features compared to the other plugins on this list.
What's the future of Gutenberg?
Gutenberg is already fantastic, but still has lots of room for improvement. As a matter of fact, there are many ways to move forward with such a versatile plugin. Luckily, the developers are full of amazing ideas about the future of Gutenberg.
What are these cool ideas? At the moment, Gutenberg is only responsible for content creation at posts and pages. The developers' plan is to extend this and make Gutenberg the menu and sidebar editor as well. In other words, they plan to replace the current widget system with Gutenberg blocks. This sounds like an excellent idea, and we're curious to see how it goes.
Conclusion
Gutenberg block editor is the future of creating content in WordPress. It will make the editing experience consistent across different parts of your site. Because of that, WordPress will be easier and faster to use and learn for everyone. As a result, more and more people will be interested in building their site with WordPress.
The only question is how long will it take for Gutenberg to revolutionize how you can work with your WordPress site.