We are living in the digital era. People spend significant percentage of their days online: they chat with their friends, order supplies and document their lives by taking pictures or writing blog posts, and check out other people's pictures or read their blog posts.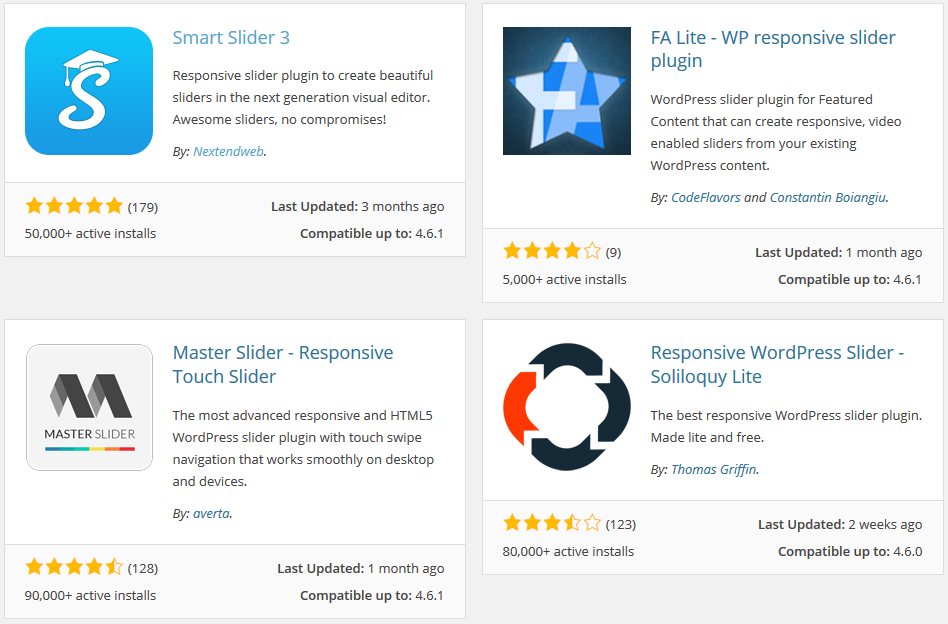 Not everyone has the skills to build a website from scratch for their blogging needs. Matt Mullenweg and Mike Little realized this back in 2003 when they released the very first version of WordPress, which later became the world's leading blog solution. WordPress was improved from version to version, and the plugins were developed by companies or talented individuals extending the usage of WordPress. Nowadays, WordPress isn't just a blog solution, it's a complete Content management system (CMS), making it possible to create any kind of websites: even business or e-commerce sites. WordPress is incredibly popular, it is used by 26.5% of all websites (where self-coded sites are still in play), and at the content management market, it still leads by 59.5%.
Why is WordPress so popular?
Because it is easy. The installation is amazingly easy, most hosting plans even offer the one click installation of the software. The dashboard where the website can be managed is simple and easy to learn. The whole system was designed to be used by the everyday user who doesn't know anything about coding and how their site is working, they just want it to work the way they want it to. And WordPress does this job flawlessly.
When it comes to WordPress, being easy seems to be the keyword. There are tons of free and paid themes out there to make your WordPress site look and feel unique. The developers of these themes have made their product easy to customize, and achieve a unique look for the website quickly, even for non-coders and beginners.
WordPress slider origins
As the internet speed increased, people started to use more and more images on their sites. However, having many images in a column below each other forces the user to scroll unnecessarily a lot to get to the actual content of the page. WordPress sliders came to the rescue, allowing to put these images into the same fixed-height area of the page, reducing the amount of time the visitor has to spend with scrolling on the content. WordPress sliders can instantly bring some life to a stagnant homepage. They're animated and large, so they immediately draw the visitor's eye and urge them to click on the button and learn more about the website.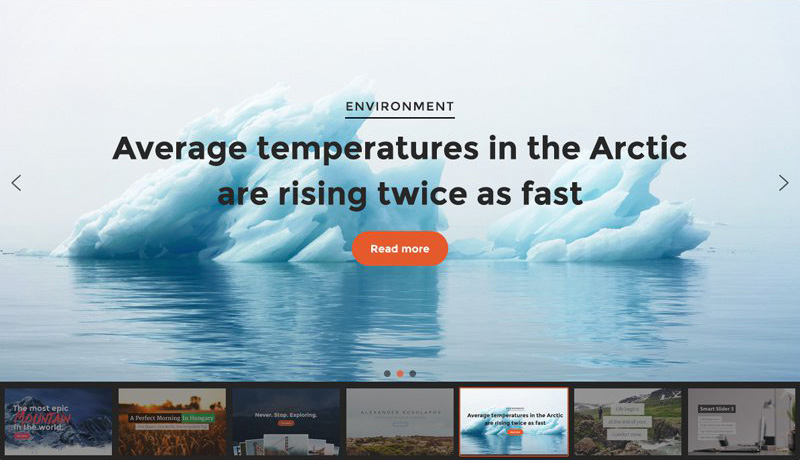 Nowadays, when a WordPress slider is created, it doesn't have just simple images, but texts and buttons, too. The clearest advantage of using a slider is that website owners can place their most important content in a visually appealing way to the top of the page before their other content. This allows users to quickly see the highlights and take action.
The advantage of a WordPress slider
Sliders are saving vertical space in the website as when there are many slides, they are still taking up the space of one content element. There are common navigation elements which can be used to go from one slide to another, the most common elements are: arrows, bullets and thumbnails. Since more and more people use their phones to browse the web, it is important for them to be able to switch slides easily, like by swiping on the slider.
Naturally, if something has great advantages, there will be downsides, too. When sliders are used, this downside is usually the speed, so the actual loading time of the page where they are in. Why do the WordPress sliders slow the page down? Sometimes, because they call too many and too large files, or they simply do not optimize the images which were uploaded by the user, leaving it for them to upload optimized images in the first place.
Introduction of Smart Slider 3
Smart Slider 3 is our first next generation software. It is a brand new and intuitive WordPress slider plugin to create visually appealing WordPress sliders and blocks. Smart Slider 3 gives you the tools to create YouTube, Vimeo or self-hosted video slides, create slides from your WordPress posts or other different sources. It has a complete easy-to-use slide editor with different layers and a powerful layer animation builder.
Smart Slider 3 was designed to be the best and easiest to use WordPress plugin in the directory. After its initial release on 12th November 2015, Smart Slider 3 quickly became the best rated WordPress slider plugin, and managed to keep its high rating. The reviews received highlight the fact that the slider is feature-rich and easy to use, and the slider creation process is simple and intuitive.
A speedy and great WordPress slider
Smart Slider 3's code is optimized as much as possible. This makes it one of the fastest WordPress sliders available. We don't leave it to the user to upload optimized images either, as there is a built in option at the plugin for this. Interested in more tips on how to make the slider faster? We wrote an article to help you, you can reach it here.
Smart Slider is a stylish WordPress slider solution that helps you create beautiful sliders and blocks for your websites. All content created by Smart Slider is responsive, therefore it looks great on any device, and there are lots of custom responsive settings ready to be used to achieve the perfect result.
We have a huge demo slider library which you can check out to see a few example on what you can achieve using Smart Slider 3. There is also a free version available for download.
Different slider types
The most commonly known slider type is what we call "Simple type". One slide is visible at a time, and with navigation and/or autoplay, the user can go through all of the images. We've been working with sliders for a while, and we realized, that people can't be satisfied by being able to use only the simple slider type.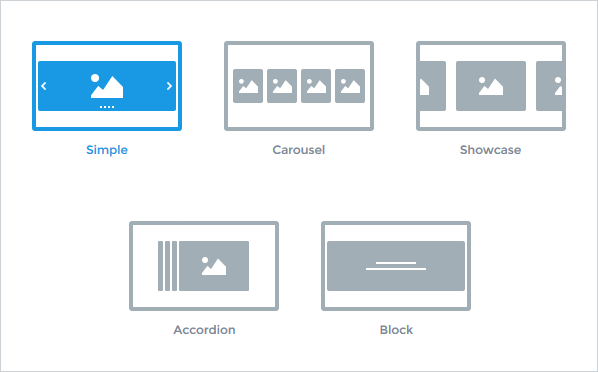 Our responsive WordPress slider plugin offers five slider types to choose from. The Showcase type is commonly known, its way of working is pretty simple: there is an "active" slide in the middle, and equal amount of other slides show up on its right and left side. Usually, these kind of sliders are used to show the logos of the sponsors.
The Carousel slider works very similarly. It shows multiple slides at a time and it has a great responsive behavior. This slider works wonderfully as a product slider. The Accordion slider's structure probably looks familiar from FAQ pages, and it works best for this kind of usage.
The Block slider type is not really a slider. It's kind of like a "section" of your page, that is, it does not move away (the Block slider type can show only one slide), but it can have any kind of layers and layer animations on them, almost like a page builder.
Layers
Smart Slider 3 gives a really unique mood to your WordPress slider. Currently you can choose from 15 layers to make every slide unique. You can add texts to tell your story, videos, static images, images with captions to illustrate it. The layers which you can use to create your very own content are easy to add, use and customize. Textual layers have access to our built-in, visual Font and Style manager. Both can be used to save new preset styles, making it easier to create and modify the look of the textual content.
Smart Slider 3 is not just the perfect tool to create a WordPress slider using static layers. It comes with a powerful layer animation builder which can be used to create any kind of layer animation.
Animations
Smart Slider 3 offers a great variety of animations. There are four main animations (five for the simple type), including the Fade animation, that are shown when slides change and they also affect the layers where there aren't any layer animations set. There are multiple, different Background animations (both vertical and horizontal) to make the slide change look even more spectacular.
The Ken Burns and the parallax effect (as fixed background) can be selected to any slide in a Simple type slider. Smart Slider 3 also has options to apply the parallax effect on layers (you can see an example on this in these demo sliders).
Responsivity
There are many WordPress sliders out there which are not responsive, unlike Smart Slider 3. Smart Slider 3 is not just a simple responsive WordPress slider, it has 4 different responsive modes and tons of settings to make the slider look even better on smaller screens.
A responsive WordPress slider is important for every modern WordPress website. Nowadays, lots of people use their phones to browse the web, and mobile phones have smaller screens and resolution, so the websites need to adjust their screen sizes and make it comfortable for them to use the website. If the theme is responsive, the slider should be too, otherwise it will break the layout, and that won't look nice. Fortunately, this won't happen with Smart Slider 3.

Different responsive modes
When choosing the perfect responsive mode for your slider, there are four options to choose from. If the slider should fit into a container where it is put in (like the still popular boxed layout), the best choice is the Auto responsive mode. For a full width slider, that doesn't have to be as high as the browser, the Full width responsive mode will suffice, and for a slider that should be as wide and as high as the browser it is viewed in, the Full page responsive mode is suggested.
There are cases when the slider should not be responsive at all (e.g. when it is used in a sidebar widget offered by your WordPress theme), and for that, the Adaptive responsive mode is the best choice.
Most people design their sliders in landscape dimensions (for desktops), but when someone uses their phones for surfing they usually use the device on portrait orientation, which means that the slider won't be wide, and due to the set landscape dimensions, it won't be so high either. To solve this issue it's possible to set custom slider sizes for mobile and tablet devices to make the slider higher on these devices.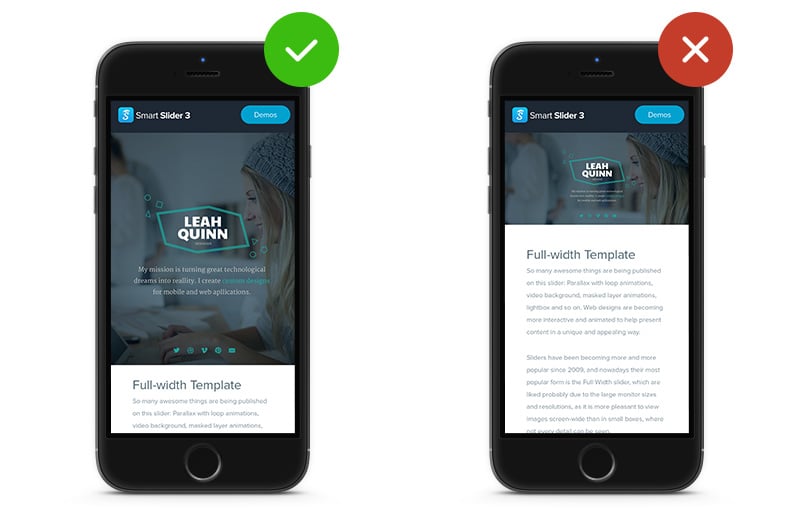 Dynamic slide generators
Not everyone wants to create their image slides one by one, especially if they already have the content somewhere else that should appear in the slider. While Smart Slider 3 makes it easy to add multiple slides to a slider based on the content of the website, it might just happen that the images that should be used were uploaded to a folder on the server, which is perfectly fine source for a nice slide gallery. In cases like this the best dynamic slide generator choice is the Images from folder.
There is a dynamic slide generator which is useful for any WordPress user, and this is the WordPress Post Generator, which allows you to create a nice looking slider from the posts you have written. The generator (once the cache time expires) will automatically look for new posts in your site, to keep the dynamic WordPress slider up to date without you having to create another slide by yourself.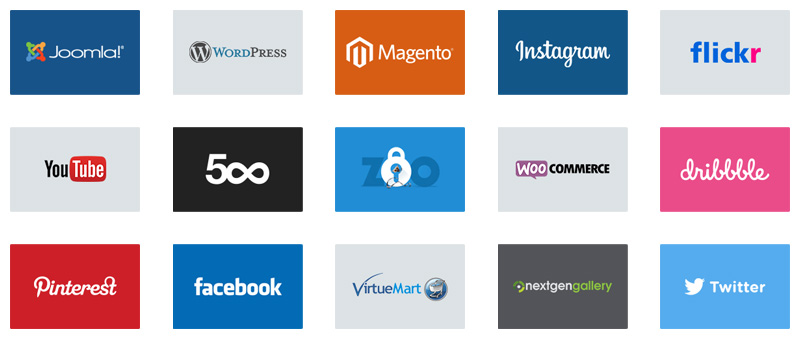 WordPress plugin generators
It gets even better, as we don't just have dynamic slides for WordPress posts, but a lot of different WordPress plugins. You can create a WooCommerce slider from your products, your Events Manager, The Event Calendar or All-in-One Event Calendar events. If you preferred to create your slides based on a gallery plugin, you can also create dynamic slides from NextGEN Gallery, Gallery by BestWebSoft and Web-Dorado Photo Gallery. You can find the full list of the available WordPress generators here.
Smart Slider 3 also has your back if you would like to create slider from your Facebook, Flickr, Instagram, 500px and Picasa images, Twitter posts, Youtube videos. You can create sliders from RSS, or a file that is hosted on your server or a direct input. Your Ecwid products can also be featured using Smart Slider. You can find the full list of the available generators here.
Demo sliders
Not everyone is a professional designer to create attractive sliders. Or maybe, they don't have time to design a complex slide, they just want to have a nice looking result quickly, and learn the software by modifying previously created sliders. Smart Slider 3 won't leave anyone hanging when it comes to fast and amazing results. We have a huge, continuously growing sample slide database, where you can select any sliders to import and use on your site with just one click. Once the slides in the website, they can be customized as much as wanted.
Static slide
People who create WordPress sliders often want texts and buttons to appear above their images. In some cases, they want these buttons and texts to appear on each slide the same way, without moving (or without having to modify these buttons on each slide one by one if needed) while the images are constantly changing in the background. Static slides can have any of the available layers.
Static slides can also be used to place a watermark on each slide by placing them on one slide only.
Other powerful features
Smart Slider 3 has tons of options to satisfy everyone's needs. Having an interface with that many options would surely confuse people, especially the first time users, therefore we put some of these features, that are not necessary to create a beautiful slider to Expert mode.
Smart Slider 3 also comes with a first class support from our team. You can contact us if you get stuck, have questions or have troubles with your sliders. E-mails are replied within 24 hours on business days.
Testimonials
It's not just the best slider plugin available, it's also an example to all free and premium plugin makers of how a plugin should be made.
I've worked with quite a few well-known slider plugins and some of them, while loaded with features, were downright difficult to set-up. Smart Slider 3 was by far the easiest slider set-up I've ever experienced.
I am a huge fan of developers including pre-made templates in their products as it is sometimes difficult if you do not have a good eye for design. The standard of slider templates that are included with Smart Slider are very high. All you have to do is select one you like and then modify it to suit your needs.
As I touched on before, this plugin can be used for much more than a simple slider – being able to create whole sections of your website with animated interactions should really help your site stand out.
Even though you can already do quite a bit with the free version of Smart Slider 3, the Pro version takes things to a whole new level. There are new features that are only available in this version, together with extra layer types, all the available sample sliders and much more.
Even though you can already do quite a bit with the free version of Smart Slider 3, the Pro version takes things to a whole new level. There are new features that are only available in this version, together with extra layer types, all the available sample sliders and much more.
Reviews
Often, I get replies within a few minutes. They are super knowledgable. No issues I've had are ever with this plug-in – it's always with some other plug-in or custom script that has a conflict – and still, Nextend gives very thorough, easy-to-follow instructions on how to fix things.
I'm more of a designer and a hacker than I am a coder – and I cannot just write CSS from the top of my head, etc. – but any support I've gotten from Nextend has been super easy to follow. They are very friendly and professional.
I've been searching for weeks trying to find a slider that's simple to use and can show pictures with thumbnails and captions — I didn't want to have to go through the pain of creating multiple layers with animations for a carousel with 35 images. I installed the free version locally and decided to upgrade to the pro version afterwards. The Smart Slider 3 website doesn't really outline all of the extra features you get, but some of them that appealed to me included an indicator bar and full screen mode. There are also options available to make global adjustments to the slider (such as margins, font colors, etc) without writing custom CSS. The 1-page settings page was also easy to use.
Incredible plugin. Even the free version is excellently done. This slider made me switch over all my site's sliders from Revolution Slider to Smart Slider 3.
As some have posted and I recently found out, a lot of free plugins for wordpress are simply hit or miss. I actually had been on hiatus for nearly 2 years in even going near creating another website when recently I was asked to do just that.
The product sells with photos since it deals with travel resorts and destinations so of course I needed a slider that worked. From what I remember 2 years ago, there were not many sliders out there or I just forgot to look. I searched and came across one, (won't name) that seemed to work well, but few choices as far as functionality.
Sadly, an update made it non functional and I needed another and through some magical passage I came upon smart slider 3. It fulfilled and went farther than any bucket list of what a slider could do for me. Totally the mother of all sliders.
Read more reviews here.