Homepage sliders are back! Or, should I say, they never left in the first place. If you'd believe the anti-slider brigade, homepage sliders are boring, annoying and bad for conversions. But the actual evidence proves otherwise.
Modern sliders have evolved beyond the basic slideshows that were everywhere five years ago. Big brands like SpaceX, Microsoft, Squarespace and Spotify feature well-designed sliders on their websites. Contemporary sliders are gorgeous. They feature stunning imagery – usually high resolution photography – along with thoughtful copywriting, well-placed CTAs and design elements that ensure information is well-timed so users can absorb the content on each slide.
Why use a homepage slider on your WordPress site? The many benefits include:
Focus. The ability to focus users on your key messages above the fold.
Visuals. Users love stunning imagery. Sliders let you display more than just one image.
Calls to action. Sliders provide opportunities to display multiple CTAs for your important content.
Let's take a look at some examples of how big brands and creatives are using homepage sliders.
1. Squarespace
Let's kick off with my all-time favorite slider. I'm a big fan of the Squarespace website, mostly because of the stunning slider that sits at the top of the homepage. It's beautifully designed, features thoughtful copy and a fun imagery. When you move your mouse to the left or right edges of the slider, it transforms into an arrow for navigation.
Site owners should take note of the CTA – its black background contrasts sharply with the pastel pink background, quickly drawing the user's attention.
Why it works: This slider is beautifully composed. It's obvious a lot of time and design has been put into this slider, with each of its elements working together in harmony. It's a great example of a slider that takes the concept of slideshows to a whole 'nother level.
2. The English Bus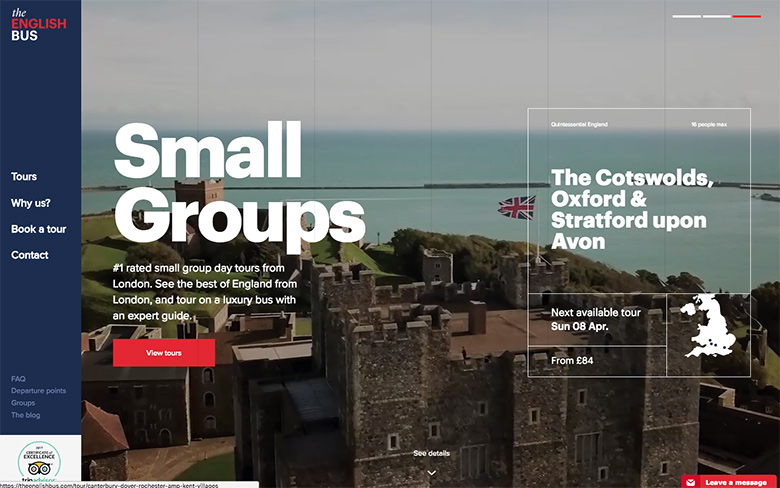 Now, this is a slider you really have to see in action to get how it works, so click through to check it out in all its video glory. How do you get travellers excited about touring England on a bus? With this ingenious video slider.
The English Bus company's fullscreen homepage slider features scrolling video snippets of the English countryside and well-known tourist spots like Stonehenge. It features white headers and text, which pops against the dark overlay that's been applied to the video. The bright red CTA also stands out, helping to direct users to view more information about tours.
Why it works: This slider proves why the myth that sliders make websites slow is just plain wrong. As soon as The English Bus website starts loading, the video is already in action, displaying dynamic images of people enjoying the company's tours. With some smart optimization, sliders provide a fast and effective way to display homepage content.
Creating Your Own Beautiful Homepage Slider with Smart Slider 3
With Smart Slider 3 you can easily create beautiful home page sliders. But rather than bore you with similar examples to what you've already seen so far, let's take a look at some innovative examples you probably didn't know you could achieve with a WordPress slider plugin.
If you like any of the Smart Slider examples below, you can use them — just import them into your WordPress install when you sign up for Smart Slider 3 Pro.