This year the holiday season openings, Black Friday and Cyber Monday fall on November 24th and 27th respectively. Check out the most complete list of the best Joomla Black Friday deals in 2017. These two days are the best days of the year to purchase a new extension or template for your Joomla site. Many companies use these special days to give out limited time offers and increase their customer base.
In this article we collected the best Black Friday deals for Joomla in 2017. You can find various great extensions, templates and services here so you can easily keep track on the offers. Be sure to check out the article every day as new offers are added constantly. If you like the offers, don't forget to bookmark the page!
Extensions
Templates
Best Joomla Extension deals for Black Friday
Smart Slider 3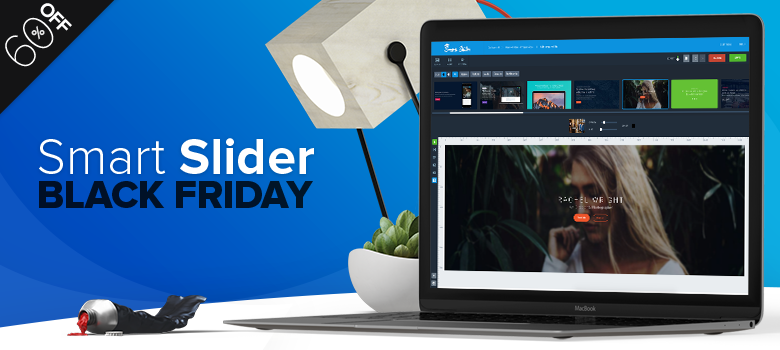 Description: Smart Slider 3 is the perfect responsive slider for WordPress. You can create beautiful sliders and animated blocks easily with the next generation visual editor. You don't have to think about any technical details, the drag&drop interface will help you. You won't believe how easy it is! We are excited to offer a huge 60% discount on all plans!
Date: November 23rd – 28th
Coupon: BF2017
RSJoomla!


Description: 70% template club, 50% multi-site extension, 35% single site extension & templates. Take advantage of the biggest discount promotion we are holding this year, the RSJoomla! Black Friday Sale.
Date: November 24th 10:00 UTC+2 – 26th 16:00 UTC+2.
Coupon: Coupon is not required to purchase any Joomla Extension or Joomla template.
JoomlaShine


Description: Get all JoomlaShine products and 12 months subscription with only $199. It is once-in-a-lifetime chance to get the best deal ever!
Date: November 22nd – 27th
Coupon: Grab the deal!
Techjoomla


Description: Techjoomla is one of the leading extension developers in the Joomla Sphere today. Both community supported as well as commercially supported extensions serving a variety of uses are provided by us. Some of our popular extensions are: Give, JTicketing, Quick2Cart, Shika.
Date: November 23rd – 28th
Coupon: TJBF2K17
Best Joomla Template deals for Black Friday
JoomDev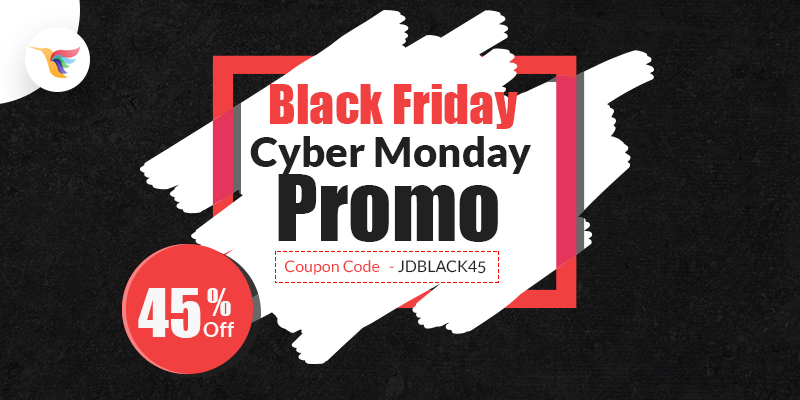 Description: JoomDev is a Joomla Template Development company, offering Flat 45% discount on all Joomla Template. Use coupon code JDBLACK45 at the time of checkout.
Date: November 20th – 30th
Coupon: JDBLACK45
TemplateMonster


Description: TemplateMonster is running a huge Black Friday & Cyber Monday sale! Visit TemplateMonster.com and get 50% off on all ANY product! The offer is active from November, 23 until November, 30. Hurry up to purchase your dream template at TemplateMonster marketplace!
Date: November 23rd – 30th
Coupon: Grab the deal! No coupon code needed.
Joomla Monster


Description: We provide great commercial templates for Joomla. We offer 35% discount on all Joomla templates during this limited time period.
Date: November 24th – 28th
Coupon: BLACK.
Rocket Theme


Description: One of the biggest theme shops in the business, Elegant Joomla templates are offering 35-50% off all purchases, which is the largest discount they've ever offered!
Date: date
Coupon: Grab the deal!
JoomShaper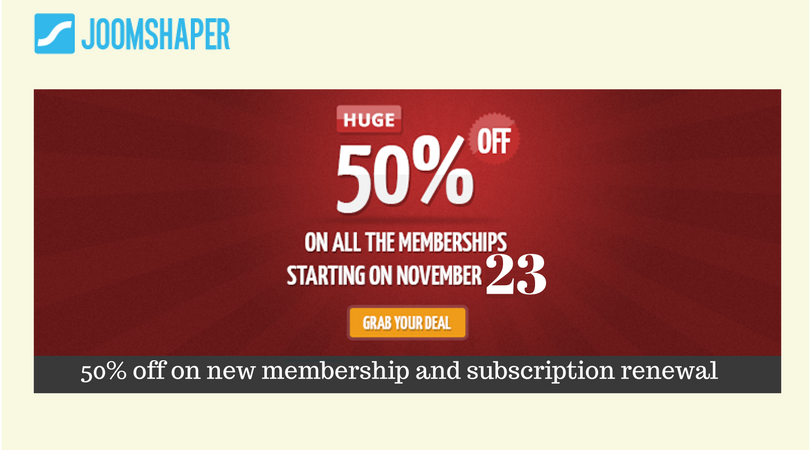 Description:JoomShaper is known for amazing and modern Joomla templates with a very clean code and powerful design. You can choose from 100+ Joomla templates in their store.
Date: November 22nd – 28th
Coupon: Grab the deal!
Send Your Deal
In our list, you'll find the best Joomla template, extension and service offers available only on Black Friday 2017. But if want to add your deal to our list please drop us a mail with the following details:
Image: 780 x 300 px
Description (max 500 chars)
Date
Coupon or Special Link