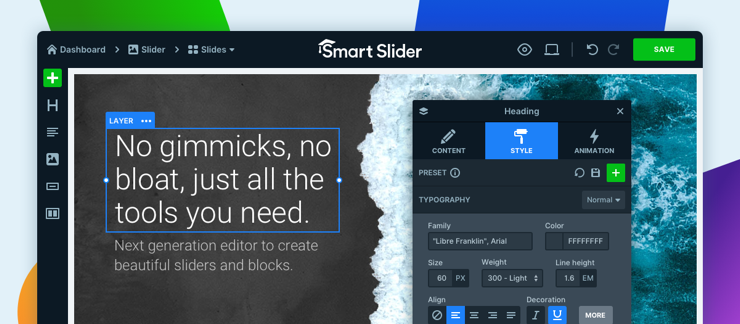 Earn 30% commission on all sales generated through your affiliate links and themes.
How does your affiliate program work?
Refer new users to our website and you'll receive 30% of every purchase they made over our website. Simply paste a link, banner or an image on your site or in your themes! We can give you banners, images and other resources.
Who can make money with the affiliate program?
Bloggers who love write reviews and articles. Theme developers can integrate the free version into the theme and earn money with every upgrade to PRO. It's a very easy and completely free promoting method to earn money.
How and when we will pay your commission?
We make payments via FastSpring at the beginning of each month for the previous months earnings. You can see all commissions from the user panel.
How do I integrate Smart Slider 3 with my theme?
The integration is up to you but we're here to help you and we can do all of the work together. Feel free to contact and we can discuss what kind of promotion would work best for you.