Refer new users to our website and you'll receive 30% commission on every purchase they make for 30 days*. Simply paste a link, banner or an image on your site or into your themes! We can give you banners, images and other resources if needed. Available products:
Earn 30% commission on all sales generated through your affiliate links and themes.
FAQ
Who can make money with the affiliate program?
Bloggers who love to write reviews and articles. Also, theme developers who integrate the free version into their theme can earn money with every Pro upgrade. It's a very easy and completely free promotion method to earn money.
When will you accept my application?
Each application is reviewed manually and will be accepted if it meets our requirements. We reserve the right to reject any application that does not meet our requirements.
How and when we will pay your commission?
Once transactions are past 30 days old, they are put into a locked status. Those locked transactions are then paid on the 15th of the month. Once a transaction is locked it cannot have a return processed in the system.
Which plugins are in the Affiliate program?
Both Smart Slider 3 and Nextend Social Login are available to create affiliate links.
*When referrals considered for credit are valid?
Referrals are only considered for credit if they occur within 30 days of the action on the referred domain. Referrals are credited only for the referral with the last click. More details available in your agreement.
How do you track referrals?
Referrals are tracked by Impact Radius. All technical details of the affiliate, such as crediting the affiliate purchase is handled by them.
Impact Radius uses cookies to track the referrals. If cookies are blocked (by a browser setting or a browser extension), Impact Radius won't be able to track the referral and you won't be credited.
I've referred someone to your site, but I didn't get credited. Can you credit my referral after the purchase?
Unfortunately, at this point, for legal reasons, we do not have a method of manually transferring funds to your affiliate account.
Complete Step-by-Step Affiliate Guide
Registration
You can register to our new Affiliate program on the Affiliate Application form.
1. Your Information
Firstly, you need the add your personal information. Later you can login with the username and with the password you add there. So make sure you remember the data you enter here!
2. Company Information
After that you need to add your company data. The Account display name will display after you login to your account. Select your country, and fill the fields.
3. Promotional Information
Here you can choose the type of your partnership from a drop-down list. It's up to you what you choose. If you want to use affiliate links in a blog then choose the Content type, if you have a coupon page then it can be Coupon/Deals. You also can add more types, but one is required. If you can't find your category, then choose Other.
Then choose a Property type, and fill the belonging fields. For example, if you choose Websites, then add your website address where you want to use your affiliate links.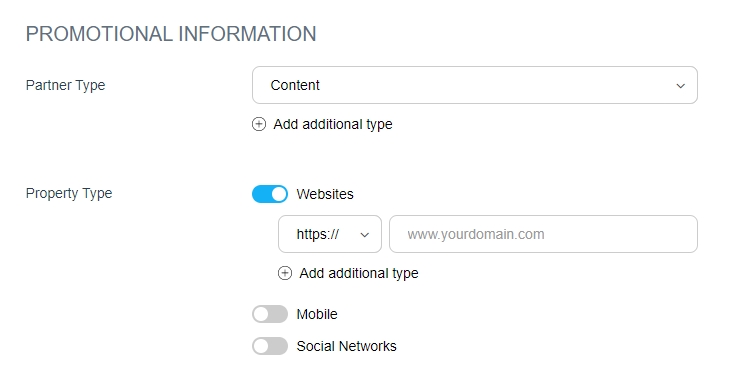 4. Agreements
You can read the agreements here. If you agree then you can sing up to our affiliate program by clicking on the blue Sign Up button.
5. Verify your e-mail
When you have registered, you will get an e-mail to verify your e-mail address. After clicking on the Verify my email address button in this mail, you can navigate to the Impact Radius page and log in.
6. Login
After the verification you are able to log in to our new system. Then we ask you to wait patiently for us to accept your application, which might might take 3 business days. We check each affiliate account and accept them manually. Until your application is accepted, you can't see the Home page and the Dashboard of the System.

When we accept your affiliate account you will get a notification in the system and you will be able to create and use your affiliate links.
Create a unique affiliate link
When your application is ready, you are able to create and use unique affiliate links. Select the Ads in the top menu, then click on Ads & Links. Here you can find the Nextend Social Login, later Smart Slider will be there, too. When you want to create a link, click on the Get code in the right.